---
Dolls: Karito Kids Take Girls Around the Globe
International Dolls Teach the Value of Cultural Exchange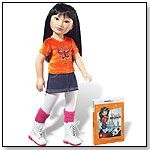 This month,

TD

monthly Magazine's Dolls Roundtable participants reviewed the Karito Kids Wan Ling doll by KidsGive. Wan Ling is part of a new line that features 21"-tall international characters based on an 11-year-old girl's body type and fashion choices. Each vinyl-and-cloth doll features an original sculpt that focuses on the distinctive beauty of its ethnicity.

Designed for ages 6 and up, the Karito Kids dolls, available in five other ethnicities, are sold with fictional chapter books that tell each girl's story. Wan Ling is an 11-year-old Chinese girl who has moved to Shanghai because her father has accepted a position as the panda expert at the Shanghai Zoo.

The purchaser of a Karito Kids product can determine the charitable cause to which a percentage of the purchase price will be donated, and can follow the progress of the cause.

Roundtable participants were Ruth Mandt and her granddaughters Paige (6) and Brielle (10); Barbara Smith, her daughter Amanda Forrest, and her granddaughters Sydney (7) and Savannah (6); and doll collectors Brenda Oxford and Virginia Davis.



TD

monthly Rating:



Watch Video
Packaging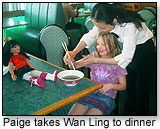 Barbara Smith gave the doll 3 stars. She thought the packaging was nice and her granddaughters liked having the doll's picture on the box. Brenda Oxford especially appreciated this last point, because it allows her to easily pick out the box from others in her storage area.

"Collectors have to save boxes to ensure the value of the doll," she noted. She, too, rated Wan Ling a "3."

Ruth Mandt, who awarded the doll 5 stars, thought the box was sturdy enough to serve as a doll trunk to store clothes and accessories.

Playability

Paige and Sydney loved playing with Wan Ling's lustrous and combable hair. Barbara Smith liked the vinyl breastplate over the soft cloth body that allows the doll to be dressed in sleeveless items and bathing suits. Sydney liked the fact that the doll blended in with her American Girl dolls and could even wear some of their clothing.

Mandt appreciated the book because it shows that there are more similarities than differences in children from other lands.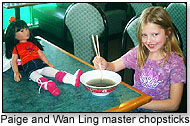 Educational Value

"I think they learned that children in all lands like dolls and like to have dolls that resemble them," Smith said. She noted that having dolls of different ethnicities allows girls to learn about other cultures.

Sydney thought the doll taught her more about her school friends who are from different countries. She gave it a "4."

Davis thought the doll's best quality was that it could make a difference in the lives of children around the world and will help teach children to share.

"The plans for a website that will let kids talk to kids from other lands is exciting," she said enthusiastically. Like Mandt, she gave it 5 stars.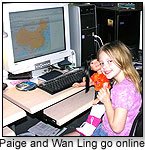 Possible Improvements

Smith thought the clothing styles could be improved. Sydney wished the doll had "go-to-sleep eyes." And Oxford thought it would be nice to have a series of books for every doll. Mandt suggested including a DVD that takes a little girl on a tour through her doll's country and lets her hear the doll speak in its native tongue. Davis thought it might be nice for the dolls to have pets that are appropriate to their culture.

Writer's Bio:
Virginia Davis is a freelance writer who is considered an expert in the area of dolls and collectibles. She has written hundreds of articles on dolls and toys, as well as other subjects, for numerous publications. She lives in Georgia.
Read more articles by this author
THIS BANNER IS AN AD:
---
---