---
Homeschoolers: Blast Off With Baseball
Indoor Baseball and Outer-Space Math Keep Kids Learning
Conquest on the baseball diamond and controlling the universe are the themes of this month's Homeschool Roundtable games. In Baseball's Board Game, a roll of the dice determines the play of the ball, and the game is never rained out. Want to make rote arithmetic fun and engaging? Start a game of Space TiViTz, where players compete strategically and mathematically in a race across the universe.

Roundtable participants were Julie Petoia, RN, with Cabot Lee (12), Talia (11), Malynne (9), Jacob and Gabriel (6) and Jeremiah (5); Alison Shanahan with Elizabeth (14), Emily (12) and Katie (7); Teresa Wilson, editor of HOMES Newsletter, with Timothy (14), Andrew (11), Elise (8) and Steven (6); Jill Zuidema, former retail manager, with Alyssa (7); and Susan Ledford, editor of the Homeschool Resources Directory for SC, with Victoria (12), Joe (7) and Griffin (1) .

Space TiViTz from SAS GAMES INC.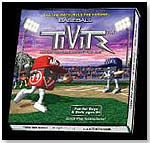 Age: 8 and up
MSRP: $29.95



TD

monthly rating:





What It Is: Players use cube-shaped tokens (TiViTz) with a number and a symbol on each side to advance across the playing field (in this version, the playing field represents the universe). Score Planets have an arithmetic component (e.g., "- 3", or "x 13") that, when combined with the value of the TiViTz playing piece, provides the player's score for that planet. Strategy is used in placing TiViTz to create equations with the highest possible value. Game play is over when all nine Score Planets have been captured, and the winner is the player who created — and correctly calculated — the highest score. Included are 30 game sheets featuring a variety of arithmetic levels, from simple addition of whole numbers to more complex functions such as square roots. The game also features a blank game sheet that can be laminated and then created and recreated by players. Additional score sheets can be downloaded from the website, which also features an online version of the game. Other versions include Aqua, Soccer, Hockey and Baseball.

What the Moms Thought: Petoia loved the game's educational quality, and Shanahan agreed: "This game is enjoyable and does reinforce math skills and strategic thinking." Ledford commented, "Because you can choose the level of math by changing the game sheet, you can target the student's appropriate level." Wilson appreciated the game's compact size, and Zuidema pointed out the "easy-to-follow" instructions. Shanahan noted that the game would be great for groups of same-age children, and the company itself holds TiViTz tournaments throughout the country.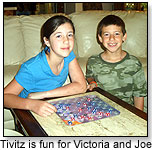 What the Kids Thought: Shanahan said, "I noticed that while attempting to achieve inter-galactic domination, [the children] focused on getting correct mathematical outcomes." Zuidema noted, "Alyssa (7) learned to add long columns of numbers and to strategize in order to get more of her TiViTz onto the Score Planets." Joe (7) liked the "space" aspect, and Wilson reported that all four of her children (6 to 14) enjoyed playing.

How to Improve It: Several moms would like to see more score sheets included, and Ledford specified a wipe-off score card. Timothy Wilson (14) suggested providing scratch pads for players to "do the math." Shanahan worried that the flimsy game sheets would by easily damaged. "Even with a plastic overlay, they are not going to last long," she pointed out. "One spilled soda, even sweaty hands, and the boards are ruined."

Roundtable Summary: "[TiViTz] makes math fun," enthused Timothy (14). Victoria (12) added, "TiViTz exercises your brain mathematically!"

---
Baseball's Board Game from FUN GAMES INC.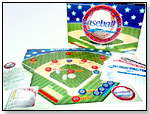 Age: 8 and up
MSRP: $25.00



TD

monthly rating:



TD
monthly baseball fans' rating:





What It Is: Loosely based on the traditional game of baseball, Baseball's Board Game features a baseball diamond, chips to represent individual players, statistician sheets and score cards. The roll of the dice determines the play of the ball, from single to strike out to homerun and more.

What the Moms Thought: Ledford said, "It certainly is the way to play baseball when it rains," adding that the sports fans at her house most enjoyed the game. Zuidema, who appreciated the quick play of each turn, reported that her game board would not lay flat. Petoia described the packaging, her favorite feature, as "very attractive." However, Ledford found the packaging lacking: "Since the box has no external images of the contents, it gives the potential buyer no information on which to base the decision to purchase."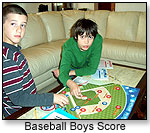 What the Kids Thought: Timothy (14) liked being able to compete on equal ground with his younger brother, Steven (6) — something that would not happen in real life, pointed out mom Wilson. Joe (7) called it "baseball based on chance." Shanahan said, "My girls were unable to play the game because they did not know enough baseball terminology to follow the directions." Zuidema said daughter Alyssa (7), who was "diligent about rotating through her batting order and filling in her scoring sheet," learned some basic principles of the game of baseball.

How to Improve It: Zuidema suggested using figures of baseball players rather than the flat chips as tokens. Ledford suggested the company include a "glossary of terms" and rules of traditional baseball to facilitate play. Wilson would like to see reusable, wipe-off score cards and said her children requested a magnetic travel version.

Roundtable Summary: "I can play baseball and not sweat," relished Elise (8). Mom Wilson commented, "All four children enjoyed playing the game."

Photos of children by SUSAN LEDFORD

Writer's Bio:
Susan Ledford is the writer, editor and publisher of the "Homeschool Resources Directory for S.C." She has been evaluating toys and games for
TDmonthly
's Roundtable reviews since 2005. She also is a homeschool veteran of seven years.
Read more articles by this author
THIS BANNER IS AN AD:
---
---