---
Doll Experts Give Madame Alexander's Eloise Perfect Score
Soft-Bodied Creation Brings Storybooks Alive
"Eloise has been captured perfectly in this collectible creation." — Ruth Mandt, grandmother

Participants in

TD

monthly Magazine's Dolls Roundtable reviewed the Eloise doll by Alexander Doll Co. Eloise is part of the company's new 21" cloth line, which includes literary classics, such as Madeline and Fancy Nancy. These soft-bodied dolls wear clothes that duplicate the ones worn by the original characters.



TD

monthly rating:



Eloise by ALEXANDER DOLL CO. INC.
Age: 3 and Up
Gender: Girls
Category: Dolls

PLAYABILITY

London (3), Paige (7) and Alyssa (9) loved the dolls' soft, yellow hair. Tong and daughter Lexi (5) loved the crooked smile, and Lexi liked the doll because it was lightweight.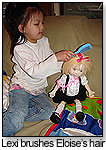 "The facial features and hair are beautiful," Tong remarked. "Staring into the doll's face really makes you feel like you know her; she's very distinguishable."

Savannah (6) was delighted to have an Eloise doll so she could act out adventures from the "Eloise" books she already owns.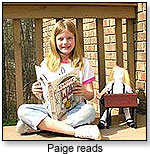 Paige (7), also already familiar with the book character, yelled, "It's Eloise!" when she opened the box.

Shop owners Shockley and Hobbs think most of today's children don't know who Eloise is, and that the majority of purchases are made by nostalgic grandmothers who fondly recall the stories of K. Thompson's imp.

Alyssa (9) researched Eloise on the Internet right away and is now eager to check out books and rent videos about her.

"Eloise has been captured perfectly in this collectible creation," Mandt said.

She suggested that schools purchase some to go along with their Eloise books "to make the stories of Eloise come alive."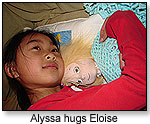 VALUE

Shockley, Hobbs, Davis and Tong agreed that this doll is reasonably priced at $45. Hobbs and Shockley feature Alexander dolls in their shops and feel that one can never go wrong with them because they are exceptionally well made.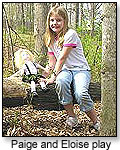 "The company stands behind its products," Shockley reported. Davis believes the doll has lasting value; her collection features one of the original Eloise dolls.

IMPROVEMENTS

None of the participants saw any room for improvement in this doll.

Roundtable participants were Ruth Mandt and granddaughter Paige (7); Barbara Smith and granddaughters Sydney (8), Savannah (6) and London (3); Mildred Tong and daughters Alyssa (9) and Lexi (5); retailer Colette Shockley, retailer Kim Hobbs, and writer and doll collector Virginia Davis.

Writer's Bio:
Virginia Davis is a freelance writer who is considered an expert in the area of dolls and collectibles. She has written hundreds of articles on dolls and toys, as well as other subjects, for numerous publications. She lives in Georgia.
Read more articles by this author
THIS BANNER IS AN AD:
---
---