---
Rich Frog Capitalizes on Smart Design
Creative Basics and a Fresh Color Palette Define Children's Line
"It doesn't cost more to make a well-designed product than to make a less-well-designed product."
Maarten van Ryckevorsel had been working as a national sales manager in the toy industry for about five years when a "brilliant play on words" popped into his head — a wooden ruler with measurements on one side and rulers of the world on the other — and Rich Frog was born. Maarten, self-described president and janitor of Rich Frog since starting the company with his wife, Sarah, in 1994, told
TD
monthly Magazine how it grew from one idea into a success.
"RULING" THE BIZ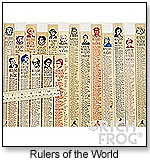 It took quite of bit of time and phone calls to develop the ruler because we had to find someone who could make it for us. We use a U.S.-based manufacturer for the ruler, although we use manufacturers in China for other products. We have about 20 versions of the Rulers of the World, though we started out with three — the kings and queens of England and the Pharaohs.

We lived off our savings for a while, and my wife had a job. I had our first prototypes in April 1994, we sold our first product in September 1994, and we did our first trade show, the Atlanta gift show, in January 1995. By that time, we had more than rulers —stuffed animals, wooden puzzles, pencil sets, wooden hangers, pajama racks, toothbrush holders and bookends.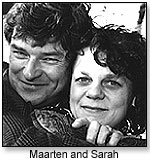 Our products are defined by a sense of design and color that comes directly from Sarah. Her color palette isn't tomatoes and green peppers. It's lively and bright and attractive, but not the traditional one you see in children's toys.

GOOD PRODUCT FOR GOOD STORES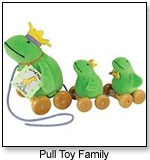 Our customers — almost exclusively small, independently owned specialty gift shops — are smart business people. You can bombard them with all kinds of marketing literature, but what they really want is good product at a good price.

It doesn't cost more to make a well-designed product than to make a less-well-designed product. Our best marketing tools are good products that are attractive to the buyers who put them in their stores, the adults who buy them and the children who receive them.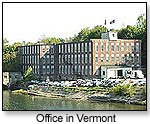 It would be great for companies like us if we could make a product, bring it to market, and sell it for five years. But we're under pressure to have new things for our customers all the time.

We, ourselves, do the New York Gift Show, and we have reps who do all the regional shows. On our website, storeowners can register and find out what's in and out of stock, and place orders.

FAVORITES THAT WEAR WELL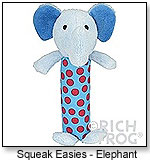 Two of our best-selling items are The Original Rubber Duck, made from real rubber tapped from a rubber tree by a third-generation family company in Spain, and the Reversible Hat, for children from birth to age two. One side is a frog and the other a prince, or a dog and a cat, or a princess and a pea.

Two new top-selling items are Terrible Two Shoes, slippers that look like monster, duck or bear feet, and Squeak Easies, tube-shaped squeakers with animal heads on top and feet on the bottom.

There are two things I consider our biggest successes:

• The first is when we get an e-mail from a mother: "My little girl cannot sleep without the hippo and we lost him in the park. He was given as a gift and I don't know what store he came from, and we need a new one."

• The other is when we see one of our employees blossom into a new job and new responsibility.

The advice I'd give to someone starting out in the toy business is "Don't be afraid to ask questions." Ninety percent of the people in this business are really cool and nice and will be happy to help. If they don't, try someone else.

See some of Rich Frog's products below:





Wholesale Price: (Log in to view)

MSRP: $34.95

Age Range: 1 to 2SKU or Item #: 683981061354Launch Date: January 2008Gender: Boys And Girls





Children can watch the baby animals follow them as they pull the animals along on sturdy wooden wheels. This product is intended for children over the age of 18 months. Awards: TDmonthly Top Toy 2009. Launch date: January 1, 2008.

Where to Buy: The Satin Button

ToyDirectory Product ID#: 18387

(added 4/11/2008)

.

AD
---




Wholesale Price: (Log in to view)

MSRP: $5.95

Age Range: All AgesSKU or Item #: 5240Launch Date: January 2007Gender: Boys And Girls





These hand-held squeakers come in six fun animal shapes and squeak with the greatest of ease. They feature vivid colors and patterns and delightful soft velour heads and feet. The squeakers fit nicely into a diaper bag or purse, ideal for on-the-go entertainment. Launch date: January 2007.

ToyDirectory Product ID#: 13701

(added 6/25/2007)

.

AD
---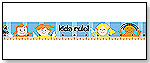 MSRP: $3.95

Age Range: 5 to 10SKU or Item #: 3065Launch Date: January 2007Gender: Boys And Girls





Measuring is more fun than ever with these brightly painted wooden rulers. Six styles available: Monkeys Rule!, Ladybugs Rule!, Poodles Rule!, Dinos Rule!, Kids Rule! and Teachers Rule! "The colors are great and the measurements are easy to see," said John Gallagher, manager of Rich Frog. Launch date: 2007

ToyDirectory Product ID#: 20226

(added 8/25/2008)

.

AD
---







Pull down on these silly creatures and their floppy legs and wings will bounce up and down hilariously on a 12" spring which extends to 20." With 8 styles to choose from, this mobile is a must-have for any kids' room.

ToyDirectory Product ID#: 19277

(added 6/6/2008)

.

AD
---







Bath time just isn't complete without our classic rubber duck. Made in Spain of all-natural, phthalate-free latex, the Original Rubber Duck comes in 7 fun and goofy styles.

— Dean Smith, owner of

JaZams

in Princeton, N.J., told

TDmonthly

in an April 2013 survey that they sell 10 of the Original Rubber Duck each month, making it the store's best-selling bath toy.

— David Stelzer, owner of

Shananigans Toys

in Baltimore, Md., told

TDmonthly

in an April 2015 survey that Rubber Duckies by Rich Frog are their store's best-selling bath toys. "It's a cute item and the best rubber duck," he told us.

ToyDirectory Product ID#: 19274

(added 6/6/2008)

.

AD
---

Writer's Bio:
Elizabeth Greenspan edits and writes for trade and technical publications. She has interviewed and collaborated with some of the top practitioners in their fields. She lives in Philadelphia and travels extensively for her work.
Read more articles by this author
THIS BANNER IS AN AD:
---
---