---
Game Based on Ancient Ruin Earns Modern Praise
Interchangeable Board Adds Excitement to One of Buffalo Games' Newest
"We are finding Buffalo Games to be our preferred brand." — Teresa Wilson

TDmonthly Magazine's Teens & Tweens Roundtable raved about Buffalo Games' Ruin board game, based on an ancient Mayan ruin. The game's interchangeable, three-dimensional board makes Ruin more challenging than it seems, requiring strategy along with the fun.



Ruin by BUFFALO GAMES INC.
Age: 8 and Up
Gender: Boys and Girls
Category: Board Games
MSRP: $29.99

TDmonthly rating: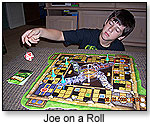 What It Is: Two to four players race to be the first in the center of an ancient Mayan ruin. Players can change the path of play on every turn with a distinctive three-dimensional game board, thus increasing the difficulty of plotting strategy. Players must decide either to help themselves or to hinder other players. A specially-created, 20-sided die adds interest to each roll.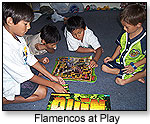 What the Moms Thought: Christensen liked the colorful, three-dimensional board, and the fun her boys had playing. Flamenco said, "The colors and graphics that were used in the packaging gave the game a mysterious look and feel." Ledford thought the box "informative and engaging." Thomas said the box "gives the information you need while searching for a toy," and appreciated the simplicity and ease of play.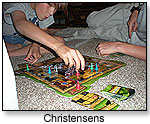 Flamenco, who liked that up to four people could play at once, also appreciated the storyline behind the game: "The idea of discovering ancient Mayan treasures in the ruins left behind by a civilization that existed long ago is both mystical and exciting," she commented. Wilson agreed, "I appreciated that this toy was linked to an ancient culture, opening the door for discussion and history exploration — definite 'teachable moments.'" Ledford called the storyline "intriguing."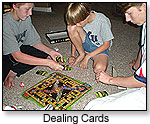 What the Kids Thought: "Mac (15), Kent (13) and Josh (10) all thought the best part of the game was that the board was constantly changing," reported Christensen. Wilson's children were "awed by the special 20-sided die," she noted, although they had to refer to the instructions repeatedly during initial play.

However, Thomas pointed out that "even Rose (7) can read and understand" the instructions. Tom (14), Liz (12) and Rose (7) "like the interchangeable cards and figurines," their mom said.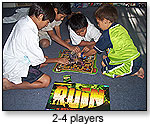 Jonathan (9) said, "I thought this game was creative because I haven't seen another game like it." Victoria (13) and Joe (9), who, generally, genuinely enjoy board games, "liked this one for the competition it encouraged," Ledford noted. "Victoria (13) most enjoyed sending opponents back and placing obstacles in their paths," she said, while "Joe (9) enjoyed changing the path of the game board."

What the Kids Learned from this Toy: Flamenco noted that for her sons (ages 6, 8, 9 and 11), the directions were a bit complicated, but "they learned that to play this game, they must have some kind of strategy." Thomas agreed, "You have to plan carefully if you want to win."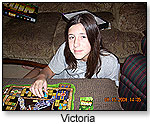 In addition to the historical background of the game, the Wilson children learned "whether it is more advantageous to improve your own path or to thwart your opponent," Wilson said.

How to Improve It: "Josh (10) thought it would help if the plastic, three-dimensional part of the board were made more stable so it could hold the path cards more securely," noted Christensen. This was also voiced by Ledford. "Joe (9) would like a larger game board," she added.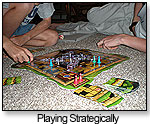 Flamenco would prefer simpler instructions. Kent (13) and Mac (15) would like to see the game shortened, while Victoria (13) would like the game to be even more challenging.

Thomas, who felt that "Ruin" has a negative impact on children, suggested a more positive name for the game. "It gives a message like 'destroy and ruin others and win at any cost,'" she explained, adding, "I won't buy a game named like this."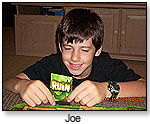 Would You Want Another Toy Like This? "We are finding Buffalo Games to be our preferred brand, and find ourselves recommending their games to our friends over Parker Brothers and Milton Bradley," commented Wilson.

Roundtable participants are homeschool parent Sue Christensen with Mac (15), Kent (13), Joshua (10) and Ben (7); substitute teacher Veronica Flamenco with Matthew (11), Jonathan (9), Emilio (8) and Brandon (6); Susan Ledford, editor of the "Homeschool Resources Directory for SC," with Victoria (13) and Joe (9); machine operator Geena Thomas with Tom (14), Liz (12) and Rose (7); and Teresa Wilson, editor of "HOMES Newsletter," with Timothy (15), Andrew (12), Elise (9) and Steven (8)

Writer's Bio:
Susan Ledford is the writer, editor and publisher of the "Homeschool Resources Directory for S.C." She has been evaluating toys and games for
TDmonthly
's Roundtable reviews since 2005. She also is a homeschool veteran of seven years.
Read more articles by this author
THIS BANNER IS AN AD:
---
---