---
TDmonthly's Music Expert
She'll Tell You Which Albums Hit the Right Notes
If you want to know which children's CDs may be worth carrying in your store, see what TDmonthly's Music Expert has to say. Each month, she listens to music from various publishers and rates each album with from 1 to 5 TD (for TDmonthly!) stars — 5 is the highest rating. With this batch, she was won over by a 7-year-old British sensation and enjoyed hearing modern bluegrass love songs.



Connie Talbot: Over the Rainbow by RAINBOW RECORDINGS
Gender: Boys and Girls
MSRP: $21.65

TDmonthly rating:




My Impressions: This CD is very well done. Everything from the artistry of the musicians, to the incredible talent of 7-year-old Connie Talbot, to the variety of musical styles represented is truly amazing. Connie has a beautiful voice and obviously pays attention to musical details in a very mature way. Her pitch, diction and rhythmic abilities are quite good — better, in fact, than many other famous pop musicians. I enjoyed hearing so many familiar songs — "Smile," "My Favorite Things," "Wonderful World," "Somewhere Over the Rainbow" and "I Will Always Love You," to name a few.

Kid's Perspective: To say that my 2-year-old daughter Ashlyn loves this CD is an understatement. She has completely fallen in love! Ashlyn hears quite a bit of music each week (being that her parents are music fanatics), but something about Connie's sweet voice really captured her attention. Now, every morning, Ashlyn asks to hear the CD and wants me to play "Somewhere Over the Rainbow" over and over. She has been singing and dancing to this CD every day now.

Recommendation: I highly recommend this CD to listeners both young and old. Since so many of the songs are well known and Connie brings such a sweet, fresh sound to them, I think this CD can be enjoyed by audiences the world over.

---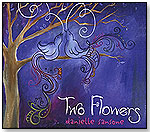 Two Flowers by DANIELLE SANSONE
Age: All Ages
Gender: Boys and Girls
MSRP: $14.00

TDmonthly rating:




My Impressions: This modern bluegrass album carries a gentle, happy mood that just may make you misty-eyed. There is a touch of reworked classical music on a couple of tunes — one of which is by J.S. Bach. (As a side note, some experts maintain that Bach's music is good for children's brain development.) The featured artist, Danielle Sansone, wrote all the tunes and shows herself to be an exceptional musician. Her husband and kids play on this album as well, and many of the songs were inspired by her own two children, making it great for parents.

Kid's Perspective: As I played the first track, my 2-year-old daughter immediately started dancing and chanting some of the words she heard in the song. When the song was over she asked to hear it again.

Recommendation: A truly good singer/songwriter/performer (Danielle even plays the piano and guitar) is a rarity these days, and having one with an album that is so tender-hearted toward children — and features quality musicians all-around — is even more special.

---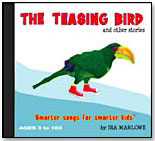 The Teasing Bird and Other Stories by BRAINY TUNES RECORDS
Age: 3 and Up
Gender: Boys and Girls
MSRP: $12.00

TDmonthly rating:




My Impressions: The music here carries strong messages of self-esteem and getting along with others. It has a strong beat with fun instrumentation, but the diction is hard to understand. The artwork on and in the CD jacket has some distinctive illustrations that may appeal to kids.

Kid's Perspective: Ashlyn, my 2-year-old daughter, seemed a bit disinterested. Perhaps the lyrics, which are quite clever, would connect with kids older than her.

Recommendation: Most of the songs carry an agenda of sorts and the artwork comes off as amateurish. However, there was a consistent musical style that makes for easier passive listening.

Writer's Bio:
Anna Bendorf received her Bachelor of Music in Piano Performance in 2004 from the University of Oregon, where she gained extensive experience as an accompanist and solo performer. While studying music, she won several piano competitions and sang in the University audition choir and the Symphony Chorus. She has been teaching piano for the past 14 years, and she and her husband, Adam, run Alberti Publishing, a music publishing company. They co-authored a book for piano teachers called "The Right Notes" (November 2008). Adam and Anna have two daughters.
Read more articles by this author
THIS BANNER IS AN AD:
---
---