---
Playful Chef Whips Up Panel's Enthusiasm
Children Enjoy Recipes Made With Kid-Sized Utensils
"I have one just like you, Mom!" — Jessica (6)

TDmonthly Magazine's Grade School Roundtable delighted in cooking with Playful Life's Playful Chef set. The participants read, whisked, cooked, and raved about this fully-functional yet child-sized kit that enables kids to experience the joy of cooking.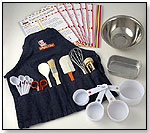 Name: Playful Chef
Company: PLAYFUL LIFE
MSRP: $39.99
Age: 3 and up
Gender: Boys and Girls
Category: Creative Activities

TDmonthly rating: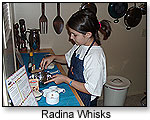 What It Is: The Playful Chef kit consists of 10 child-sized cooking utensils, a pocketed apron and five healthy, simple recipes, all in a clear backpack. Also included are fun food facts, food safety tips, shopping tips, meal planning tips and more.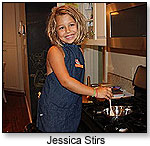 What the Moms Thought: "Most of the tools were just a miniature version of what we have in our kitchen door — perfect size for little hands," said Richardson, adding that color-coded measuring spoons and cups made it easier for her children. Wilson found the measuring cups "wider than usual, making it easier for children to fill."

Dawson appreciated that genuine kitchen tools and recipes were designed for kids to cook in real kitchen appliances and was pleased the utensils made it through the dishwasher intact.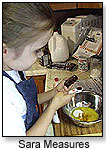 Lilova liked the safety tips and "the way the recipes were laminated so that they can't rip or get dirty." Several moms appreciated the adjustable aprons that helped keep utensils organized. Richardson commented, "The recipes were well thought through — relatively healthy and compelling for kids."

Wilson and Dawson were glad to see the reminders to wash hands thoroughly. Wilson thought the range of ability needed for the five recipes broadened the kit's appeal. Tong thought the utensils were high quality and "felt … really solid."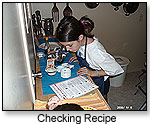 What the Kids Thought: "I have one just like you, Mom!" squealed Jessica (6) upon seeing the utensils. As Jessica (6) and Alexander (8) sat down to enjoy their first creation (fruit parfait), mom Richardson "loved pulling the recipe card out again and showing them they had one more step — to clean up."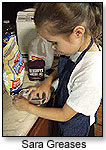 Ethan (9) and Sara (7) enjoyed "eating their creations" and "having their own cooking equipment," Dawson said. They were eager to make every recipe. "What can we make next? When?" they asked.

Radina (11) and Victor (4) delighted in the "hands-on mixing and measuring," and felt accomplished when "everybody said they liked the food." Lilova added, "They liked the aprons and mini cooking instruments."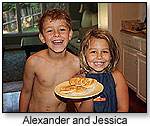 Richardson said that Jessica (6) and brother Alexander (8) "liked how easy it seemed to be to create something quite 'fancy,' how yummy most of the recipes sounded, and how clever they felt at creating something to eat."

"Elise (9) and Steven (8) liked the concept of cooking tools just for them," observed Wilson, who also noticed "the apron fit them remarkably well." Alyssa (10) and Ethan (7) thought the recipes simple to follow; mom Tong agreed: " I could probably just let my 10-year old prepare a meal using the recipe cards all by herself."


What the Kids Learned from this Toy: Alyssa (10) and Ethan (8) practiced "the joy of cooking!" said Tong. Most moms noted that their children learned about measurements and fractions while using the measuring cups. Ethan (9) and Sara (7) also "learned how to whisk ingredients and properly use a spatula," Dawson added.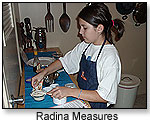 Richardson observed Jessica (6) and Alexander (8), who learned food safety and fun facts, studying "how to prepare for cooking (getting out all the ingredients, etc.)."

How to Improve It: Dawson's kit arrived with a cracked spatula and Wilson's with a broken timer. Dawson noticed typos in the recipes, including "marina" instead of "marinara" sauce.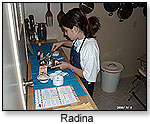 Lilova would like to see a three-ring binder to store recipes, and she and Tong suggested including other baking necessities, such as a rolling pin and pizza pan. She would also like to see additional recipes. Richardson noted that Jessica (6) would have liked a chef's hat. Andrew (13) thought an oven mitt would be a smart addition.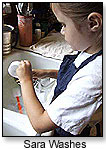 Although most moms raved about the clear backpack, Wilson thought perhaps a storage box would remain in her kitchen longer since "a backpack might be absconded for another use." Tong thought the MSRP of $39.99 somewhat prohibitive, and although Dawson found the kit a bit young for her 9-year-old son, Tong called it "perfect for the 8- to 12-year-old child."

Would You Want Another Toy Like This? "We are planning on spending many more hours playing with it," raved Richardson.

Roundtable participants were former corporate accountant Robbin Dawson with Ethan (9) and Sara (7); research scientist Kostadinka Lilova with Radina (11) and Victor (4); World Bank policy advisor Gail Richardson with Alexander (8) and Jessica (6); stay-at-home mother Mildred Tong with Alyssa (10) and Ethan (7); and Teresa Wilson, editor of HOMES Newsletter, with Timothy (15), Andrew (12), Elise (9) and Steven (8);

Writer's Bio:
Susan Ledford is the writer, editor and publisher of the "Homeschool Resources Directory for S.C." She has been evaluating toys and games for
TDmonthly
's Roundtable reviews since 2005. She also is a homeschool veteran of seven years.
Read more articles by this author
THIS BANNER IS AN AD:
---
---