---
LeapFrog Stumbles and V.Smile Frowns
Electronic Learning Products Hit a Downward Slope
Friday, June 19 – There are mounting signs that the Electronic Learning Products toy category is undergoing a structural change — and not for the better.

Following are graphs showing how two main participants in the category, LeapFrog and VTech's V.Smile, have performed in terms of sales since 2001: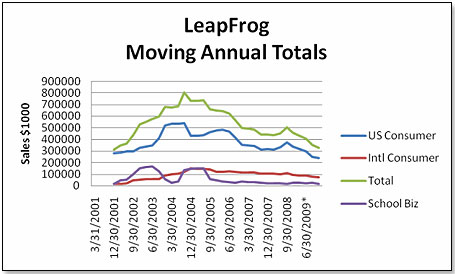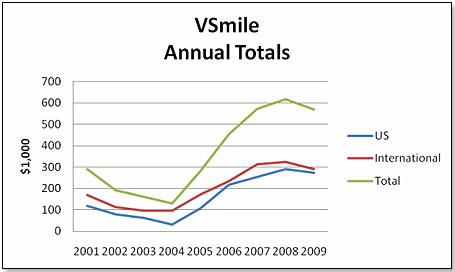 While LeapFrog has been trending down for a while, partly because of declining interest in the category and partly because of loss of market share to V.Smile, life has now also begun to catch up with V.Smile. The projection for both is continued slides in sales.

There are three truisms governing ELP growth:

1. Consumer involvement and interest in the brand are the main precursors for a purchase (unlike with more mundane products driven by need).

2. New product acceptance by consumers is absolutely essential for the brand to survive.

3. Hardware growth presages software growth further down the pike, and vice versa.

First, let's look at what the market numbers tell us:


Category
Total U.S. Toy Market
Youth Electronics
2007*
$22,300,000,000
$1,000,000,000
2008*
$21,440,000,000
$860,000,000
2007/8*
+/-
Minus 4%
Minus 14%
2009
1st Q**
Minus 6%
Minus 10%
2009
April/May**
Minus 2%
Minus 5%
*NPD numbers
**Own retailer panel numbers

Youth Electronics, of which ELPs are the dominant part, have lagged behind the overall toy market for 18 months now.

Seeking the reasons for this, we look first at consumer interest levels as demonstrated by Web traffic and blog intensity levels:




In both measurements we see the same pattern: Leapfrog predominates, but both are declining.

As for the second truism, new products as drivers for growth, the outlook this year is not very promising. At Toy Fair in February, LeapFrog and VTech unveiled new products for 2009. This is how they've been accepted by key retailers so far:


| | | | |
| --- | --- | --- | --- |
| LeapFrog Products | Wal-Mart | Target | Toys "R" Us |
| My Pal Scout | Yes | Will take in | Yes |
| Text and Learn | No | No | Will take in |
| Scribble and Write | No | No | Yes |
| Tag Jr. | No | No | Yes |
Editor's Note: As of Monday, June 22, these retailers showed availability of the following LeapFrog products on their websites: Wal-Mart - Text & Learn, Scribble & Write (not sold in stores), and Tag Junior; Target - Scribble & Write (currently unavailable), and Tag Junior; Toys "R" Us - Text & Learn, Scribble & Write, and Tag Junior (preorder only). My Pal Scout was recently recalled for paw pads that might detach; a redesigned version is slated for August release.
| | | | |
| --- | --- | --- | --- |
| V.Smile Products | Wal-Mart | Target | Toys "R" Us |
| Smartridges | Yes | Yes | Yes |
| Bugsby | No | No | Yes |
| Jungle Gym | No | No | No |


Neither Wal-Mart nor Target, who between them represent nearly 50 percent of the U.S. toy market, have materially endorsed the new product offerings of either vendor. I talked to the buyers about this and they told me they did not consider the 2009 products even remotely close to the quality of the offerings introduced a year earlier.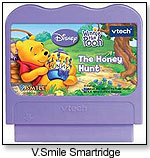 They also think that product development is the LeapFrog Achilles heel and believe the burst of innovation generated by Mike Wood a decade ago, which in his last year with Leapfrog included the FLY, has now run its course. They also believe VTech is in a better position as far as new product development resources are concerned, but stressed that the 2009 offering is disappointing.

Editor's Note: "Despite the challenging economic climate, we have continued to innovate and bring exciting new products to market," James Cullinan, vice president of corporate communications for LeapFrog, told TDmonthly. "Last year, we introduced the top selling Tag Reading System which was named Educational Toy of the Year. Our retailer partners are excited about our 2009 product offerings with the new Tag Junior, Zippity and many fun books and games, as well as the sneak peek of our 2010 line."

The third truism, hardware driving software, is particularly interesting since I predicted the future decline of LeapFrog back in 2003 when I noticed hardware growth was trending down. The logic is that you buy the hardware you choose and the software follows in its wake. Now we see the same pattern again for both LeapFrog and V.Smile. In the case of Leapfrog, the drop in hardware in the first quarter was particularly sharp — down 79 percent, from $14.6 million during Q1 2008 to $3.1 million during Q1 2009.

This extreme drop was arguably not caused totally by declining sell-through. Excessive inventory levels at the end of last year, which had to be worked down, were probably responsible for half of the drop. In the case of V.Smile, shipments of platforms dropped by 23 percent in the whole of their last financial year, whereas software increased by nearly 1 percent.

The problem with declining sales is that it is often accompanied by cutbacks in advertising and promotions. This tends to become a self-propelling system leading to further sales declines and further cutbacks. LeapFrog is well launched on this path: In the first quarter, they cut advertising spending by 50 percent, which is exactly in line with their sales drop. VTech did not fall into the same trap, though. I understand they kept their advertising and promotion spending fairly level despite sales declines.

Editor's Note: "LeapFrog had a solid first quarter in terms of point of sale and will continue to work with our partners on incentives to bring consumers into their stores now through holiday this year," Cullinan told TDmonthly.

LeapFrog also cut back on endcaps, which provide very important in-store exposure. Here, the comparison between LeapFrog and V.Smile is striking: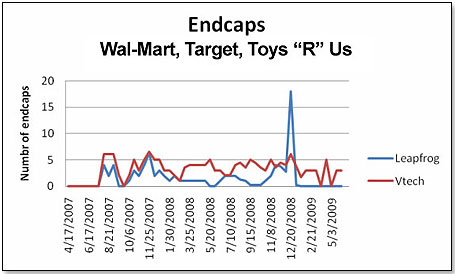 Since the beginning of this year, LeapFrog has walked away from these important merchandising tools, presumably because either they found them too costly or, equally probably, because the buyers did not think LeapFrog products deserved them.

In summary, I think the decline in the Electronic Learning Products category could well be structural and could turn into a death spiral unless the two protagonists do their bit in terms of exciting new products and aggressive advertising.

Writer's Bio:
Lutz Muller is a Swiss who has lived on five continents. In the United States, he was the CEO for four manufacturing companies, including two in the toy industry. Since 2002, he has provided competitive intelligence on the toy and video game market to manufacturers and financial institutions coast-to-coast. He gets his information from his retailer panel, from big-box buyers and his many friends in the industry. If anything happens, he is usually the first to know. Read more on his website at www.klosterstrading.com.
Read more articles by this author
THIS BANNER IS AN AD:
---
---