---
Submissions Open for 2009 TDmonthly Awards
Send Your Best for This Year's Program!

TDmonthly Magazine is excited to announce open submissions for its annual awards program, which recognizes superior products in the toy industry via TDmonthly's Top Toy, Top Seller, Classic, Innovations and In the Lab awards!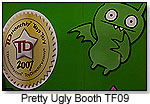 As the No. 1 online trade resource for the specialty toy industry, ToyDirectory/TDmonthly is committed to honoring products that exhibit exceptional quality, play value, safety and other factors that help shape independent toy stores and positively influence children. (Access TDmonthly's Specialty Toys Report, "Positive Toys for a Promising Future," to see previous award winners.)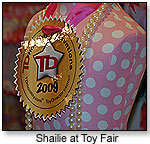 Submissions are evaluated based on multiple criteria, including play value, safety, price point vs. quality, aspects of social or environmental awareness, best-seller status in specialty stores, and review from retailers, consumers, experts and/or TDmonthly staff. Winners for this product call will be announced in August/September 2009.



Please see submission deadline and other guidelines below.

Product Submission

There is no fee to submit for TDmonthly Magazine's awards program. Companies may submit up to three products and must provide the following for each, by Monday, June 22:


Two identical, nonreturnable samples. Products are not sent back to the manufacturer. After the review process, many are donated to charity, such as Children's Hospital Los Angeles and Los Angeles Toy Loan Center, or remain with families who review the products. Please send samples to the address below:
TDmonthly Awards
12340 Santa Monica Blvd. #226
Los Angeles, CA 90025


Detailed information on the product submitted via an online form. If you have not received an email or newsletter with the submission link, or need it resent to you, please call Julie at 310-979-4330.
A hi-res JPEG image of the product.

Image Submission

When you complete the online submission form for each product, it will ask that you send an image of the product via email. Here are the guidelines for the images, which we must receive in order for your product to be considered:


300 dpi JPEG; at least 500 x 500 pixels in size
JPEG ONLY
show product in and out of packaging
can send up to three photos for us to choose from / Note: We are not responsible for formatting or combining images; please make sure the photos sent are publish-ready.
NAME the image file in the following format – COMPANY-product name.jpg

Please be sure the company name is in all caps and the product name is lowercase. When sending multiple photos, insert a "1," "2," "3" behind the product name.


What kinds of toys have a good chance for a TDmonthly award?

TDmonthly considers the following criteria when evaluating product submissions:


Safe. The product meets existing toy safety standards and has been tested and certified accordingly.
Age-appropriate. The product is tested, marketed and labeled for the appropriate age range.
Developmental and/or Educational Value. The product contributes to a child's emotional, physical, social and/or academic development.
Quality and Durability. The product is well made of quality materials and has a long lifespan.
Innovative. The product exhibits unique qualities and/or new manufacturing processes, concepts or materials that set it apart from existing options.
Specialty Focus. The product is at least 80% devoted to the specialty market. This means that 80% of the product's distribution is through independent channels (i.e. not mass-market stores).
Best-seller Status. Based on TDmonthly's surveys of independent toy retailers, the product or line has shown itself to be a solid seller in the specialty market.
Presentation. The product is nicely packaged with appropriate on-pack claims and/or interior instructions, and features a safe, attractive design.
Eco-friendly. Whether through the product's construction, packaging, utility or educational motive, it exhibits environmentally friendly initiatives in support of a greener earth.
Social Awareness. The product carries with it a charitable aspect and/or helps children better understand the world in which they live.

Winners receive the following, free of charge:


A digital TDmonthly award seal for use on websites, product packaging, stickers and printed materials (must sign and fax award seal agreement in order to receive this)
An email broadcast announcing the winners sent to TDmonthly's 27,800 registered retailers
A press release emailed to various media contacts and uploaded to news sites
Possible in-house video demonstration of the product, subject to editorial discretion
Due to the large number of products we receive as submissions, we only respond to manufacturers regarding products selected as award winners. This information will also be announced at TDmonthly.com and via a press release in August/September 2009.

About ToyDirectory.com® and TDmonthly Magazine®
For more than 12 years, Los Angeles-based ToyDirectory.com has been connecting retailers and manufacturers within the specialty toy industry. As of 2009, Google ranks ToyDirectory the No. 1 site in the world for wholesale trade directories and Yahoo! rates ToyDirectory as the most popular business-to-business directory for the toy industry. ToyDirectory.com and its subsidiary, online trade publication TDmonthly Magazine, accelerate business among toy-industry professionals by providing a central online meeting place where retailers can quickly locate new products and companies, and manufacturers can promote their product lines, awards and specials. ToyDirectory and TDmonthly's community of 1,200 manufacturers and 27,800 registered retailers can download toy videos for their websites, find out what's selling nationwide, read about breaking news and trends, and get advice from experts on how to develop and maintain profitable relationships. TDmonthly includes a searchable database of more than 19,000 products, 1,500 product demonstration videos, and more than 3,000 pages of articles and tips.

Writer's Bio:
Julie L. Jones has written articles for both newspapers and magazines. Before joining the staff of TDmonthly Magazine, she worked as a communications writer and provided editorial support for a market research company.
Read more articles by this author
THIS BANNER IS AN AD:
---
---