Tools:








Blog Entry Leads to Buy-Local Blitz
The 3/50 Project Aims to Help Independent Retailers and Their Communities
"I know that my local efforts ... bring me a lot of business, and the reason I know that is that people tell me it." — Marilyn Walker, PlayFair Toys

Cinda Baxter calls the 3/50 Project a "happy accident" that started with a March 11 blog she wrote for her AlwaysUpward website. In the entry, she asks readers to pick three of their favorite independent retailers and spend a total of $50 a month among those stores.

$50 GOES A LONG WAY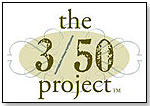 What will that do? It will keep local independents in business and put badly needed tax funds back into communities. According to the 3/50 Project website, based on U.S. Department of Labor statistics, "If half of the employed population spent $50 each month in locally owned independent businesses, it would generate more than $42.6 billion in revenue." The website goes on to say that $68 out of every $100 spent at locally owned retailers goes back into the community, as opposed to $43 when the same amount is spent at chains.

Trying to get mainstream media attention has become a big goal, Cinda told TDmonthly Magazine, because each time the Project gets news coverage, there is a noticeable "bump" in activity.

CAMPAIGN SEES GRASSROOTS GROWTH



As of May 27, the most up-to-date figure for 3/50 Project registered supporters and participants is more than 4,800, up from around 3,700 on May 8. The number of unique visitors to the site totals more than 60,300-plus, and total visitors exceed 74,000.

The Project's Facebook page has taken off as well, with 6,924 fans as of May 27. As part of getting the word out to the mainstream media, Cinda announced on Facebook a Twitter campaign. Her May 26 post asked fans to: "Join the Twitter campaign to get the attention of USA Today, the Today Show, CBS News, etc." In a follow-up interview with TDmonthly, she said that as a result of the campaign, the Today Show is now following the Project.

RETAILER PUSHES LOCAL EFFORT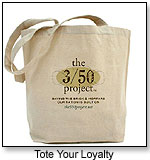 Marilyn Walker, owner of Playfair Toys in Boulder, Co., is one retailer who heard about the 3/50 Project on Twitter. She can't tell yet whether or not the Project is helping her gain business, but she can say that she knows getting the word out to the public about independents has proven successful.

"I know that my local efforts to do this bring me a lot of business," she told TDmonthly, "and the reason I know that is that people tell me it. People walk in and tell me, 'I'm here because you said this.'"

Marilyn said shopping local businesses is something she believes in, and she has been working to that end even before joining the Project. "I mean, I think that this is a movement that's not stopping," she said. "I don't know yet what power it's going to have. But I've actually put my own resources here into publishing space in our paper to print these ideas … of keeping money circulating locally and what that does and how powerful that is. So, it was easy to decide to join the Project."

She also is a member of the Boulder Independent Business Alliance, which has been a help as well.

"They remind people we're homegrown, and the dollars spent here remain in the community," she said.

FEE-FREE PROGRAM SUPPORTS SMALLER INITIATIVES

There is no fee to join the 3/50 Project. Cinda operates it strictly out of pocket, with the "sole purpose to support the retailer." She said the Project helps independents cross-promote, share marketing ideas and do grassroots networking. The site offers a variety of free resources, from fliers to press releases to a movie theater screen ad, and provides links to other buy-local organizations, such as the American Independent Business Alliance and the Business Alliance for Living Local Economies, which have local chapters. There are also T-shirts, mugs and other items available for purchase.

A 3/50 Project logo is displayed prominently on the homepage of The Golden Apple Learning Store's website.

"I love the 3/50 Project!" John MacDougall, the Pleasanton, Calif., store's owner, emailed TDmonthly. "We're trying to build our shop local program on top of it, because I think it is easier for people to grasp."
Catalog Request Form

Writer's Bio:
Sheri Jobe has been a journalist for more than 15 years. As a freelancer, she splits her time mostly between the Midwest and New England. She has been published in business journals and regional newspapers. She also writes fiction.
Read more articles by this author
THIS BANNER IS AN AD:
---
---