---
TDmonthly Goes Inside ... Giant Robot, Los Angeles
Owner/Founder Eric Nakamura Gives Video Tour of Cool Japanese Toys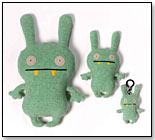 Not many toy stores start out as a fanzine, but Giant Robot doesn't follow rules. Launched in 1994 by Eric Nakamura and Martin Wong, the first Giant Robot Magazine was a 240-run of photocopied, folded and stapled pages covering the pop/punk Asian art and comics scene. Fifteen years later, that humble digest has grown to have a circulation of more than 24,000, has won accolades from L.A. Weekly, L.A. Times, The New York Times and Wired, and has spawned five stores, an online selling site and a restaurant.

Though the enterprise started small, "It was always big in our minds," Nakamura told TDmonthly Magazine.

And if Giant Robot weren't famous enough for its various selves, it's also famous for launching the hot crossover designer toy, the Uglydolls by Pretty Ugly, LLC. In interviews with TDmonthly's Cecily Gambrell, Eric recounts how the store began, as well as his first meeting with the very first Uglydoll, which also had a humble beginning (see video story, below). He then takes us on a tour of the bizarro world of (mostly) Japanese toys. Plush poundcake, anyone?



Get the Flash Player to see this video.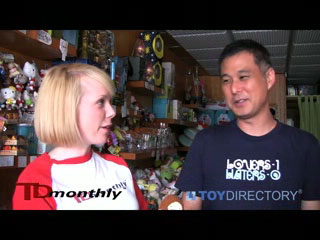 If you want to know if Eric ever makes a blunder when picking out the next hit, find out by watching the above video, then scroll down to take a video tour of his toys.

(Click on each image below to watch video)


Here are the other toys along the way:








Wage is a hard worker, just like you! He works at the local Super Mart and wears his apron to serve his customers best. Does Super Mart know that Wage works there? Nope.But 14" tall Wage doesn't mind.He likes to put things in bags, especially snacks. Wage is the Ugly Doll that started a cultural phenomenon. Watch Video to learn more. Launch date: 2001.

.

AD
---






Babo is best friends with Wage...and the cookie jar. But once he gets to know you and the kinds of snacks you keep around the house, he will focus mostly on the snacks! Little Ugly Babo is 7" tall and won 2006 Toy of the Year Award, Oppenheim best Toy Award and the 2006 Parent's Choice Approved Award.

.

AD
---






Fans can show their allgiance to Ugly Dolls of all colors and shapes on this nifty tee.

.

AD
---






This Japanese chick has adapted a look that's all her own.

.

AD
---






This little bean bag may look innocent enough, but check Gloomy Bear's red chin and you'll see an even deeper shade of red. That's the blood of his latest victim. This gruesome character is a big hit in Japan and may appeal to the macabre tween/teen and beyond in your community. They can even play hacky-sack with this head.

.

AD
---






Domo is a breakthrough character whose popularity began in Japan. This little guy can happily dangle from a key chain or even a Christmas tree. His soft plushy body is offset by hard, beady plastic eyes.

.

AD
---






Entymologists of all ages finally can have what they've been pining for: a cuddly cocoon! No matter how much love this little cc gets, he'll never be a butterfly.

.

AD
---






These odd plush microbial characters at least have mouths and eyes, to help orient them. They're soft, too. Sold separately.

.

AD
---






Ruu and Suu are tiny plush bunnies with just enough design detail to set them apart from the herd.

.

AD
---






This relaxed bear is taking it easy on his feet. He can make you relaxed, though, by stashing keys, change and other treasures safely in his zippered back.

.

AD
---






Blobby and soft, this 6" sleepy seal will comfort anyone lucky enough to cradle it in hand. Mamegoma Seal plushes have little angel wings on their backs and are available in a variety of colors.

.

AD
---






Hello Kitty is so healthy, she's transformed herself into a yummy-looking 4" fruit. She's also helpful -- use the padded slot on her head to hide jewelry, cell phones or mini erasers. She comes in a variety of flavors, including green pear (pictured).

.

AD
---






This Relaxed Bear is so relaxed, he'll take anything lying down.

.

AD
---






This plush poundcake takes comfort food to a whole new level. It measures 6.5" long.

.

AD
---






This prickly lass is a lot cuddlier than she looks. She's part of a Japanese-inspired designer line of toys and clothing from Italian company TokiDoki. She's 9" high.

.

AD
---






Ciao Ciao is condemned to live forever on earth, in her modern grave-loft with her boyfriend Adios. But she's cute, so that makes everything okeydokey. From TokiDoki.

.

AD
---






Of course Goringo is half apple and half gorilla. What else would you expect?

.

AD
---






These designer toys are cutely sinister.

.

AD
---






Not your average teddy bear, Gloomy Bear is a murderous beast, his latest victim dangling from his bloody claws. Only the strangest children would want hope to see this critter walk across the bedroom at midnight.

.

AD
---






A fluffy seal lying on a fluffy cloud resting on a fluffy pillow: what could be more soothing? The backside is thick wooly fleece material and the front has a wonderful embroidered image of Mamegoma.

.

AD
---






Doraemon is a fat-cat robot in Japan, where he's reigned as one of the more popular cartoon characters since his debut in the 1970s. In his pocket he keeps an assortment of gadgets, plus a nuclear bomb to take care of dreaded mice and rats. This 13" cuddly plush is just one of the many different kinds of Doraemons a fan can collect.

.

AD
---






Everybody's favorite beagle keeps his chick buddy, Woodstock, warm with a striped muffler.

.

AD
---






This happy "god of things as they are" is also known as a Billiken and has been floating around the U.S. for decades. He's even the mascot for the St. Louis University Billikens baseball team. Here, though, he's happy to sit on (or off) the bench and guard your loose change.

.

AD
---
THIS BANNER IS AN AD:
---
---