---
TDmonthly's Book Expert
One Educated Bookworm's Opinion
This month, TDmonthly Magazine's Book Expert followed a pirate on a search for his peg leg, watched as the whimsical kiss of a mother blew around the world, and learned that imaginary gardens can be as inspirational as the real thing. As you'll see below, each of the titles reviewed scored highly.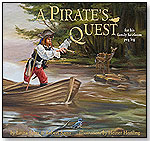 Title: A Pirate's Quest: For His Family Heirloom Peg Leg
Author/Illustrator: Laura Sams and Robert Sams/Heiner Hertling
Publisher: Carl R. Sams II Photography
Gender: Boys and Girls
Age: 3 to 11
MSRP: $19.95

TDmonthly rating:




What It Is: This stunning picture book follows a pirate on a journey to find his valued peg leg, which has been handed down through his family for generations. He travels from lakes to streams to rivers to the ocean, encountering a wide variety of sea and land animals on his way.

Why You Should Carry It: Pirates are a perennial favorite of both boys and girls, and this story combines traditional pirate humor with an environmental twist, as the authors show how life is interconnected through the waterways. The painted illustrations by acclaimed nature artist Heiner Hertling are especially noteworthy, and an index in the back of the book of all the animals pictured provides kids with an added activity, as they can search for the specific animals in the detailed illustrations.

What Kids Think: A group of 4- and 5-year-olds was mesmerized by this story, which appealed equally to both the girls and boys. They especially liked the humorous parts of the story, such as when the pirate thought he found his peg leg but discovered it was the peg leg of another pirate!

---
Title: The Imaginary Garden
Author/Illustrator: Andrew Larsen/Irene Luxbacher
Publisher: Kids Can Press
Gender: Boys and Girls
Age: 3 to 7
MSRP: $16.95

TDmonthly rating:




What It Is: When Theo's grandfather moves from his house to a large apartment building, she thinks their gardening days are at an end. But Theo comes up with an idea of planting an imaginary garden. Her grandfather purchases a large, blank canvas for his patio, and as they go to work, the canvas comes to life with tulips, daffodils and other vibrant flowers.

Why You Should Carry It: This picture book succeeds on many levels: as a tender testament to the love between a granddaughter and her grandfather, as a tribute to what any child can accomplish with a little imagination, and even as an inspiration for an adult-child art activity. While not everyone has the time or space to tend a real garden, anyone can have the pleasure of an imaginary garden such as the one portrayed in the gorgeous illustrations in this book.

What Kids Think: The vibrant illustrations and the charming text kept the attention of a room full of preschoolers. "I liked all the parts with the flowers," commented Sophie, age 5.

---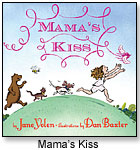 Title: Mama's Kiss
Author/Illustrator: Jane Yolen/Daniel Baxter
Publisher: Chronicle Books for Children
Gender: Boys and Girls
Age: 3 to 6
MSRP: $14.99

TDmonthly rating:




What It Is: Even the smallest children are taught to blow kisses, but what happens when a kiss Mama blows goes astray? In this sweet story, the errant kiss winds up traveling the world, reaching baby brothers, dogs, bees and even bears before it finally gets to its intended target. The trajectory of the winged kiss can be followed by tracing vibrant pink loops on each page.

Why You Should Carry It: While this story can certainly be enjoyed year-round, this title would be particularly appropriate to display for holidays such as Mother's Day and Valentine's Day. Because of the brevity of the rhyming text and the whimsical, humorous illustrations, it makes a good read-aloud for children as young as 3 but would be enjoyed by older siblings as well.

What Kids Think: This attractive book was greatly enjoyed by a group of preschoolers, especially the girls. "Read the pink book again," 4-year-old Ava exclaimed. One of her classmates described the book as "crazy" because of the way the kiss flew around the world.

Writer's Bio:
A member of the American Library Association, Margo Tanenbaum was formerly employed by an independent children's bookstore and has published book reviews on Amazon Vine and Goodreads. She is pursuing a master's degree in library science and writes about historical fiction and non-fiction for children and teens on her blog,
The Fourth Musketeer
.
Read more articles by this author
THIS BANNER IS AN AD:
---
---