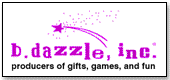 Kathie and Marshall Gavin started their company, b. dazzle, inc., (Website, ToyShow) maker of the hit puzzle Scramble Squares®, from the ground up, starting like all entrepreneurs with ambition and an idea. The couple launched the company in 1993 and, after years of labor, weeks on end at trade shows, and 105 puzzles, b. dazzle, inc. saw its greatest success in 2004, with sales up 41%. In 2005, the company will add 20 new puzzle designs to the plethora already on the market.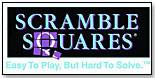 Recipe for Success

Their recipe for success is so traditional it's almost old-fashioned: a dedication to quality products; diligence and sacrifice; and a commitment to customer service. It is that last principle – customer service – about which the Gavins are most proud. The couple still travels 200 days each year, exhibiting at wholesale trade shows and reaching out and forging connections with buyers.

Says company co-founder Marshall Gavin, "In an age of incessant voice mail prompts and customer self-service, we at b. dazzle, inc. still believe that courteous and helpful human to human contact is critical to the long lasting and mutually beneficial relationships that we are building for the long term."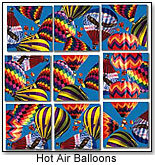 b. dazzle, inc. is built around the idea of "human to human contact." Its Scramble Squares® puzzles – nine pieces, decorated with designs like "Hot Air Balloons," "Wizards" and, new to this season (along with 19 others), "Covered Bridges," which must be correctly assembled to complete the design – link Kathie Gavin, the puzzle designer and company founder, to the lucky soul who has just purchased a puzzle. Its sales philosophy links manufacturer to retailer. Lastly, the company's "life" philosophy, if you will, is built around the idea of reaching out to others.

The CHARACTER COUNTS! Coalition

For proof of b. dazzle, inc.'s community involvement, one need look no further than its involvement with the CHARACTER COUNTS! Coalition, a widespread partnership of schools, national organizations, communities, youth-service organizations and businesses dedicated to education and moral instruction in the form of the coalition's Six Pillars of Character: trustworthiness, respect, responsibility, fairness, caring and citizenship.

"The mission of CHARACTER COUNTS! is to create a more ethical society by teaching behavior," says Jessica Ellis, the company's Associate Director. "The coalition itself is thousands of schools and organizations, dedicated to adopting a common language – the Six Pillars of Character – with the idea that a common language is most effective in building character in youth."



Membership in the coalition was limited to non-profit organizations until recently, Ellis notes, with the primary goal of training educators to include moral instruction in their daily lesson plans. Yet the coalition began to include businesses in 2004 as a way to involve local business owners in community development projects.

b. dazzle, inc. was one of the first businesses to sign on early last year. The company participated with the Redondo Unified School District in planning and sponsoring a talk by Character Counts' founder Michael Josephson at Redondo Union High School in October, donating $1000 worth of flyers and posters for the talk. Kathie Gavin personally designed flyers and posters, lending an artist's eye and her own marketing experience to publicize the event

"[The event] would not have worked without the community's help," said Vivian Spiglanin, the district's Character Counts! Coordinator. "What Kathie did for us gave us a level of professionalism it wouldn't have had. To have a business support us in that way is phenomenal."

Other community outreach gestures involve donation of its Scramble Squares puzzles to the 2004 Toys for Tots program, conducted by the Marine corps Reserve, and to "Take Good Care Packs," provided by Boston's Massachusetts General Hospital to teens whose family members are being treated for cancer. The company sent hundreds of puzzles and "Thank You" cards, personally signed by its employees, through the From Us to You program benefiting troops serving in Afghanistan and Iraq.

As business owners, the Gavins support the coalition not only because the values it teaches help create a generation of moral Americans but because it helps safeguard their own business and the economy as a whole. This moral instruction is especially important in the wake of scandals at companies like Enron and MCI/Worldcom, as well as on the individual level, where integrity must guide a consumer not to buy a cheaper counterfeit or "knock-off" product which severely cripples a product's originator.

Ethics in Business

Beyond its community efforts, b. dazzle, inc. is wholly committed to promoting a code of ethics for the trade associations which the company is involved with, including the Toy Industry Association, the American Specialty Toy Retailers Association (ASTRA), the National School Supply and Equipment Association (NSSEA), the Museum Store Association (MSA), the National Association of College Stores (NACS), and the Association of Partners for Public Lands (APPL).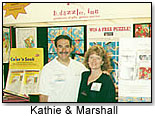 "Because our society places such a high value on material success, there is the tendency in human nature to pursue success by any means," Gavin admits. "We strongly believe that with our success comes a duty for us to contribute to our society. We wish to do so by advancing the principles of good character and ethical behavior, not only by operating our business in accordance with ethical standards but also by advancing and promoting the importance of ethical business practices and ethical behavior throughout our society."

A slew of scandals in the first part of this century have branded business with a bad name. b. dazzle, inc., with its community involvement, code of ethics and commitment to a vision, is emerging as a new model of business.

"We do not want to be like the piggy in the 'Three Little Pigs' who built his house of straw because it was cheaper, easier and faster than building with twigs or bricks," Gavin states. "Rather, we continue to build b. dazzle, inc. of bricks, brick by brick by brick."

Keep on building, Kathie and Marshall.
See other articles on b. dazzle, inc. and Scramble Squares®:
How a 5-MINUTE CHALLENGE® Trumps Challenging Times: Scramble Squares® Puzzles Offer Elegance and Economy (VIDEO article with merchandising tips)
Why b. dazzle, inc. Chose North America: Company's Principles Drive Quality Production
b. dazzle, inc.'s Dazzling Rise: Ancient Egyptian Inspiration Brings 21st Century Success