"We believe that service is a virtue, and we strive to surprise our customers with exceptional service." — Marshall Gavin, b. dazzle, inc.
b. dazzle, inc. 's (Gift Guide) Scramble Squares® 9-piece puzzles are beautiful visual brainteasers. You add the pieces together, but don't know whether you're getting closer or farther from the solution. Kathie and Marshall Gavin started
b. dazzle, inc. in 1993, after they each lost their executive positions in corporate America within six months of one another. When they were unable to find new jobs and had exhausted their savings, Kathie and Marshall embraced Kris Kristofferson's "Bobby McGee" philosophy, "Freedom's just another word for nothing left to lose," and ventured out into the toy and gift market, turning their unusual puzzles into a booming business.

Kathie is the founder, president, CEO and the inventor and designer of each and every Scramble Squares® puzzle. She's in charge of production, operations and accounting. Marshall is executive vice president, responsible for all marketing, including strategic planning, trade-show selection and coordination, sales-rep contracting, advertising and public relations.

10 puzzles = $376,000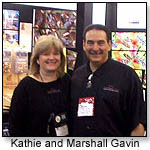 Kathie, an interior designer by education and experience, had an idea for a puzzle based on an ancient Egyptian mosaic game. In 1994, she and Marshall produced four of these tessellation puzzles, which they named Scramble Squares®.

They began marketing their new Scramble Squares® brain teaser puzzles in 1994 by sending out 1,000 mailing pieces to retailers across the country and by exhibiting at three wholesale trade shows. That first year, they generated $124,000 in revenue. They then made six more puzzles for 1995, did a more extensive mailing and exhibited at several more trade shows, resulting in $376,000 in revenue for their second year.

Sales Go Vertical

To introduce their product to the marketplace, they utilized direct mailings, product brochures, wholesale trade show participation, public relations, independent commissioned sales reps and display advertising in trade journals and by creating the unique Scramble Squares® "5-MINUTE CHALLENGE®" promotion: They told retailers that if their customers solved a demonstration Scramble Squares® puzzle in their stores within five minutes, the store could give the customer a free Scramble Squares® puzzle of the customer's choice, and b. dazzle, inc. would promptly replace, at no charge, any puzzle that the stores gave away.

The 5-MINUTE CHALLENGE® got people hooked on the product, and the b. dazzle, inc. sales graph line went vertical.

High Quality, Low Overhead

But making money wasn't their only objective. Kathie and Marshall were determined to produce their products in America, so they had to find ways of keeping a very low overhead to be able to compete effectively on a price basis in the marketplace against products that are produced in Asia. They had to accept the reality that they would each have to perform at least three jobs in their new company and that their working hours would be whatever was required.

Finding the Right People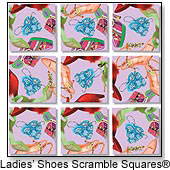 They also sought and found people with whom to work who share their high standards, pride in workmanship and uncompromising customer-service commitment.

Kathie and Marshall Gavin refuse to compromise on the courtesy and the follow-through of their employees on behalf of their customers and prospective customers. Callers to b. dazzle, inc. are never going to get a voice prompt ― they will always be served by an interested and service-minded human being.

According to Marshall Gavin, "We believe that service is a virtue, and we strive to surprise our customers with exceptional service."

Overcoming Obstacles

Another obstacle that Kathie and Marshall faced was the difficulty of introducing people to a gift concept that was new to them. When people think of puzzles, they usually think of crossword or jigsaw puzzles and they often restrict their thinking to children, excluding adults as likely customers.

Kathie and Marshall had to find sales reps who understood that Scramble Squares® would do very well as gifts for adults, seniors and college students and who would also call on toy and educational supply stores, where Scramble Squares® puzzles are an award-winning natural fit.

As they did with all of the obstacles they've encountered, the Gavins found solutions, and they now work with a number of reps throughout the country.

Building New Audiences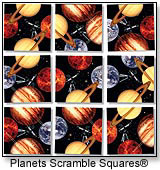 Since seniors and adults really love Scramble Squares® puzzles, Kathie and Marshall always suggest to their toy and educational supply store customers that they put their store sticker on the back of the puzzle's package and bring it over to the activities director at the local senior center. Doing so will give those stores an additional new market.

Paying Attention

When asked what advice they would give other entrepreneurs who are trying to introduce a new product, Kathie and Marshall told TDmonthly emphatically: Listen to the market. The market will tell you what it wants.
See other articles on b. dazzle, inc. and Scramble Squares®:
How a 5-MINUTE CHALLENGE® Trumps Challenging Times: Scramble Squares® Puzzles Offer Elegance and Economy (VIDEO article with merchandising tips)
Why b. dazzle, inc. Chose North America: Company's Principles Drive Quality Production
b. dazzle, inc. and its 21st Century Business Model