---
Retailer Spotlight: The Parent-Teacher Store & Toys Too
New Storeowner Builds Friendly Space With Confidence and Charity
"I love to help the Salvation Army, and in doing so, they came in and spent a very large grant exclusively at my store." — Kimberly Kopatz, owner, The Parent-Teacher Store

When self-professed "shopaholic" and preschool teacher Kimberly Kopatz learned last year that The Parent-Teacher Store & Toys Too in Louisville, Ky., was going out of business, she quit her job and, a month later, "was a retail store owner who had never worked a day in retail!"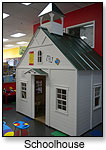 REMAKING THE BUSINESS

"I was so excited," she told TDmonthly Magazine, "because for years I had found great educational and specialty toys in catalogs and online for my godson, and now I would be able to bring them to my store and sell them locally."

The original store opened in August 1980. After Kimberly purchased it in January 2008, she reopened the store in a new location that April. The money to buy the store, build the new space, and purchase inventory came from her personal savings.

The previous owner went on one buying trip with Kimberly, who found that she wanted to take the store in a new direction, so they parted ways shortly afterward. Kimberly did, however, retain employee Leslye Dicken, who had worked for the store for 15 years, and several other long-time employees.

"I immediately promoted [Leslye] to manager, and she is definitely my right (and sometimes my left!) hand," Kimberly told TDmonthly.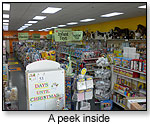 PLAYING MIND GAMES

From there, the venture has been trial and error, and she admits her biggest obstacle has been her own mind.

"I sometimes have to take a step back and remind myself that I am still new to this," Kimberly said. "But it helps to see that my numbers have increased almost 30 percent over the previous owner, and we have seen increases in most months this year over last year."

She does get discouraged when she sees Costco selling a specialty product at a much lower price than her store.

"I have to tell myself that it may be a one-time thing that will never be at Costco again, and not everyone has a Costco membership," she said. "I also think that at our store, we make shopping such a personal experience that people are willing to pay a little more."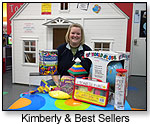 One of Kimberly's biggest mistakes has been letting other people's criticism get her down.

Family, industry peers and loyal Parent-Teacher Store customers criticized her "for jumping into retail with no experience," she said. "I questioned every step I would take … in the end, I just had to tell myself that I could handle all of this."

KEEPING A TENDER HEART IN CHECK

Kimberly, who admitted she's "a sucker for a cute stuffed animal," has to resist bringing in too many. "It's not always going to sell, especially when you have too much of it," she told TDmonthly. (See the Parent-Teacher Store's best sellers.)

Her tendency to give away too much could also hurt the business.

"I just love to help people … so I throw a little extra in here and there or discount a few items for someone," she explained. "I have to remind myself that I am here to make money."

Being charitable, however, is also one of the Parent-Teacher Store's biggest strengths.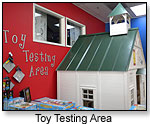 "I love to help the Salvation Army, and in doing so, they came in and spent a very large grant exclusively at my store," she said. "I also was a donor for Operation Brightside for Louisville, and we have a life-sized painted replica of a horse in front of the store. It is painted with all different products from the store, and kids and parents love to see it."

FINDING VALUE

Changes in leadership and retail space can make a big difference in how stores are perceived, Kimberly has noticed.

"Everyone comments on how friendly the space and staff are," she said, "which is funny, because people say the staff at the old store were rude … and I have the same staff!"

In the last two years, Kimberly has tried various forms of advertising, including radio, newspaper and direct mail.

"Sometimes all it takes is to find one thing that works really well," she explained. "For us, that one thing is Valpak."

The store's "toy testing area" is home to a large playhouse fashioned like a schoolhouse, which also drives traffic to the store.

RESEARCHING WITH A MOUSE

For research, Kimberly turns to the Internet, as many retailers do.

"I love the TDmonthly.com website, since it is very helpful when looking for the new products and to see what's selling," she said. "I also use the ASTRA website a lot. Plus, it helps to see what other storeowners are tweeting about on Twitter."

She advises other retailers in the business to follow their hearts, and above all, have fun, since it is the toy industry.

"Play all the time," she said, "since you have to know the product to really be able to sell it."

Writer's Bio:
Brenda Ruggiero is a freelance writer from western Maryland.
Read more articles by this author
THIS BANNER IS AN AD:
---
---