---
Hasbro Faces Big Threats on the Gaming Field
Mayfair, Lego and Mattel Plague Opponent's Sales and Shelf Space
"Were it not for the acquisition of Cranium ... the whole of 2008 would have been negative."

Dec. 15 – Back in April, I said in this space:

"Hasbro's board game business declined last year despite strong demand for the category. I predict this will happen again in 2009 and 2010."
NOTE: Hasbro has pointed out that I misnamed the business I was referring to. It was not the board games business [which, in fact, increased by 2 percent last year]; but it was the games and puzzles business I was referring to.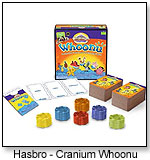 What prompted this prediction was that for the first time there were several potent competitors threatening Hasbro's pre-eminence. Also, for the first time, Hasbro could no longer follow its time-honored tradition of buying emerging upstarts, as it had last done in January 2008 with Cranium.

Hasbro is facing Mattel and The Settlers of Catan (by Mayfair Games) in the United States and Lego and Catan in Europe. It cannot buy Mattel because it is too big, it cannot buy Lego because it is privately held and doing too well, and it cannot buy Catan because Catan GMBH and Catan LLC are owned by a German family that will not sell, period. Hasbro has no choice but to stand up and fight.

Therein lies a problem, because board games differ in many respects from most other toys. Firstly, the adult in the family, not the child, is the decision maker. Secondly, board games are not driven primarily by licenses or price or advertising but rather by cerebral content and innovation. In other words, if you have a competitive problem, you cannot get out of your conundrum by quick fixes.

Hasbro's problem started a long time ago when the company elected not to underpin its largest business with fundamental and ongoing developmental investments. Hence, while erosion takes a while to show, correcting this will also take a while — until Hasbro comes up with games that are fresh and not just variations on a theme.

This is how the U.S. market developed this year as per my retailer panel sell-through numbers:


| | | | | | | | |
| --- | --- | --- | --- | --- | --- | --- | --- |
| Category | 2007 $M NPD | 2008 $M NPD | +/-% | Retail Panel 1st Q 2009 +/-% | Retail Panel 2nd Q 2009 +/-% | Retail Panel 3rd Q 2009 +/-% | Retail Panel Oct-Nov 2009 +/-% |
| Games & Puzzles | 2,300 | 2,300 | +0 | +3 | +4 | +3 | +5 |
| Total Toy Market | 22,300 | 21,440* | -4 | -6 | -4 | -6 | -4 |

NPD Source *NOTE: The individual categories add up to $21.4 B, as shown here, not the $21.7 B shown in the source chart.

However, this is how Hasbro's games and puzzles category numbers looked last year and this year worldwide, in terms of shipments to retailers:


| | | | | | |
| --- | --- | --- | --- | --- | --- |
| Period | 1st Q 2008 $ M | 2nd Q 2008 $ M | 3rd Q 2008 $ M | 4th Q 2008 $ M | Year 2008 $ M |
| Hasbro Games & Puzzles | 210 +9.9% | 257 +15.6% | 421 +4.6% | 452 -10.7% | 1340 +1.3% |
| Period | 1st Q 2009 $ M | 2nd Q 2009 $ M | 3rd Q 2009 $ M | 4th Q E 2009 $ M | Year E 2009 $ M |
| Hasbro Games & Puzzles | 213 + 1% | 214 -16% | 379 -10% | 430 -5% | 1236 -8% |
Percentages measure performance versus the same period the year before. Source: Hasbro SEC filings.

In short, Hasbro's games and puzzles business has shown negative growth numbers in the past four quarters, and the same is expected for the fourth quarter of 2009. Were it not for the acquisition of Cranium in January 2008, which added about $40 million to Hasbro's sales that year, the whole of 2008 would have been negative.

GAMES UP OR DOWN?

According to Brian Goldner, CEO of Hasbro, POS [sell-through] numbers for the company's games and puzzles category were up in each of the three quarters this year. While I do not doubt that he said so in good faith on the basis of NPD numbers, I must question these statements for two reasons:

1. By definition, POS numbers can only be up and shipment numbers down in a situation in which destocking occurs. Yet, the games and puzzles category was probably the only category last year that did not suffer from excess inventory at year end, according to my own retailer sources. Any destocking that occurred probably did so in the fourth quarter of 2008, as demonstrated by Hasbro's sharp drop in sales that quarter.

2. My retailer panel sell-through numbers tell me Hasbro lost market share in all three quarters thus far this year and that this loss is continuing into the fourth quarter.

For Hasbro, this is a serious development in that the games and puzzles category is not only its largest business but also its most profitable one. Last year, the category represented one-third of the company's sales and about 40 percent of its gross profit.

WHY HASBRO GAMES ARE STRUGGLING

It behooves us to have a look at the three companies now besetting Hasbro.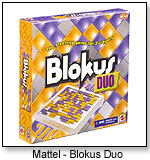 1. Mattel. Mattel has had about 10 percent of the games category in the United States for several years. It changed the equation when it bought Sekkoia, a French toy manufacturer, in early January, obtaining one game really worth having: Blokus, winner of the coveted Mensa award for promoting healthy brain activity. The rules are simple: Each player places his pieces on the board in turn, ensuring that pieces of the same color touch at one or more corners, but never along the sides. The object is to strategize and place as many pieces as possible before an opponent beats you to it.

Mattel is positioning Blokus at the core of its game strategy. I already have seen it at Toys "R" Us on an aisle cap as the center of a Mattel games assortment. As a result of this acquisition and of the company's ensuing efforts for the games category overall, Mattel's market share has gone from last year's 10 percent to an estimated 15 percent in November.

2. Lego. After a fantastically successful turnaround at the beginning of this decade, Lego elected to enter the board game category with 10 SKUs this year. The range was launched in Germany and the UK in August and has, as of the end of October, gained a market share of 4.6 percent in the UK and 3.5 percent in Germany. In August, Lego won the Golden Rocking Horse prize awarded yearly by the Association of the German Toy Industry [DVSI] and the Familie&Co journal. They selected Lego's Ramses Pyramid board game for first place out of 70,000 new products to be exhibited at the Nuremberg Toy Fair.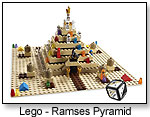 According to Michael McNally, brand relations director at Lego USA, the company had very aggressive 2009 sales expectations in both countries, and actual sales were exceeding these — obtaining a 3.5-percent market share in Germany and 4.7 percent in the UK at the end of October, a mere three months after introduction. According to my friends at Europe's large toy retailers in the two countries, market shares are expected to hit around 6 percent in both countries by year end.

The range is expected to be showcased at TIA's Toy Fair in February 2009 and will be available in the United States shortly thereafter. The buyers at all three majors have seen the range and have pledged important shelf space. I asked one of them where this shelf space was going to come from and she said, "Duh. Who has about 75 percent of the space now, dummy? Hasbro!"

3. The Settlers of Catan. This game was developed and launched in 1995 by a German inventor, Klaus Teuber, whose son now runs the company founded to commercialize it. It is probably the first German-style board game to be successful in the United States. Last year, it had an estimated 1 ½-percent market share here and has grown considerably since.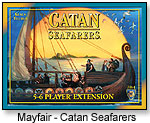 Players try to be the dominant force on the island of Catan by building settlements, cities and roads. On each turn, dice are rolled to determine what resources the island produces. Players collect these resources to build up their civilizations to get the points necessary to win the game. It is a clever and entertaining game in which strategy is considerably more important than luck.

I looked at the consumer demographics of all four games/lines, and they show interesting differences:


| | | | | |
| --- | --- | --- | --- | --- |
| Demographics | Catan % | Blokus % | Lego % | Monopoly % |
| Female | 52 | 45 | 49 | 61 |
| 17 and under | 30 | 20 | 56 | 6 |
| Caucasian | 78 | 84 | 83 | 83 |
| Families with kids | 48 | 44 | 70 | 48 |
| Income $30 K or below | 34 | 18 | 13 | 31 |
| No college education | 24 | 33 | 35 | 42 |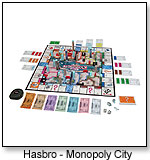 The Monopoly consumer has a much higher female content, is much older than the other three, and is less educated. In contrast, Lego, whose profile reflects the traditional consumer group for the brand, has the most affluent consumer group of the three, has the youngest age weight and has the edge in terms of families with kids, which is very important given the fact that board games tend to be mostly family affairs. The Blokus and Catan consumers are very much middle of the road. My sense is that the Lego profile is more optimal than that of the other two newcomers, in terms of promising growth over the long term.

In terms of pricing, Lego and Monopoly are approximately on par, whereas both Catan and Blokus are premium-priced. While this again gives Lego the edge, all my research shows that pricing, within reason, is not a major determining factor in selecting one game over another.

At this point in time, Hasbro is still the clear market leader and Monopoly, with its many iterations, is its most successful game. However, both Catan and Blokus seem to be catching up on Amazon and at Toys "R" Us, where Catan has two SKUs in the stores — the Travel Edition and the Gallery Edition.

At Target and Wal-Mart, Catan is currently online only, but is doing well. It is my understanding that the game is being considered for on-shelf presence by the buyers of both retailers. However, as per Bob Carty, VP at Mayfair Games (publisher of Catan in the United States and all other English-speaking countries), Catan has different plans.

Carty said in an email to TOYDIRECTORY, "Wal-Mart will not be offer[ing] Catan. It is likely that it will not be on Wal-Mart.com next year on our decision. Toys-R-Us is not in the running to carry basic Catan. Target will not ever get the product without signed contracts protecting the pricing and hence our small retailers."

Blokus has very limited distribution on-shelf at Wal-Mart for two of its SKUs and is at Target nationwide with two SKUs, but again here, I expect continuous expansion. Now, we are waiting for the proverbial shoe to drop with the introduction of Lego games into the United States.

Quite clearly, Hasbro has a problem — declining market shares and declining margins. This situation is unlikely to change fundamentally until any major efforts at innovation have borne fruit, which could, literally, take years.

See descriptions of these games below: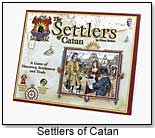 Imported from Germany to the U.S. in 1995, this European designer game is thematically nonviolent, elegant in game play and visually appealing. Players must collect and trade resources, such as wood and sheep, and build the best settlement on an island. Moves require strategic planning, and negotiating and trade are crucial elements of the game.
— "The Settlers of Catan is extremely popular with boys over 12. It's a great game that's a combination of Risk and Monopoly," was the analysis provided by Leanna Halbrecht, owner of Animations in Teaneck, N.J.
— "I'm having a lot of interest in Settlers of Catan and its expansion packs," added Amy Barrett, owner of Lasso the Moon Wonderful Toys in Helena, Mont. "Games such as Settlers of Catan … are becoming more popular," said Owner David Campbell of Amazing Toys in early 2009. — This game has been exciting kids — and specialty retailers — for years. Its long-running status as a top seller earned it a TDmonthly Classic Toy 2007 award.

ToyDirectory Product ID#: 2230

(added 1/18/2005)

.

AD
---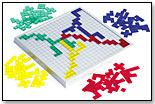 Europe´s 2002 game of the year, Blokus is a strategy game for the family. It's similar to the ancient Go Game — the board is a grid and players use their pieces to try to control as much territory as possible. The game pieces are in four, 21-piece sets of varying shapes. Each player chooses a color and works on expanding his territory on the board while blocking others from doing the same. Each new piece laid down must touch at least one other piece of the same color, but can only touch at corners, not along edges. The game ends when all players have been blocked from laying down more pieces. Points are deducted for pieces not played, and the player with the highest score at the end, wins. Blokus comes with a game board with 400 squares, 84 game pieces (red, green, blue and yellow), and instructions.

— In spring 2007, Sally Lesser, owner of Massachusetts' Henry Bear's Park, called Blokus a "consistent best-seller" at her three stores. It's also tops at Juggles in Wakefield, R.I., and Kazoodles in Vancouver, Wash. Six of 63 retailers named Blokus as their overall best seller in September 2008. Three of 52 retailers named Blokus as one of their overall top sellers in November 2008.

Blokus is no longer distributed by Educational Insights as of 12/4/08.


― "No. 1 is Blokus," Linda Hanzelko, owner of

Timmy's Toy Chest

in Lake Mary, Fla., told

TDmonthly

when asked about best-selling games in early 2009. "It's an easy sell. It's one that people come back later and say 'You were right.'" In late 2009, Lori Hershman, owner of Evan's Toy Shoppe in Hamden, Ct., estimated sales of about 34 units monthly. Six of 38 retailers called it a best-selling game in Feb. 2010, selling from three to 150 units per month.

ToyDirectory Product ID#: 3721

(added 5/27/2005)

.

AD
---






Just as fun for adults as it is for kids, Cranium Family Edition features activities that challenge adults, too. From balancing cubes on elbows to deciding what the most popular pet was in ancient Egypt, kids and parents alike will celebrate the wacky collaboration that results from the outrageous activities teams are asked to complete. To play, teams work together to race around the board by completing a mix of classic and all-new CRANIUM activities, including sketching, acting, solving word and picture puzzles, completing scavenger hunts, sculpting with purple Cranium Clay and more. The Data Head in your family will love guessing how many NFL teams are named after birds and trying to remember the first five gifts in "The Twelve Days of Christmas," while the Creative Cat will enjoy sculpting a turtle out of Cranium Clay or attempting to draw a palm tree with their eyes closed. Launch: 2008.

ToyDirectory Product ID#: 20765

(added 9/25/2008)

.

AD
---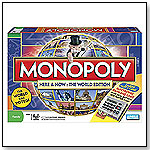 MSRP: $34.99

Age Range: 8 and upSKU or Item #: 01612Gender: Boys And Girls





This world-class MONOPOLY game for two to six players take participants to global cities on six continents. Each player has a MONOPOLY credit card, plus a digital device that acts as a bank to track the balance. It requires two AA batteries (not included).

ToyDirectory Product ID#: 20726

(added 9/24/2008)

.

AD
---

Writer's Bio:
Lutz Muller is a Swiss who has lived on five continents. In the United States, he was the CEO for four manufacturing companies, including two in the toy industry. Since 2002, he has provided competitive intelligence on the toy and video game market to manufacturers and financial institutions coast-to-coast. He gets his information from his retailer panel, from big-box buyers and his many friends in the industry. If anything happens, he is usually the first to know. Read more on his website at www.klosterstrading.com.
Read more articles by this author
THIS BANNER IS AN AD:
---
---