---
Tips for Buying "Green" This Christmas
Why It's Important to Look Past the Label
Wanting the perfect "green" gift to put under the tree? If you're concerned with the environmental impact of manufacturing and the materials used in your kids' playthings, as many parents are, the good news is there's an increasing number of toys, games and baby items that meet progressive criteria for eco-friendliness. A few toy industry professionals shared with TDmonthly Magazine some tips on picking toys that are truly environmentally sound:

See eco-friendly toys for the holidays.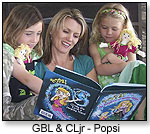 1. Seek Sustainability. "Look for 'sustainable' products made from renewable, biodegradable, organic or recycled materials that are recyclable themselves," advised Geraldine Lewis, founder of GBL & CLJR PUBLISHING and creator of the Popsi doll.

2. Check the Carbon Footprint. "If toys break easily, need to be replaced often, or require large amounts of non-renewable resources to reach their destination, the benefit gained by green manufacturing processes is diminished," Shannon Sizemore, founder of eco-conscious online store Bitsy Birdie, told TDmonthly.

3. Choose Quality. Money may be tight, but don't waste it on toys that won't last. "If you're buying a product that is going to last longer, you're in all cases contributing in a good way rather than buying something disposable," said Jamie Kreisman, president of Beka Inc.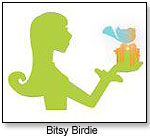 4. Look Beyond the Label. "Eco-friendly" and "green" identification doesn't ensure a product is constructed of the best materials. "[Parents] should look for specific information on the materials used, any certifications obtained, and compliance to defined safety standards. Avoid lead and many plastics such as polycarbonate (PVC), and polystyrene, Bisphenol-A (BPA) and phthalates," added Lewis.

5. Examine Plastics. Don't hesitate to inspect the materials. "One way to distinguish between different types of plastics is to look for recycling codes," Lewis told TDmonthly. "Look for numbers 1, 2, 4 and 5, or the abbreviations PET (or PETE), HDPE, LDPE, PP. These are not known to leach any chemicals of concern, and are widely recyclable."

6. Research. Sizemore advocates researching products online prior to purchasing. While it's more common to find environmentally friendly options on the Web, she said, an increasing number of stores are stocking earth-friendly selections.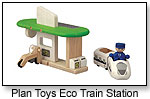 7. Support Conservation Efforts. If you really want to make sure the products you're buying are from a reputable business whose practices bleed green, too, look into it. Bitsy Birdie, for example, supports environmental foundations and "practice[s] energy conservation by recycling, using limited lighting, and doing business online to limit driving," Sizemore said.

In addition to checking out eco-friendly options in TDmonthly's Holiday Gift Guide, see some green toys below:







This rugged playset is constructed of Sprigwood, which is a bio-composite material that blends reclaimed wood and recycled plastic, and is dyed with safe pigments. The set includes explorer and rescue boats, Captain Owen the adventure guide, an interchangeable adventure hat, a life preserver, mother and baby dolphins, and a backpack accessory.

.

AD
---






Made from organic cotton and sustainable rubber wood, this mischievous monkey hangs from just about anywhere. Launch date: October 15, 2009.

.

AD
---






This bear features fur made of 70-percent natural bamboo fleece and 30-percent organic cotton, and is stuffed with hypoallergenic, biodegradable nature-fil derived from corn. Hemp and organic cotton are used on the bear's character's ears, feet, tail and paw pads. Non-toxic, cold water dyes were used. Launch date: November 2009.

.

AD
---






These bears come from the Green Mountains of Vermont, but their cuddly soft fur and paw pads are made from 100-percent recycled post-consumer plastic bottles — the same fabric that goes into making some of the world's softest fleece and other cozy fabrics. They're made with 100-percent recycled stuffing. And just like all Vermont Teddy Bears, Go Green Bears feature "Born in Vermont" eyes and a "tush tag" confirming an unconditional lifetime guarantee. Launch date: November 15, 2009.

.

AD
---






.

AD
---






.

AD
---






.

AD
---






Rootensils come in an assortment of colors including red, purple, blue, and pink. Comes in a set of two (one spoon and one fork), these simple utensils are great for small hands. Rootensils are dishwasher safe, microwaveable, made of plant-based material, non-toxic, compostable, biodegradable, and are BPA free, Pthalate free, and PVC free.

.

AD
---






.

AD
---






.

AD
---






.

AD
---






.

AD
---






Powered by the sun's rays, this alternative-energy toy car requires no batteries or tools, and contains less than a dozen parts to assemble. Launch date: April 2007.

.

AD
---






These frogs, fish and turtles are handmade in Vietnam using the ecologically harvested woods of the tropical jackfruit tree, and only when the tree is no longer able to bear fruit. The company calls them "bop-animals," as "bop" is the Vietnamese word for the "ribbit" you hear when you run a wooden stick (included) along their spine. These fair-trade items are made by artisans. Launch date: April 22, 2006.

.

AD
---






This small, fuzzy penguin features an exterior of high-quality polyester fiber created from recycled plastic bottles. Launch date: Summer 2009.

.

AD
---






.

AD
---






.

AD
---
THIS BANNER IS AN AD:
---
---