---
Reviewers Stitch, Snap and Shovel for Fun
Girly Gifts and Take-a-longs Earn Award-Winner Status
TDmonthly Magazine reviewers have given their opinions on everything from fish-hunting penguins to recycled bracelets with a customizable message. What do these six products have in common? They all walked away from the experience with a 2009 TDmonthly award. See what the reviewers had to say: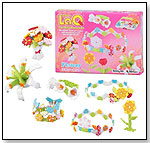 LaQ Hobby Kit Flower by YOSHIRITSU CO. LTD.
Age: 5 and Up
Gender: Girls
Category: Construction
MSRP: $20.00

What It Is: This 260-piece kit contains colorful pastel elements in seven varieties that snap together to create bracelets, bouquets and more. An included guide gives instructions for 12 interchangeable models.

What We Thought: Two sisters, 5 and 7 years old, played with kit for hours and hardly utilized the instructions. They appreciated the opportunity to use their imagination and build creatively, even working through trial and error. They even woke up early in the morning to play with it! The 5-year-old had a bit of trouble snapping together the small parts, but she raved about the set nonetheless. For safe-keeping, it's important to store the small pieces in either a zip-close bag or something with a lid.

Why They'll Want It: This set is colorful, fun and girly, and beckons the creative side. It allows individuals to create things that girls can wear (such as bracelets) or incorporate into other play scenes.

---

SandSac™ Beach Pail and Shovel by MESKO Associates LLC
Gender: Boys and Girls
Category: Outdoor Fun
MSRP: $11.95

What It Is: The SandSac is and eco-friendly, easily portable beach pail made from 100-percent cotton canvas. It comes with a bamboo shovel and may be customized with fabric markers (four included), paints and accessories. The SandSac is machine washable and can be folded and stored away when not in use.

What We Thought: "Plastic buckets are so hard to store and take up room in the car," said one mom, who thought the SandSac would make a great and affordable gift. The handles got in the way of scooping sand into the sack, she noted, but it is a very fun and unique product nonetheless — one that "definitely presents itself well."

Why They'll Want It: The novelty and earth-friendliness of the SandSac won approval from TDmonthly staff and reviewers, who appreciated its collapsibility and the fact that it can be custom decorated before toting to the beach.

---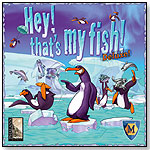 Hey! That's My Fish! Deluxe! By MAYFAIR GAMES INC.
Age: 8 and Up
Gender: Boys and Girls
Category: Board Games
MSRP: $40.00

What It Is: In this game, penguins at the pole are hunting fish as they jump from ice floe to ice floe. They're competing to have the best hunting grounds for their own use. The goal is to be the penguin colony that catches the most fish.

What We Thought: One family expressed initial trouble understanding the directions, but once they had the instructions under control, the game became quite fun. The four kids appreciated that when they jumped onto another ice floe, they got to keep it. They liked the hexagon shape of the pieces, the color of the penguins, and the opportunity to work in teams. Another adult reviewer warned that the game could potentially degenerate into the kind of stalemating that can happen in Tic-Tac-Toe once all players learn to play well.

Why They'll Want It: It's a little on the expensive side, but the game can be played quickly, offers endless modifications on the playing field, and is difficult to dominate consistently — inviting many fun and varied opportunities for play.

---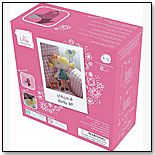 Stitch-it Dolly Kit by The Little Experience
Age: 6 to 12
Gender: Girls
Category: Arts & Crafts
MSRP: $14.99

What It Is: This all-in-one kit includes everything a girl needs to make her own stuffed doll: a colorful pattern on printed cotton canvas, scissors, needle, thread, stuffing and instructions.

What We Thought: One mom said, "My 7-year-old was so excited about this and just liked the idea of stitching the doll and making something. It was fun and easy to do." She lauded it as being positive for hand-eye coordination as well as providing as sense of accomplishment to the child completing the project, which can lend itself to educational and relational skills, too. The packaging was intriguing to the girl, although her mother thought it could be updated a bit to better pique an adult's interest.

Why They'll Want It: The experience of creating the doll makes this kit well worth the price. It would make an ideal gift for an elementary-age girl, and is also a super mother-daughter project to tackle together.

---

Shains - Recycled Bracelet with 60 Elements by SHAINSWARE
Age: 5 and Up
Gender: Boys and Girls
Category: Eco-friendly
MSRP: $12.00

What It Is: This flexible, fashionable bracelet is made of recycled material and comes with decorative elements so it can be personalized. Kids can change out the message using the alphabet letters and seven icons included, by inserting the plastic pieces through the holes in the cuff.

What We Thought: This kit is compact and simple, with a fresh and modern color palette. It's nice to be able to change the message on the cuff at will, and the elements are easy to work with. A 5-year-old girl and 7-year-old girl both enjoyed it, though the inclusion of more letters and fun symbols would make decorating even more fun.

Why They'll Want It: Shains bracelets satisfy a lot of criteria that's important and hip with tween girls today — personalization, wearability, an artistic factor, and even an environmentally friendly edge.

---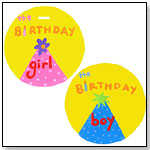 Tatutina Birthday Medal by TATUTINA INC.
Age: 3 and Up
Gender: Boys and Girls
Category: Gifts
MSRP: $5.00

What It Is: These wooden medals are colorfully painted for a celebration. They have rainbow colored ribbons attached so they can be worn around the neck, and can be personalized on the back with the child's name and birth date.

What We Thought: One mother thought the birthday girl medal "cute and whimsical." She appreciated the Velcro on the ribbon, as it made it easy to put the medal on and take it off. Her 3-year-old daughter was delighted and couldn't wait to wear it on her next birthday. She kept saying, "Birthday girl!" over and over.

Why They'll Want It: This medal is higher quality than similar items found at a party store, and it's a neat way to help a child feel special on his or her big day.

Writer's Bio:
Julie L. Jones has written articles for both newspapers and magazines. Before joining the staff of TDmonthly Magazine, she worked as a communications writer and provided editorial support for a market research company.
Read more articles by this author
THIS BANNER IS AN AD:
---
---