---
Summary of Online Toy Reviews
TD Scout Shares Positive Consumer Reviews from Thousands of Websites
TDmonthly Magazine's Review Scout scours the Web weekly for reviews of new and hot products so you don't have to spend your time searching. Out of thousands of blog, retail and other sites, his research uncovers toys, games and other gifts that are worthy of your attention now.

Check this space for briefs on reviews and ratings from across the nation and even the globe. See recommendations of products consumers love, as well as perspectives from specialty retailers who already stock them.







At 2" high and available with more than 95 labels for states, hobbies and lifestyles, this game may be used to teach math and strategy skills. The aim is to score 10,000 points by rolling dice and collecting combinations. Risky players will keep rolling for more points, but there's always the danger they will earn no points, or Farkel.
— With scoring rules on the package, Pocket Farkel is self-contained. Even climbers have played the game at the summit of Mount Kilimanjaro. Families laud the game as a perfect time filler for long trips or short breaks. One version of Pocket Farkel received an average of 5 out of 5 stars from 18 reviews on Amazon.com, as of Nov. 2009. Amy Barrett, owner of Lasso the Moon Wonderful Toys in Helena, Mont., told TDmonthly in fall 2009 that her store is "selling quite a bit" of Pocket Farkel since its low cost and small size make it easy to stock near registers as an impulse item. Of 39 retailers surveyed in March 2010, two said it's their top-selling travel game.


ToyDirectory Product ID#: 9205

(added 9/1/2006)

.

AD
---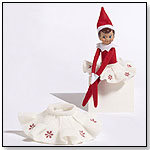 Wholesale Price: (Log in to view)

MSRP: $6.95

Age Range: 2 to 12Launch Date: October 2009Gender: Boys And Girls





The original Scout Elf Skirt is a dazzling ice-white, pleated skirt, sure to please the most fashion conscious female scout elf. Beautifully embellished with holly berry red snowflakes, this skirt will make your girl elf outshine the stars this Christmas season. Simply place the skirt where your elf can see it and she'll fly into it during the night. One size fits all.
— The Claus Couture Scout Elf Skirt is deceptively simple. At first glance it may appear to be some simple scraps of cloth. Diana Nelson, owner of Kazoo & Company in Denver, was skeptical when she first saw it, but overwhelming sales erased her doubts and made her regret her reduced order of the item. Parents who have experienced the magical tradition of The Elf on the Shelf know that the watchful gaze of the elf can transform misbehaving children into angels. Similarly, the Claus Couture Scout Elf Skirt transforms a generic elf into a fashionable female elf. More important, it can transform a sale, adding another item to a purchase or even encouraging customers to buy a second so their boys and girls can each have an Elf on the Shelf.

ToyDirectory Product ID#: 23992

(added 6/3/2009)

.

AD
---
Big Bear Hug
by
KIDS CAN PRESS
Other products from KIDS CAN PRESS
TDmonthly rating: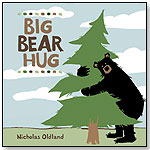 Nichols Oldland's "Big Bear Hug" tells the story of a gregarious black bear that hugs everything in the forest. Humorous illustrations show how nothing, be it moose, snake, rabbit, or tree, can escape the bear's displays of affection.
— Parents praise the book because it teaches children the importance of making good decisions and showing compassion. A confrontation with a human looking for lumber adds minor tension and provides the book with a subtle yet important environmental message, making it green-friendly as well.
— It received an average of 4.5 of 5 stars from three reviews on Amazon.com, and an average of 4.26 out of 5 stars from 39 reviews on Goodreads.com, as of November 2009.

ToyDirectory Product ID#: 26180

(added 11/25/2009)

.

AD
---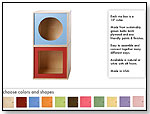 This wooden set of two, 15" cubes is made in the USA of sustainably grown Baltic birch plywood and uses eco-friendly paints and finishes. The front panel can be customized from a variety of colors and shapes. The cubes can be connected in various ways.
— Through Via Toy Box and its sister line, Via Wine Cubes, KD PRODUCTS combines form and function into sensible storage solutions. The Via Toy Box line features modular cubes with a variety of openings that can be used to create fully customized storage. Shelves, casters, cabinets, and more can be added to the basic cubes for more possibilities. The units can also be rearranged to meet changing display needs. The cubes can keep floppy plush and difficult to stack items neat and orderly while the array of colors and intriguing shapes can draw attention to products held within. Since children tend to climb, it's probably a a good idea to anchor the cubes to the wall for safety. The reviewer on Daddy Types ordered the product online and was thankful it "turn[ed] out to be good after all."

ToyDirectory Product ID#: 26181

(added 11/25/2009)

.

AD
---






Consensus® Junior Edition is an educational and parent friendly game. It is well suited as a family game. Consensus® Junior Edition is a game about opinions. Consensus® Junior Edition is not a trivia game, nor is it a strategy game. It is a game that allows its participants to express themselves as individuals and/or as part of a group.It has received the following awards: Dr. Toy 100 Best Products 2009; Dr. Toy 10 Best Socially Responsible Products 2009; Major Fun Award 2009; Tillywig Laugh Out Loud Award 2009; Creative Child Magazine: Game of the Year 2009; Family Review Center Gold Award 2009; and Oppenheim Toy Portfolio Gold Award 2009.

— Bernie DeKoven (Major Fun) proclaims that Consensus Junior Edition "is as much a tool for family harmony as it is a game for family fun." With gameplay similar to Apples to Apples, Consensus Junior Edition challenges players to choose the noun card they feel best fits the revealed adjective card. Players who are able to come to a consensus and choose successfully move ahead. Everyone's opinion matters, no matter their age, and even kids below the recommended age of 8 can play with a little parental help.

— At

Toy House and Baby Too

in Jackson, Mich., Consensus Junior Edition is a best-selling game, Owner Phil Wrzesinski told

TDmonthly

in November 2009.

ToyDirectory Product ID#: 25345

(added 9/14/2009)

.

AD
---

Writer's Bio:
Peter Aoun is a communications professional focused on the toy industry. He has conducted research on the impact of music on learning, as well as the convergence of toys and technology to create new forms of play.
Read more articles by this author
THIS BANNER IS AN AD:
---
---