---
X-Ball's Magnetic Pieces Attract Creative Teens
Creative Whack Company's Magnetic Ball Offers Built-in Fun
"The boys didn't get much of a chance for continuous play once Dad got his hands on it." — Teresa Wilson, mom reviewer

TDmonthly Magazine's Teen Roundtable families had a blast with the X-Ball from Creative Whack Company. Designed to inspire creativity, the X-Ball is fun as well as educational, they found. The toy appealed not only to teens, but also to younger siblings and adults, leaving our reviewers to declare it a hit.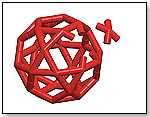 X-Ball by CREATIVE WHACK COMPANY
Age: 12 and Up
Gender: Boys And Girls
Category: Creative Activities
MSRP: $29.95

TDmonthly rating: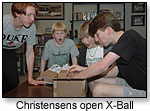 What It Is: The X-Ball is a set of 30 identical, x-shaped pieces that are magnetized. Due to the precise angles of the pieces, they can be shaped into a skeletal icosidodecahedron, an orb-like, 32-sided geometric figure. The 96-page guidebook offers illustrated ideas for other shapes and creative applications and includes activities for Creativity Workshops. The X-Ball can also be combined with the Ball of Whacks for even more unique, geometric designs.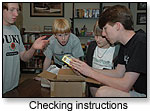 What the Moms Thought: "I always like a toy that's a hit with my boys, and this one was definitely a hit," raved Christensen. She liked the creative variety the toy offered, as well as its sturdy design. Thomas called the packaging and presentation of the toy "impressive."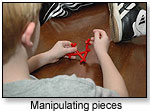 She also appreciated that the pieces are magnetized, which Wilson thought would help keep designs together during play as well as keep pieces from getting lost. She added, "I valued the fact that a 96-page booklet accompanied the toy to give the user a springboard for ideas." Ledford called the booklet "intellectually stimulating."

Her favorite quality was the educational aspect of the X-Ball, "particularly how it can be utilized to depict higher geometric principles such as the golden ratio."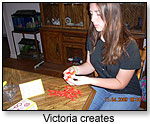 What the Kids Thought: "[It's] a good free-time distraction," exclaimed Andrew (14), adding, "When it breaks, it rebuilds itself." Kent (14) liked "the sturdy construction and strong magnets." Timothy (14) found that his favorite aspect of the X-Ball, the magnetism, "initiates the direction of the pieces, guiding the player to the design."

Mac (16) and Liz (14) appreciated the endless variations of the X-Ball; Victoria (14) most enjoyed "free-form building" as opposed to following a set design. Joe (10) said, "I just enjoy building things." Rose (8) liked the bright red color of the pieces. She and Liz (14) were amazed at the variety of shapes they were able to build.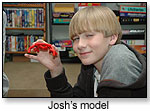 Creativity was 12-year-old Josh's favorite aspect. "You can make a shape, decide what it looks like to you, and then modify it to look more like the thing it brought to mind," he told his mom.

Joe (10) quickly assembled several of the designs outlined in the booklet. Ledford noted, "Joe (10) always enjoys anything he can hold in his hands and manipulate, especially if it works in a unique way." She concluded, "The X-ball was right up his alley."

What the Kids Learned from this Toy: After playing with the X-Ball a while, Kent (14) reported, "My artistic capabilities are beyond what I thought." Mac (16) saw the "infinite geometric possibilities" constructed from a single repeated shape. "Rose (8) learned that opposite sides attract and that magnetism can be used in different ways," Thomas observed.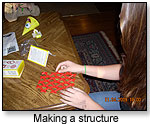 Ledford listed the following as educational aspects: spatial thinking, problem solving (to attempt the designs depicted), creativity, principles of magnetism, and geometric shapes and principles.

How to Improve It: Kent (14) would like to see the pieces come in a variety of colors. Tom (16) thought more pieces in the set would allow for more intricate designs. Ledford suggested a small cloth bag be included to store the pieces once the package has been opened.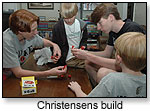 Victoria pointed out, "The featured design (skeletal icosidodecahedron) provided little challenge to build." The X-Ball was a hit with ages 8 and up, leaving several moms to recommend lowering the target age. Wilson thought the cost rather high.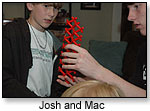 Would You Want Another Toy Like This? The X-Ball is "more enjoyable than Legos," Timothy (17) raved. Wilson noted that it appealed to adults as well as teens: "The boys didn't get much of a chance for continuous play once Dad got his hands on it," she reported.

Roundtable participants are homeschool parent Sue Christensen with Mac (16), Kent (14), Joshua (12) and Ben (8); homeschool parent Teresa Wilson with Timothy (17), Andrew (14), Elise (10), and Steven (9); machine operator Geena Thomas with Tom (16), Liz (14), and Rose (8); and Susan Ledford, editor of the "Homeschool Resources Directory for SC," with Victoria (14) and Joe (10).

Writer's Bio:
Susan Ledford is the writer, editor and publisher of the "Homeschool Resources Directory for S.C." She has been evaluating toys and games for
TDmonthly
's Roundtable reviews since 2005. She also is a homeschool veteran of seven years.
Read more articles by this author
THIS BANNER IS AN AD:
---
---