Updated on April 19, 2021:

Mattel will develop Rock 'Em Sock 'Em Robots®, the classic tabletop game featuring battling robots, into a live-action motion picture. Mattel is working with Universal Pictures and Vin Diesel's production company, One Race Films, on the project. Diesel will also star in the film. Mattel will produce the project alongside Diesel and Samantha Vincent from One Race Films. Ryan Engle penned the screenplay for the action adventure, which follows a father and son who form an unlikely bond with an advanced war machine. Kevin McKeon will lead the project for Mattel Films. "To take the classic Rock 'Em Sock 'Em game, with Mattel as my partner, and align it with the kind of world building, franchise making success we have had with Universal, is truly exciting," said Vin Diesel.

"We are proud to bring this iconic piece of Mattel IP to life on the big screen with our tremendously talented partners Vin Diesel, One Race Films and Universal," added Robbie Brenner, executive producer of Mattel Films. "Our rich library of franchises continues to yield compelling stories and we look forward to creating what is sure to be a thrilling action adventure for the whole family to enjoy with Rock 'Em Sock 'Em Robots."Launched in 1966, the Rock 'Em Sock 'Em Robots game was inspired by an arcade boxing game which pitted Red Rocker® against Blue Bomber® in a fight to knock his rival's block off. A staple in pop culture since its debut, the brand's bright and bold gameplay has appeared in films, television shows and commercials over the past five decades.

https://www.toydirectory.com/monthly/article.asp?id=6056
Watching I Love the 80s, reading People magazine religiously and playing with a Pet Rock are not the only gateways to today's pop culture icons. These top 10 products are easily recognized by the general public, and stand out in a media saturated marketplace. (Images will be added within two days.)
1.) Donald Trump Talking Doll by Stevenson Entertainment Group


SEG's representation of the Donald hits stores at the beginning of season 2 and includes sayings from the board room like "this one's easy for me…your're fired.
--The digital sound chip holds 17 phrases from The Apprentice and Trump: How to get Rich.
--This is the second season, approximately 27.6 million viewers watched the final episode last time.
--The customers are fans, collectors and business people according to SEG.
2.) Motley Crue Deluxe Boxed Set (Approx $50-$60, Ages 13+) by Mcfarlane Toys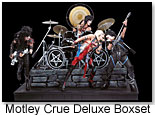 This set, which shows the rockers jamming out in a scene from Shout at the Devil, has created a lot of buzz around the November 2004 release.

--This one is going to fly off the shelves!" according to a McFarlane representative."
--Motley Crue re-released their albums and a book.
--Vince Neil, Tommy Lee, Nikki Sixx and Mick Mars are all featured with a signature instrument.
3.) Scarface (Approx $18-$20, Ages 15+) by Mezco Toys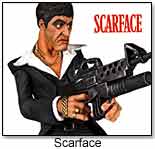 Mezco new figure features Tony Montana with his "little friend" in the classic white suit.

--These 10" roto-cast vinyl figures come with different facial expressions to represent the film's character arcs.
--The line will eventually include busts, statues, and mez-its.
--Scarface was released on DVD in an anniversary edition last year and sold at 'record breaking' numbers (Mezco).
4.) Jimi Hendrix 2 (Approx, $12-$15, Ages 13+) by McFarlane Toys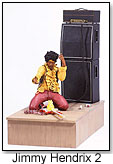 Rock fans and collectors have been purchasing this figure which displays Hendrix's performance at the 1967s Monterey Pop Festival.
--The figure shows Hendrix "coaxing flames from his guitar on stage."
--This is the second Hendrix figure by McFarlane, there is also a box set.
--Rolling Stone Magazine called Hendrix the "greatest guitarist of all time."
5.) A Christmas Story: Ralphie in Bunny Costume ($12.99, Ages 8+) by Neca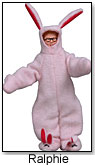 This item looks to be a hot purchase again for the holiday season.
--This is a Musicland/Suncoast exclusiveis available in November
--Nightmare before Christmas with Jack, Sally, the mayor and vampire is also being
released by Neca; it has a strong teen fan base.
--The Christmas story line was a popular gift last season, it continues to sell repeatedly
for fadtoys.com.
6.) Vin Diesel Action Figure (Approx $12.99) by Sota Toys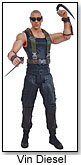 Sota's 7" science fiction figure comes directly from the movie "Chronicles of Riddick."
--This action sequel to "Pitch Black" will be out on DVD, November 16th.
--Deisel has box office pull, he is best known for XXX and Fast and the Furious. Best known for XXX and The Fast and the Furious, Diesel has box office pull.
--Figures will also be produced based on Lord Marshal, Vaako, Kyra, Necrolensr and Hellbound.
7.) Popeye Figures (Approx $18-20, Ages 4+) by Mezco Toys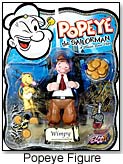 This assortment, which shipped in late September, commemorates the Popeye brand's 75th anniversary.
--An anniversary collectors edition DVD was released for the 75th year.
--Mezco will release classic Popeye, Bluto, Olive Oyl, Wimpy, Deep Sea Dive Popeye and Scuba Bluto shipping in late September.
--This is the third collection distributed by Mezco for the Popeye figure.
8.) Kiss Minimates ($5.99, Ages 4+) by Art Asylum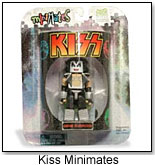 The company produced small versions of Kiss with signature makeup and wigs as part of the minimates collection.
--Gene Simmons, Paul Stanley, Ace Frehley and Peter Chriss are featured.
--There are new versions of Alice Cooper, Rob Zombie, Iron Maden and Ozzy Ozbourne minimates coming soon in Rock Volume 11 by Art Asylum.
--The stars are 3" tall with 12 points of articulation and can be connected to a base for display.
9.) Star Trek Gorn ($9.99, Ages 7+) by Art Asylum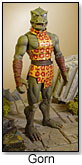 Collectors are excited for this reptilian, opponent of captain Kirk, included as part of Art Asylum's third Star Trek assortment.
--There is also a Gorn minimate that has been a successful item.
--This line focused on aliens, but Kirk is also popular.
--Star Trek has a strong cult following and has been popular with collectors interviewed.
10.) Elvis 1968 Commemorative (Approx $12.99, Ages 13+) by McFarlane Toys. This is the first Elvis figure in a series of four by McFarlane. It displays the king in black leather playing the guitar.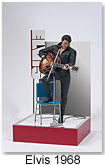 --This product is a bestseller on Entertainment Earth.com.
--Elvis (Las Vegas) releases in October and Elvis #4 is out Spring 2005.
--Elvis is internationally known as the king of Rock 'n' Roll.
**One to Watch... Crazy Cat Lady (Approx $9.99) by Accoutrements
Accoutrement's 5" figure due in October comes dressed in a robe and slippers, surrounded by six cats.

Specialty toy manufacturers provided invaluable insights into pulp culture action figure trends that were used to help develop this article. TDmonthly staff spoke with 11 businesses that specialize in the pop culture genre to comprise an accurate guide to the best selling items. Outside of contacting retailers, research was compiled from online data as well.

Click on the links below for more TDmonthly Magazine's Top 10 Most Wanted lists.

TDmonthly´s Top 10 Most Wanted Casino Games



TDmonthly´s Top 10 Most Wanted Pop Culture



TDmonthly´s Top 10 Most Wanted Interactive Games



TDmonthly´s Top 10 Most Wanted Sports Figures



TDmonthly´s Top 10 Most Wanted Video Games



TDmonthly´s Top 10 Most Wanted Fem. Action Figures



TDmonthly´s Top 10 Most Wanted Mini Action Figures

Read an update on Female Action Figures in Playzak.