Emilie Hill has taught kids of all ages everything from swimming to physics for more than 15 years. She has four children of her own, ranging in age from 17 months to 11 years. In addition, she writes for an online community of moms. Each month, she shares her views on the latest toys with
TD
monthly Magazine
readers.
Beauty Dress With Red Cloak by LITTLE ADVENTURES, LLC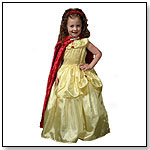 Age: 3 to 5
Gender: Girls
Category: Costumes & Accessories

Mom's Impression
What impressed me most was the high quality of materials used, from the ribbon rose detailing to the gold cord clasp on the hood. The dress is well sewn and seems to be more comfortable than other similar costumes we've purchased in the past, which is crucial to determining whether a product will be used by a child. The set is gorgeous, and if displayed on a hanger would most definitely catch the consumers' eyes.
What the Kids Did
My 6-year-old daughter is an avid collector of dress-up gowns. She especially liked that the set included accessories, such as gloves, a cloak and a rose tiara. Most important to her was that the tulle underskirt is a separate piece, because she usually finds underskirts bothersome and uncomfortable.
What Mom Recommends
Every little girl loves playing dress-up, and this is a product that will stand up to repeated use. My daughter has been using the tulle underskirt under some of her other costumes as well. It seems that the materials used are much more comfortable to wear than the materials used in costumes by other companies.
---
Swimming Champions Scramble Squares® by b. dazzle, inc.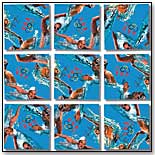 Gender: Boys And Girls
Category: Puzzles & Skill

Pirates Scramble Squares® by b. dazzle, inc.
Age: 4 and Up
Gender: Boys And Girls
Category: Puzzles & Skill

Mom's Impression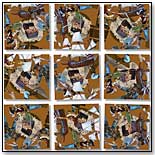 The Scramble Squares come sealed in a clear vinyl pouch that can be reused for storage. The bright themes are attractive, and there seems to be a puzzle theme available from b. dazzle for any taste. The goal of the puzzle is to match each of four sides to the next tile, completing a 3-tile by 3-tile square puzzle.
What the Kids Did
My 11-year-old enjoyed playing with the Scramble Squares, and spent hours working on one until he finally solved it. I spent some time working on them, too, but have yet to solve one. My 4-year-old son was excited to see pirates on one of the sets, and that was enough to get him to try the puzzle himself.
Mom's Recommendation
Although Scramble Squares come in a wide variety, solving the puzzle works the same way with each set. They are sturdy and durable, allowing them to stand up to repeated use. Solving the puzzle requires patience, so I'd recommend these sets for school-aged children who have a little more experience with problem solving. The slogan on the packaging is accurate: "Easy to play, but hard to solve."
---
Solar System Learning Wheel by MUDPUPPY PRESS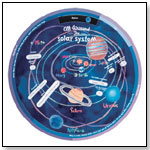 Age: 6 and Up
Gender: Boys And Girls
Category: Science & Nature

Mom's Impression
This fact-finding wheel is designed to be kid friendly because the drawings and text are hand-drawn to look like child's writing. As the wheel is turned, facts about each of the nine planets are revealed. It's large enough for little hands to use without damaging the wheel or its functionality. The wheel is made from sturdy cardboard and slides around beautifully.
What the Kids Did
My 4-year-old son and 6-year-old daughter were immediately attracted to the wheel. They enjoyed turning it to see new facts revealed in the windows, which they needed help reading. The facts listed on the wheel are basic, but are extremely interesting to young minds. My kids were impressed that Jupiter has over 60 moons, and they can now identify several of the planets on the wheel.
Mom's Recommendation
This is a good basic introduction to planets and is more fun to use than finding facts in a book. It is colorful and sturdy and could survive being passed down from sibling to sibling.
---
---
Antarctica by SAVITA GAMES INC.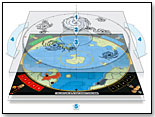 Gender: Boys And Girls
Category: Board Games


Mom's Impression
The subtitle of this game is "Global WARming," which immediately suggests a game of strategy. The game setup itself is incredibly novel; the game explores what can happen if global warming does indeed raise the ocean levels. The board features a unique, clear overlay that moves interactively as the game progresses.
What the Kids Did
My 11-year-old son was eager to get the game started once he saw the game board. The board required some assembling because of the special overlay, but putting it together was simple. We opted to use the included quick-play instructions for our first game. He enjoyed playing, and wants to try the long game next time.
Mom's Recommendation
Global WARming is both fun and educational. It is geared toward the middle-school age range, when kids have a longer attention span and are better able to plan strategy. It provided a good opportunity for my son and me to discuss environmental issues.
---
Around the World - the Ultimate Global Board Game by AROUND THE WORLD, LLC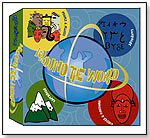 Age: 8 and Up
Gender: Boys And Girls
Category: Board Games



Mom's Impression

In Around the World, a player's goal is to fill up a scoreboard with tokens won by answering questions correctly and "traveling" to new places. There are several different categories of cards, including question and task cards.

What the Kids Did

Around the World requires independent reading ability. I played with my three oldest kids (ages 4, 6, and 11) in two teams, and I was surprised at how many of the questions my younger kids could answer when teamed up with older readers. They especially enjoyed drawing the "Wonders of the World" cards and getting to place the crystal gems on the board.

Mom's Recommendation

All three of my older kids had fun playing Around the World, and learned new language and cultural facts during game play. I liked the oversized, colorful game cards, and the faceted gems that looked like treasure to the kids. I highly recommend this game for all ages.
---
The Hold-it! Game Card Organizer by Innovatium Inc.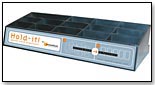 Category: Card Games
Gender: Boys And Girls


Mom's Impression
The Hold-it! organizer is designed to hold game cards for easy access during game play. The pockets are 2½" wide, and should accommodate standard-size game cards. This is a good addition for games that don't come with their own card tray and might be handy for sorting baseball and other collectors' cards.
What the Kids Did
We used the tray while playing our SpongeBob Squarepants Life game. It helped keep the cards easily available and organized, instead of strewn out in messy piles. When we were done, my 11-year-old son used the pockets to sort his trading cards.
Mom's Recommendation
This is a welcome addition in our home. It is multi-purpose and made of durable plastic. However, it only fits game cards up to 2½" wide, so it can't be used for large game cards or index cards. It is sturdier than the card trays that sometimes come with most games, and is useful to have for anyone who plays games regularly.
---
Big Sunday Strategy Football Board Game by THE RANDOLPH ROSE GROUP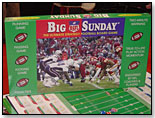 Age: 8 and Up
Gender: Boys And Girls
Category: Board Games



Mom's Impression

On the outside, Big Sunday appears to be a simple football board game. However, once opened, it's clear that it's more complex than that. The game is a good way to learn the more intricate strategies involved in football.

Mom's Recommendation

This game takes patience, but even someone with only a basic working knowledge about football can play with careful reading of (and referring back to) the directions. I played the game with my husband (who was on a high school football team), and finally understand some of the finer points of football that he'd tried to explain to me before. The game is good for kids in middle school and above and for adults who really want to learn more about football. It's also great for anyone who understands the details of football strategy and already loves the game.