Tools:








Make Halloween Hip
New and Classic Approaches Keep the Holiday Fresh
"[Specialty] stores really look at quality and appreciate the products that we develop." — Sherrie Kaufman, InnovativeKids

Fairy Dust for Halloween?

While children are searching for witches and ghosts in the uniquely interactive "Spooky Night" book from InnovativeKids, Positive Spin Press has given a new face to the eerie holiday: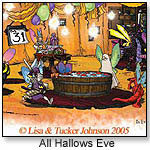 Scare-free "All Hallows Eve: The Story of the Halloween Fairy" replaces the traditional candy focus with a message on gift-giving, and introduces an alternative approach for families of diabetic children or kids with other health issues, author Lisa Johnson shared with

TD

monthly Magazine. We've received "a couple hundred letters from parents who are more than happy to buy a small toy to get that candy out of their children's hands," she noted.

Keeping Up With the Times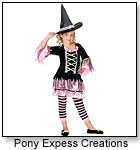 In the costume realm, Pony Express Creations pays attention to "what's hip and happening now," marketing director Sherri Klaus told

TD

monthly. In addition to aesthetic appeal, a proper fit and comfortable materials, she said, they make sure their costumes — for tween girls, especially — are fashionable.

Boys can be fashionable, too, given Pirates of the Caribbean gear from Zizzle and reversible costumes from Creative Education of Canada.

According to Creative Education's sales director, Reid Campbell, the company's pricing, attention to detail and commitment to updating products set it apart from others. "We're continually freshening the line," he commented.

Door-to-Door Value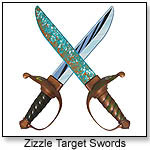 President Sherrie Kaufman of InnovativeKids knows from experience that value is paramount to specialty retailers. The "stores really look at quality and appreciate the products that we develop. They really take time to read it and to hand sell it."

Read on to see some of the newest Halloween offerings: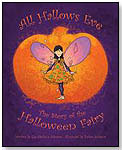 MSRP: $15.95

Age Range: 2 to 8SKU or Item #: 09773096-1-4Launch Date: September 2006Gender: Boys And Girls





Written by author Lisa Johnson and illustrated by her husband, Tucker, this playful, goblin-free tale of the first Halloween features adorable illustrations and lilting rhymes. It centers on a young fairy named Eve, whose friends collect candy on All Hallows Eve and kindly give it to her; in turn, she gives each of them a special gift. "We are trying to bring context to holidays in a lighthearted manner," author Lisa Johnson told TDmonthly. The fact that the book encourages gift-giving, she added, makes it a good fit for specialty retailers. Launch date: September 2006.

ToyDirectory Product ID#: 10721

(added 12/18/2006)

.

AD
---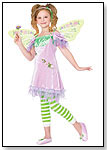 Wholesale Price: (Log in to view)

MSRP: $39.99

Age Range: 6 to 12SKU or Item #: 350946Launch Date: August 2007Gender: Girls





Part of the Enchanted Garden collection, this velvet dress features a flower appliqué, ruffle and tulle trim, coordinating wings, a headband and striped capri leggings. Launch date: August 2007.
— The nationally distributed Pony Express Creations line features traditional baby costumes, boys' outfits and this high-quality Enchanted Garden collection of girls' attire. "The ones that are on a little bit of a higher level do very well in specialty stores," Marketing Director Sherri Klaus of Pony Express Creations told TDmonthly.

ToyDirectory Product ID#: 10774

(added 12/20/2006)

.

AD
---




MSRP: $9.99

Age Range: 3 and upLaunch Date: September 2006Gender: Boys And Girls





Children use a purple bat finger puppet to search for different objects on each page of this sturdy board book. The finger puppet's magnetic nose locks on to each correct answer with a satisfying click. In Spooky Night, written by Tish Rabe and illustrated by Brenda Sexton, it's a spooky night and Batty Bat is ready for fun. Kids search for ghosts, monsters, witches and more as they help Batty find his spooky friends. Launch date: September 2006.

ToyDirectory Product ID#: 8526

(added 7/11/2006)

.

AD
---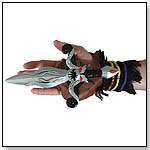 MSRP: $9.99

Age Range: 5 and upLaunch Date: January 2007Gender: Boys And Girls





Children can pretend they're Jack Sparrow with his trademark wristband and hand guard. The button activates real spinning dagger action, while battle sound effects and phrases add to the excitement. The dagger is removable for even more "Pirates" play. "Boys have always wanted to be like pirates," Zizzle PR and promotions manager Scott Goldberg said, so the Pirates of the Caribbean license has "pushed us to where we are today. The price is right and the license is one of the top boys' action lines this year." Launch date: January 1, 2007.

ToyDirectory Product ID#: 10722

(added 12/18/2006)

.

AD
---
Catalog Request Form

Writer's Bio:
Julie L. Jones has written articles for both newspapers and magazines. Before joining the staff of TDmonthly Magazine, she worked as a communications writer and provided editorial support for a market research company.
Read more articles by this author
THIS BANNER IS AN AD:
---
---