Article Synopsis

The war in Iraq has been increasing consumer interest in war-themed video games.
From late March to May, 20 new war-themed video games will enter the market.
Game developers have been creating more realistic war games than ever before.
Even the U.S. military has been using video games to recruit troops.
Video games have often been deemed an "escape" from daily life. However, some game developers in the industry have been saying that perhaps these games are not always a means of running from reality but, rather, dealing with it. As our society continues to deal with the realities of war and terrorism, game developers and players have been seeking ways in which to tackle these difficult issues, particularly through war-genre video games.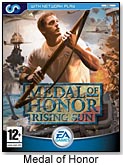 For those in the industry, there is little coincidence between the surge in popularity of games such as Brothers in Arms and Medal of Honor and recent events in Iraq and Afghanistan.
Jason Della Rocca, executive director of the International Game Developers Association, believes that as the media continues to dedicate round-the-clock coverage to these events, this trend in gaming will continue.
"I would say that art follows reality," he says. "Like film, music and literature, games are a form of cultural expression that allows us to challenge, experience and 'play' with those topics and issues that can at times be overwhelming. The rise in military-oriented games is indeed a reflection of society trying to deal with its fears and anxieties."
So far, 2005 has proven to be a banner year for war video games, whether they are action or strategy oriented. With the success of titles like Brothers in Arms, game developers believe that upcoming war game releases for various platforms (PC, Xbox, Playstation 2) will continue to be profitable.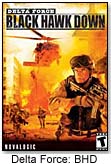 From late March through May alone, there will be almost 20 new titles on the market, including Delta Force: Extreme (PC—released 4/05/2005), Delta Force: Black Hawk Down (Xbox—released 4/26/2005) and Pilot Down: Behind Enemy Lines (to be released 5/01/05). However, one of the most anticipated new war games that is scheduled for release this year is Activision's Call of Duty 2, the sequel to the smash hit Call of Duty title. Game developers have long been in a flat-out race to acquire state-of-the-art technology that will allow their designers to create the most realistic experience for users, and they are all reacting to the demand in the market for providing battlefields, soldiers and campaigns that allow the players to feel as though they are right in the middle of it all. Infinity Ward, the game developer of the Call of Duty franchise, is quick to point out to what extent their company is planning to go in creating a great game experience.
"Our team at Infinity Ward is committed to thrusting gamers into the heat of battle like no other, taking players on a thrill-ride of adrenaline that leaves everyone gasping for air," said Infinity's President Grant Collier in an interview for GameZone.com's PC News section. "In Call of Duty 2, we are creating the most intense and realistic action game imaginable with a stunning visual atmosphere and an advanced technology that delivers an unprecedented level of authenticity."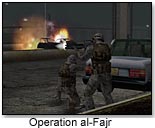 Another developer, Kuma Reality Games, has stepped into the spotlight of war-genre video games with their Kuma/War downloads. What makes these games unique in the market is that Kuma takes scenarios from actual skirmishes or events from the Iraq war and translates the actual events into a simulation game. One example of this is Fallujah: Operation al-Fajr, where the player can take on the role of a United States Army or a United States Marine Corps soldier whose job it is to protect civilians from sniper-fire in the area.
This is not a made-up storyboard for a game; instead, developers receive consultation from people who were involved in the real life events. This includes expert input from military personnel, from officers as high ranking as general. The information is used to re-create events that occurred only a few weeks before the downloadable game's release. To participate in this new advance in war-genre game play, players need only to visit Kuma´s Web site and pay a monthly subscription fee.

Not wanting to miss an opportunity to connect with such a large demographic, which consists mostly of young males, the U.S. Army has jumped on board the video gaming bandwagon. As part of its Web site, the Army has two online games,
America's Army
and
America's Army: Special Forces
. These games are free to download for prospective recruits and provide a highly realistic simulation of what army life is like. As a result of these games' overwhelming popularity, the Army has expanded their use to actual training situations. Currently, retail video game platform companies Playstation and Xbox are in talks to bring the Army games to the general public.

With even the U.S. military jumping on the video war game bandwagon, it doesn't seem likely that these games' popularity will be waning any time soon. As programmers work toward creating the most realistic experiences possible for their players, there seems to be plenty of room in the market for both established war game franchises and a few rookie titles to penetrate and maintain a stronghold on the video gamers' interest and wallets.