Is it play time or is it snack time? It's becoming hard to tell. Two favorite pastimes, cooking and crafting, have collided, resulting in the development of the edible-craft kit.
More Craft or More Candy?

Gretchen Homan, test kitchen manager at Wilton Industries, Inc., explains that creating edible kits was an easy jump for her company.


"The majority of people still baking are moms with kids, so we thought, ´maybe they want something to do with their kids in the kitchen,´ "she says. "But the trend of craft kits influences us, as do suggestions from our customers."

Taking these suggestions to heart, Wilton Industries offers a number of products, including the edible jewelry kit Rings 'N Things Kandy Clay Activity Kit, the edible monster-making project Monster Madness Kit, and a number of Gummy Making Kits that allow kids to make gummy-shaped treats in a variety of styles - Glam Girl, Dinosaurs, Body Parts, and Creepy Critters.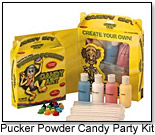 While Wilton originated with baking and added a dash of crafting, Pucker Powder Candy started out with a craft and eventually turned it into an edible project. Co-owner Bruce Goldstein built a machine to dispense different colored sands for sand art projects at a children's entertainment center he owned in the late '90s. He later filled the machine with fine-grained colored candy that he discovered at a candy store.

At February's Toy Fair, the company introduced Pucker Powder Candy Party Kits, the home version of its popular candy products. Children use flip-lid bottles to layer incredibly sour and sweet flavored candy like sour watermelon and sweet blue bubblegum into their 6" candy tube. The Medium Party Kit provides four bottles of candy and 16 tubes to fill, and the Large Party Kit provides six bottles of candy and 24 tubes to fill.

Edible Everything, It Seems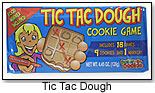 The latest product from the Color-a-Cookie Company was developed almost by accident. President Lisa Saffeir tells a story of a company with edible markers and owners who entertained their children in restaurants with games of tic-tac-toe. The result was Tic-Tac Dough, a 2" by 2" vanilla cookie on which kids can play tic-tac-toe with markers that use edible strawberry- or blueberry-flavored ink. Each package of four cookies comes with one marker for $1.49.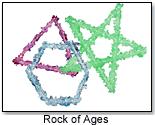 Russell Ginns of Education Incorporated describes his company's Rock of Ages Candy Maker ($9.95, ages 7 and up) as part science project, part creative project. The kit has kids conduct an eight-day experiment demonstrating the science of crystallization, explained in an included booklet. Kids then coax the edible crystals to grow in a variety of fun shapes and add food coloring and flavoring. Hannukah and Christmas versions offer specials hints for producing symbols of the season. Education Incorporated is also developing more elaborate kits for growing 3-D crystal creations.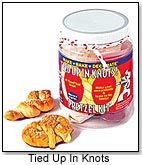 The Tied Up In Knots Pretzels from Kids Cooking Club provides pretzel mix, a shaker with pretzel salt and, most importantly, a how-to-booklet on knot tying and a practice rope. The kit also provides instructions that point out which jobs are appropriate for which age groups so the whole family, from toddlers to grandparents, can get in on the fun.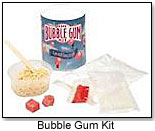 Copernicus Toys'(ToyDirectory) Canny Kits include The Bubble Gum Kit, containing everything necessary to make a half pound of gum, and The Root Beer Kit and The Soda Pop Kit, which produce 4 gallons of beverage a piece. Meant for ages 8 and up, the kits are well complemented by another Copernicus product: The Toothpaste Kit.