---
These Baby Travel Toys Won't Get Lost
Keeping Baby Busy in the Car Seat
"For travel toys in particular, it is a priority to make sure baby's toy won't get lost on the move." — Michael Silberstein, Infantino

These days, the choices of gadgets and gizmos to enthrall all ages of babies on the go are plentiful. Current musts are toys that attach so they won't get lost, baby-activated sounds and added features that help ease parents' minds.

"What sells in this category are toys that provide entertaining activity to baby and convenience for mom," said Michael Silberstein, president of San Diego-based Infantino. He said a top seller is the Disney Activity Arch, and he noted that products such as Discovery Bunny and Stay & Play Pals offer benefits and features for both mom and baby.

"Both travel toys are created to stay with baby either by an attachable loop or suction cup," he said. "For travel toys in particular, it is a priority to make sure baby's toy won't get lost on the move. It is also important to make the activity fun for baby — enticing all of the senses. To do so, we focus on combining fabrics with multiple textures and colors as well as including a variety of fun sounds."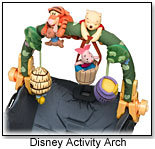 Currently, this category continues to grow.Diana Nelson, owner of Kazoo & Company in Denver, Colo., was most impressed at this year's Toy Fair with products from Tiny Love (ToyShow).
"They had a great selection of new baby toys and stroller toys that will be shipping in the spring," she said.
Kazoo's Anthony Chullino noted that Tiny Love has realized that infant toys need to be as much a convenience for parents as they are fun for infants.
"It shows in this year's line," he said. "The new and growing innovations for both travel toys and infant toys from manufacturers such as Tiny Love are bountiful to say the least."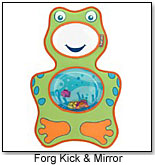 He gave the example of the Frog Kick & Mirror, which is a new water-kicking mat for infants in the car.

"The mat not only helps teach the child about cause and effect, but also keeps parents in mind as well," he said. "The face of the frog contains a large mirror so that parents can see the child when they glance in the rearview mirror."

Margaret Manson is Tiny Love's media contact at Ameba Marketing. She noted that the company's new toys are specifically designed for baby's safety and amusement. The company's top priorities are toys that actively engage the baby so that parents can concentrate on the road and introduce the baby to a developmental environment in which cause and effect and other important principles can be learned. Outside of the Frog Kick & Mirror, the Wonder Wheel is another top selling product, she said.

According to Susan McDonnell, vice president of sales and marketing for Danny First Toys (ToyShow), their top-selling travel toys are their lines of Activity Playbooks and Snuggle & Play Pillows, which are available in specialty stores.

"Moms love these toys because they include travel handles and a vinyl bag; a pouch to hold the dolls in place, and all the toys are sewn inside, making it easy to keep the toy intact," McDonnell said.

The following is more information on products that baby should be sure to pack before hitting the road.







Toddlers get behind the new interactive Wonder Wheel and enjoy the ride with this new toy. It features a farm theme baby-activated steering wheel and panel with two operating modes. In the Play mode baby will learn all about farm animals using light and sound feedback. In the Auto mode the animals introduce themselves using fun lights and the beloved Old McDonald tune.

.

AD
---






This new baby-activated kick toy is one of five new products in Tiny Love's new line of car toys designed for safety and baby's amusement. Designed for rear-facing travel only, the Aqua Seal Kicker creates an aquarium effect for baby's delight. The toy features two operating modes: Play, a battery-operated cause-and-effect kick pad with four different sounds, light, bubbles and swimming sea animals, and Auto for continuous music followed by lights and bubbling. It´s perfect for ages 3 to 12 months.

.

AD
---






This take-along activity center has colorful characters that jitter and swing. It comes complete with adjustable clamps that attach to most car seats and strollers.

.

AD
---






This bunny is a plush friend with lots of surprises. Activities include a jiggly frog, a peek-a-boo mirror, a butterfly on its toe, and ribbons and textured materials attached to its ears. It easily attaches to car seats and strollers.

.

AD
---






This handy activity center includes a holder for baby's sippy cup. It is made of plush material and includes four characters that squeak, crinkle and boing.

.

AD
---






This toy is designed to fit over the back seat and give baby lots of kicking entertainment. An added bonus is an adjustable safety mirror that allows parents to view baby from the rearview mirror. The mirror features a burst-proof aquarium. Whirlpool and bubble effects result from baby's kicking.

.

AD
---






This movement-sensitive mobile is designed to calm baby in the car. Four safari animals gently sway to the car's motions.

.

AD
---






This toy includes five dangling sea creatures that move to classical tunes. It attaches to the backseat headrest for babies in rear-facing car seats. A nice feature is a parental remote control for the music and flashing lights.

.

AD
---






Snuggle and Play pillows are a wonderful "first toy." Fun for a child to snuggle and play with, each pillow opens up to a simple play activity scene. Pillows include a carry handle and vinyl travel bag. In addition to receiving an iParenting award, Snuggle and Play pillows have been named "Infant/Plush Toy of the Year" by Creative Child magazine.

.

AD
---






This soft activity set includes a take-along handle and activities to stimulate touch and vision and to encourage pretend play. It includes a baby-sized steering wheel, key and keyhole, squeezable horn and other features to keep baby occupied while on the move.

.

AD
---
THIS BANNER IS AN AD:
---
---