Article Synopsis

Travel activity books keep kids entertained during family trips
Creative play that encourages family bonding has been on the rise since 9/11.
Road journals and magnet books are popular.
As warm weather lures families back out on the road, mom and dad will want to find ways to help pass the time for their children during travels. After all, what parent wouldn't love to have something that's small, portable and able to minimize the unceasing chorus of "Are we there yet?" ringing from the backseat?
Fortunately, the travel toy/book market heeds the call of the family on the go. A wide range of activities are available for kids that are portable, entertaining and even educational. This may sound ideal for parents, but in an age where technology is king, how do non-electronic/video games grab the interest of today's youth? Believe it or not, marketers who target this important demographic believe that non-electronic travel toys will be a hot item for one simple reason.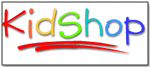 "Creative activity is back," declares youth marketer Paul Kurnit, who runs KidShop, a consulting and communications agency. Kurnit believes that even in today's world, where toys have technology that today's parents could have only dreamed of during their own childhoods, there is still room in a child's life for the simpler things.
In fact, he feels that activity books are growing in popularity largely as a result of the busyness in children's lives.
"Since 9/11, as a culture we have gotten back to basics, to bonding, to comfort. Some of this trend was already moving in place as our world had gotten too fast, too crazy, too out of control," Kurnit says. "The re-focus on family, quality time together, the mutual desire from parents and children to have dinner together, to go to movies, play games and travel has been a reaction to the 'go-go' ´80s and the new family focus of the ´90s."
Interactive Journals
One of the many items that have become popular are interactive journals – books that encourage kids to write down their thoughts, dreams and trip memories. Many include games to keep children occupied as well.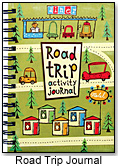 Mudpuppy.com (ToyDirectory), a New York-based company that publishes a variety of activity books and journals, sells the Road Trip Journal, which includes a "packing list" of games that can be played on the road (maps, mazes, word scrambles) and plenty of room to jot down all the details of vacation excitement.
Mudpuppy plans to release a camp journal this summer as well. Brenda Bell, publicity director of Mudpuppy.com, has seen a rise in sales over the past few years, and expects this trend to continue.
"The journals are [selling well] or we wouldn't keep designing and manufacturing them," she remarks. "I think that they are very unique and interesting, so they make a great gift. They are creative and interactive – once a child gets to age 6 they begin to find their own voice and they enjoy expressing themselves and participating in an activity."
Design is also a very important aspect when trying to market activity books. Publishers are always on the lookout for standout features that speak to a child´s desire to manipulate and interact with the product.
Magnet Flip Books
Dowling Magnets´ "Magnet Flip Books" is a great example of travel/activity books that come with enhanced features.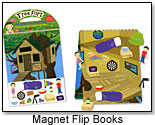 Alice Martin, Dowling's director of marketing, notes that the product line is designed to build beautiful picture stories using magnets and imagination. The books have four 8.5" by 11" scenes that are fully designed magnetic play surfaces. Users flip the pages over to change the scene, and the fun continues on the next page. Each set comes with dozens of magnet figures to complete the stories.
"Our new theme, 'Castle,' comes complete with princes, princesses, horses, flags, cloaks, shields and more to make the story magical," Martin says. "They are all packed safely in a convenient plastic storage case."
It is this creativity and portability that Martin believes makes their products and others like them so popular. "Most of our products are very compact and are sold in convenient storage cases," Martin notes.
Additionally, the combination of magnets and steel that make up the products makes it easy to keep all the components in one place so nothing gets lost. Small parts are less likely to roll under car seats or fall down cracks in the seats.
Whether it is magnets, journals or other activity books, these creative products can be picked up and tossed into a backpack to help keep children busy for hours while on the road. These travel toys/books occupy a child's time while enriching his or her mind as well.