---
The Making of a Toy Licensing Campaign
Toy licensing in conjunction with an upcoming blockbuster movie is a process that involves the creativity and business savvy of numerous people.



Bob Solomon, president and chairman of Applause, LLC, has licenses for gift collectibles with Universal, Disney, and Sony. The creator of the film approaches him with a script, and Solomon unveils the essence of the movie and finds a message with a character theme. His creative team brainstorms with the studio to develop a product, sharing storyboards and art. He has samples made, perfected, and approved, then shows the final product to key customers.

Four to six weeks prior to the movie´s release, Solomon sends the final order to the factory along with reorder projections. The order covers the video release, which often draws more sales than the movie.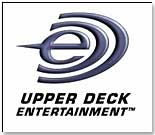 Outside of Japan the Upper Deck Company is the official worldwide distributor of the Yu-Gi-Oh! Trading Card Game, the most popular trading card game to date, with over 4,500 stores holding weekly tournaments. In the U.S. the game has more than 600,000 registered participants. Upper Deck has partnerships with Konami, Disney, LegoLand California, Nickelodeon, Marvel Comics, DC Comics, and MGA Entertainment.

Louise Curcio, vice president of marketing, states, "We didn´t rely on TV advertising to build that business. Instead, we created a grassroots play program that focused on having kids play the game."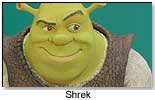 Jerry Bennington, vice president of entertainment, explains, "Once a license has been identified as an appropriate fit for our strategic portfolio, we then conduct numerous development meetings to determine exactly who the target demographic our product is trying to reach as well as the specific content and innovations required to deliver success."

Trading card games require an extraordinary amount of content. The development process takes four to eighteen months with periodic approval of the licensor. The game is tested with focus groups before a sales team takes over and production begins.

Bennington remarks, "As with Harry Potter and various anime programs such as Yu-Gi-Oh! and Shaman King, kids especially are drawn to what the brand delivers. If the experience is engaging, empowering, and unique, the chances for success are much greater. For the merchandise to be successful it will have to deliver the same qualities."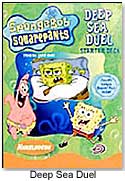 Upper Deck´s SpongeBob SquarePants Deep Sea Duel and Disney Treasures Collectible Cards draw fans of other popular movies, some of which are classics.

Todd McFarlane, entrepreneur and creator of the Spawn action figures, started McFarlane Toys ten years ago. His toys are sold in more than forty countries worldwide.

He explains, "When McFarlane acquires a license for a movie, we start by obtaining as much reference material as possible so that I can define the key moments and scenes to draw from for our products. We then work with the studio and movie executives to develop the ideas and figures to meet both their and our needs."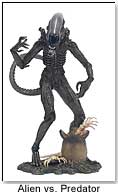 His goal is to capture the look and feel of a movie character. "We´re a small company by industry standards, yet we have movie companies coming to us first in many instances to make action figures for their film," he says.

The full process takes nine to twelve months to get a product on store shelves. McFarlane has been involved in numerous films, including Shrek. His newest venture is Alien vs. Predator from 20th Century Fox.

Catalog Request Form
THIS BANNER IS AN AD:
---
---