Maps on the Go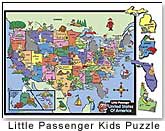 Not to be compared to your father's dog-eared road map stuffed in the glove compartment, Universal Map's toys teach geography, history, and biology through fun activities and colorful, award-winning illustrations. The company's newest educational map line, Dino's Illustrated Maps series, includes hundreds of historical, educational illustrations and points of interest created by award-winning artists, including Dino's Illustrated Maps of the United States, the World, the Solar System and the Milky Way. The newest addition to the company's Little Passenger® children's travel activities series is the Little Passenger® Kids Puzzle of the United States. The colorful wooden toy features cutout states and illustrations of landmarks and local trivia. The inside frame includes an unlabeled outline of the states to assist kids in placing the pieces. Also new is the Kids' Ready, Set, Go…World Sticker Atlas. The 32 pages of full-color illustrated maps and sticker fun includes special sections about animals of the world, natural wonders of the world and world trivia such as, "Did you know that Australia's great barrier reef is the only living organism viewable from space?" The toy's educational facts and colorful activities will make flying time a breeze.
Getting Starry-Eyed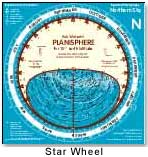 Forget those days when you had to strain your neck and eyes searching aimlessly for the Big Dipper. Planispheres (or star wheels) by Rob Walrecht Productions is a great way to learn how to recognize the stars and constellations. The first three of a series of cardboard 'Build-It-Yourself' products include a star wheel, a sundial and a Solar System model (at a staggering 1:100 billion scale!). Great for children and as teaching materials, as well as the Carl Sagan in all of us.
The Classics, In Miniature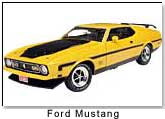 RC2 Corporation celebrates the 40th Anniversary milestones of two automotive giants, Ford Mustang and Pontiac GTO, with the introduction of a commemorative series of 1:18 scale 40th Anniversary model replicas from their American Muscle™ brand. This special series pays tribute to these all-time great muscle cars with authentic, highly-detailed die-cast collectibles, sure to be of interest to serious collectors and auto enthusiasts alike. The 1:18 40th Anniversary Tribute to the Ford Mustang features authentic engine compartments, opening doors and appointed interiors, and comes in four classic models: 1969 Mustang GT CJ428, 1970 Mustang Boss 302, 1971 Mustang Mach 1 CJ429, and1972 Mustang Sprint USA. ($44.99 each). Die-cast models come complete with special anniversary packaging. American Muscle's 1:18 scale 1969 Pontiac GTO die-cast replica brings the excitement of this American classic to life.
A Little Devil in Your Bathtub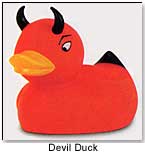 From creators of the first ever celebrity rubber ducks, including the KISS and the Osbournes, Celebriducks (ToyDirectory) will be releasing their Devil Duck, featuring a demonical beard, eyebrows, horns, and a pitchfork. The Devil was produced in an individually numbered limited edition of 3,000 and now joins the Moses and the Fortune Buddha Celebriducks to bring religious themes to one's bathtub.
Music Come and Listen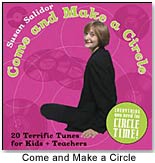 New from award-winning Susan Salidor, "Come and Make a Circle, 20 Terrific Tunes for Kids and Teachers" is a great accompaniment to any car ride or rainy afternoon. She's combined 12 new songs and fingerplays with 8 teacher favorites from her previous recordings. New songs include "Me Llamo Susana," "Tap Your Toe and Follow Me," "The Month Song," and "The BooBoo Gets Better By and By." Traditional favorites include "Shoofly," "The ABC Song," and "John The Rabbit."
Roll, Duck and Cover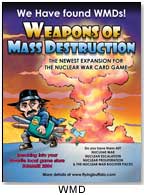 On a par with other war-themed games such as Battleship and War, Flying Buffalo is introducing Weapons of Mass Destruction (WMD for short) ($19.95). The original game, Nuclear War, which came out in 1965, makes fun of the idea that someone could actually "win" a nuclear war. The new game can be played on its own, or can be shuffled in with other nuclear games for explosive fun. The cards are funny, the humor is dark, and the game is quick and easy to play.
Hit the Road, Jack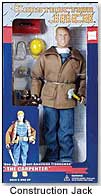 Kids can now learn about the building trades without fear of electrocution, thanks to Construction Jack & the Great American Tradesman Collection of action figures from Link Innovators. Based on a learning toy developed by third generation electrician Andy Winslow, the figures feature realistic tools and attire, as well as multiple articulation points. Currently, a finished children's book is being represented by Raines & Raines, and the Construction Jack crew is developing a children's show in association with Creative Works TV, which will debut after the book is released, in time for the holiday season.
Bewitched, Beloved, Bewildered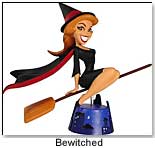 Bring the magic of the famous TV show about Samantha Stephens, that bewitching, well, witch that made audiences laugh with a twitch of her nose, with a Teeny Weeny maquette by Electric Tiki. Part of their Teeny Weeny TV tribute series, the "Bewitched" maquette spotlights Samantha as she appeared in the series' opening credits, riding on a broom over a cityscape base, suspended by a clear acrylic base. This special edition, strictly limited to 1,200 pieces, comes individually numbered, hand painted and ready to display. The maquette includes a Certificate of Authenticity and comes in a collector box.
Push Button Learning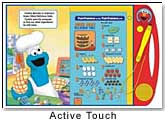 Long ago are the days of storybooks being made exclusively of paper and cardboard. Many storybooks now have electronic panache. Publications International, Ltd. is debuting two new electronic learning products that expand the fastest-growing category for children. ActiveTOUCH, a stylus-driven, a stand-alone interactive book ($16.99; ages 3-8), and Color-Along Sound Activity Books, the first-ever coloring activity and soundbooks ($6.99; ages 3-8), offer parents several innovative, yet affordable options for providing their children with powerful learning opportunities.
The company has also expanded their popular Story Reader™ Library, the first-ever portable electronic storybook reader for kids. As each page is turned, Story Reader "reads," yet the patented technology is completely invisible.
Animal House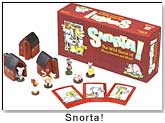 Who knew grunting like a pig could be considered a talent? It is when you play Snorta! ($19.99; ages 7 and up) by Out Of the Box (ToyDirectory), the party game where everyone is an animal…or at least sounds like one. In Snorta!, each player chooses the sound of a typical farm animal. As players take turns flipping over cards, players start looking for a match. When a match is uncovered, the matching players race to make the sound of other players' animals. The result is hilarity (and absurdity!) as players stumble and stutter to blurt out the other players animal sounds.
21st Century Tag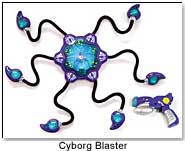 The traditional game of Tag, played by legions of children, has been given a new twist. Silverlit Toys (ToyDirectory) has taken laser tag to a whole new level with Cyborg Blaster, Laser Spider Tag and Laser Gator Tag, a series of cool and imaginative tag toy games designed especially for kids ages three and older. Now kids can do more than squish creepy crawlers or wrestle gators—they can "zap" them too. The toys provide hours of fun, promote eye/hand coordination, and help kids understand the basics of cause-and-effect relationships. Plus the "icky" creatures are awesome!
Baby Toys Get Sassy
In-the-know parents are going ga-ga over Lamaze 's new line of award-winning developmental toys that combine classic play patterns with fashion-forward patterns, colors, textures and interactive features. With eight funky legs and ten developmental features, Octivity Time ($19.99; 3 months and up) provides fun-filled activities on each tentacle, including a spinning starfish, mirror, squeaker, and clinky rings. The Lamaze Play and Grow line features soft, plush characters designed to encourage learning through play, including Music School ($16.99; birth and up), a school of fish that has its own fun-filled activity plus a squeaker to create "music." Baby will get into the groove with TurtleTunes ($24.99; birth and up), featuring musical legs, scratching board, and a maraca and drum with a soft teether drumstick.
Hit the Road, Baby!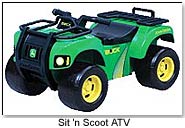 Preschoolers will be the talk of the neighborhood when they ride one of the Harley-Davidson Little Dreams Preschool toys from RC2 Corporation. These educational toys let little motorcyclists use imagination while exploring everyday play. The Rumble Riders' Hauler Set ($14.99; 18 months and up) lets Preschoolers haul their very own Harleys around town. The set includes four-wheel pick-up style hauler with trailer, a Harley-Davidson Rumble Riders Cycle and two figures. Ring! Ring! Now kids can accept calls and hear their voices played back while experiencing their very own Harley adventure with the Harley Hit the Road Phone and Key Playset ($17.99; 18 months and up) . The clamshell phone opens to record and play back a child's own voice as well as three authentic vehicle sounds.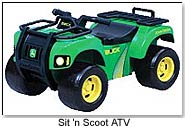 Also new is the John Deere Kids Preschool line, which lets children explore the great outdoors with thematic playthings designed to deliver high-quality, non-violent role play. The Garden Tool Set ($12.99; 18 months and up) allows kids the opportunity to work alongside their parents, raking the soil, scooping it up and watering with this authentic toy garden set. The John Deere Sit 'n Scoot ATV with Lights and Sounds ($49.99; 18 months and up) for toddlers features fun sounds, lighted turn signals and more.
Scene It and Believe It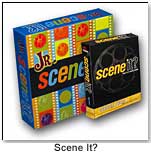 For all you TV buffs out there, and you know who you are, Scene It? TV Edition is filled with tons of TV trivia to keep you plugged in. Like the original, the TV version combines interactive DVD entertainment, including scenes, images and questions from more than 180 television shows, coupled with a traditional board game. Retailing for $44.99, Scene It? TV Edition contains a DVD with more than 700 on-screen challenges, 600 trivia card questions, a Flextime™ game board and TV-themed collectible game pieces.
007 fans can get their James Bond fix with the Scene It? 007 Bond Edition, which combines DVD entertainment, including scenes, images and questions from James Bond movies. Film noir, anyone? Scene It? Turner Classic Movies Edition features DVD entertainment, including scenes, images and questions from Turner Classic movies. The games will be available in October 2004.

Mighty Collectibles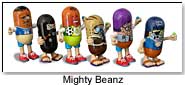 Perfect as stalking stuffers, this line of the famous pop cult collectibles is better than ever. Mighty Beanz BendEms™ (ages 3+) by Just Products, Inc. are flexible PVC figurines, with bendable arms and legs so they can be posed and maneuvered any way you want. The limited edition Original Series includes Skater, Brawl, Wizard, Deejay, Cannonball, and Prince Charming. Series Two includes Ninja, Pirate, Nerd, Forward, Ace Pilot, and Ally Oop. Series Three is due out this summer and Series Four just prior to the holiday season.
Pet in a Purse
Fancy Pals by Aurora (ToyDirectory) are soft, attractive purses with removable plush characters such as Chihuahua, Pug, Terrier, Poodle, Schnauzer, Cocker Spaniel, Horse, Flamingo, and more. The purses are fully lined with a zipper and come in beautiful, inviting colors. Each purse features various designs such as hearts, or messages such as "Puppy Love," "Best Friends," etc.
Sentence Says...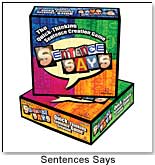 From MarBan Industries, Inc. (ToyDirectory) comes a new game that makes grammar an exciting challenge. Sentence Says ($29.99; ages 8 and up) is a quick thinking game that requires players to use the cards they are dealt to construct sentences before the timer runs out. Players can rearrange the cards, but every word in the sentence must begin with the letter that is shown on each card. Once a sentence is formed then players receive points, but only if they say "Sentence Says … " before reading their completed sentence aloud. Other players can steal points or sentences too. Sentence Says includes 40 action cards; 22 consonant cards; six vowel cards; five steal cards; four sand timers of 15, 30, 45 and 60 increments each; and one oversized die.