The latest crop of educational products for pre-school-age children varies greatly, from teaching kindness to machine operations for the budding engineer. Each of these products has both an educational and entertainment aspect.
Baby Bumblebee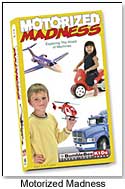 The latest in a series of "videos that teach", Baby Bumblebee (ToyShow) presents "Motorized Madness" ($14.95 VHS; DVD will be available at a later date; ages 1-7), an educational program that shows kids the workings of a variety of motorized vehicles. Each machine is covered in detail, with kids explaining each of the ten vehicles. A few of the machines featured include a helicopter, boat, dump truck, plane, bus, fire engine and motorcycle.
Free Spirit Publishing

Two new books, published by Free Spirit Publishing and written by Elizabeth Verdick, encourage Pre-schoolers to be kind to one another through simple actions.
As much as parents and teachers try to prevent it, many young children sooner or later may bite someone. In "Teeth Are Not for Biting" ($7.95; Ages 0-3), simple words and charming pictures show kids constructive uses of their pearly whites, such as illustrations of kids eating and smiling. Easy to understand sentences tell kids how to cope with mouth pain, as well as sad or cranky feelings. The last two pages of the book offer helpful tips to parents and caregivers for dealing with teething issues and kids who bite.
"Words Are Not for Hurting" ($7.95; Ages 0-3) encourages children to take responsibility for what they say, and to choose words that make others feel good. It also teaches children that words can hurt others' feelings, and the value of saying "I'm sorry." The last two pages offer tips for parents and caregivers on how to encourage children to use words that are helpful.
Soaring Star Productions (ToyDirectory)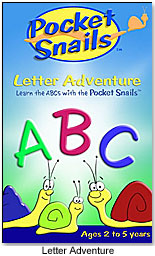 Since its release, Pocket Snails' "Letter Adventure" ($12.95 VHS, $15.95 DVD; Ages 2-5) has received numerous awards, including recognition from Creative Child Magazine, the Film Advisory Board, the Dove Foundation, EdutainingKids.com and KIDS FIRST! Pocket Snails is an animated program that teaches Pre-schoolers the alphabet through its characters, Jake and his three pet snails, Dale, Buttons and Gordon. Using a creative range of learning techniques, including repetition, color, humor and music, Pre-schoolers will love learning their letters and numbers with Jake and the Pocket Snails.
Barker Creek Publishing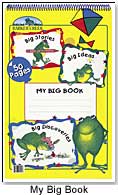 The latest release from award-winning Barker Creek Publishing (ToyDirectory), "My Big Book" ($12.99 each or $119.99 for a package of 10; ages 4 and up) measures a whopping 11" wide by 18" tall with 50 pages of imagination. Each page is made of high-quality, heavy-duty matte art paper for recording lots of creative ideas. In addition, each page features a 10"x 7" drawing area and five sets of ruled lines. It's ideal for teachers with a classroom full of kids, or just one kid with lots of ideas. The tablet is spiral-bound on top, making it easy to use for both left- and right-handers.
My First Day Productions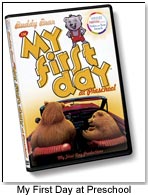 The first day of school is tough for many children, but the main character of "My First Day at Preschool" ($13.99 VHS or DVD; ages 2-5), Buddy Bear, will walk a child through their first day, and help ease the potential fears and worries children may experience. Filmed a at a real pre-school with real teachers and students (not actors), Buddy Bear will show children what a positive experience school can be. The 28-minute video by My First Day Productions (ToyShow) has Buddy Bear participating in story time, finger painting and singing songs, to name a few of the activities, right along with his human classmates. By the end of the day, Buddy Bear has made a few friends, and he's not scared anymore. "My First Day at Preschool" won a Video of the Year Award by Parenting Magazine and a Telly Award for Achievement in Music. The program's merits have also been recognized by the Dove Foundation and the John Lennon Songwriting Awards.
Lisa LeLeu Puppet Show Books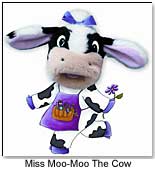 Miss Moo-Moo is planning an art show, and she invites the other animals on the farm to contribute their creations. In "The Miss Moo-Moo the Cow Gift Set" ($14.95; ages 3 years and up), Miss Moo-Moo, the furry cow hand puppet, aligns with the book, so that she can read the story along with the child. "Art on the Farm" can be removed from its hard cover and replaced with a Story Starters book (also included), which encourages children to write their own adventures of Miss Moo-Moo with ample space to draw more pictures or color the cow, if so desired. The puppet can be removed from the book and played with on its own. This imaginative gift set teaches children about art and colors, encourages creativity through drawing and the written word, and builds confidence in reading out loud.
Handprint Books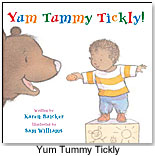 The latest release from Handprint Books, "Tumble Me Tumbily Board Book Set" ($6.95 each; Ages 6 months-3 years), is a three-book set adapted from Baicker's original "Tumble Me Tumbily," featuring three chapters. Lending itself to its new board book form, the whimsical books take a child through a day of wake time, playtime, lunchtime, adventure and bedtime. All three books are written in a singsong rhyme format, starting with "Wake-ity Wake!" then moving into mealtime with "Yum Tummy Tickly!" The set ends with the bedtime story, "Snuggle Me Snuggly!" The books encourage a familiar, yet action-packed, routine, perfect for reading to a child anytime.
Playhouse Publishing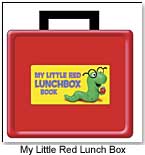 My Little Red Lunchbox Book ($6.99;ages 3+) by Playhouse Publishing (ToyDirectory) is much more than just another fun book; it is also a valuable learning device. The images are highly vivid and designed so that children can twist, turn and move flaps up and down, thus sharpening their fine motor skills. Additionally, by reading about the various components included in their "lunchbox," kids will find themselves rhyming words, counting and discovering various tidbits of useful information. The book has a special, customized student I.D. section, where kids can cut and past a picture of themselves and learn personal and valuable information, such as their address, birth date, school, height, weight, etc. There is even a section where kids can keep their change for milk money.