If one were to interview some of our favorite animated celebrities, what might these celebrities say about their latest lines of toys? Batman would undoubtedly laud the exceptional craftsmanship of his Die-Cast Batmobile. Barbie might boast a word or two about the sweet tones of her new Rock n' Roll Karaoke Guitar, but she might lament that those Bratz have been tapping into some of her doll's sales. One of the Bratz might then sigh and tell her to go to Hellboy, and Spider-Man might just tell the two of them to take it outside and duke it out with his new Laser Web Shooters. At any rate, 2004 has proven that where licensed toys are concerned, there is something for everyone.
Spider-Man In Your Control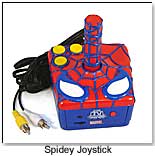 JAKKS Pacific, Inc. and Marvel Enterprises have partnered up in order to create Spider-Man® TV Games ($20), an all-in-one game console. The beauty of this product is that the unit can simply be plugged into the audio and video jacks of any standard television set, and contains five Spider-Man video games. Among the variety of games are a shooting gallery-type game, a fighting game, and a game whereby Spider-Man must use his web to climb buildings. Spider-Man® TV Games will be available sometime late this year, a few months after the release of the highly anticipated film Spider-Man 2.
Spider-Man's Got Issues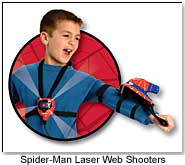 Who wouldn't if their opponent wore their same colors and shared their same powers? With the SM-174 Spider-Man Laser Web Shooters by KIDdesigns (ToyShow) ($29.99; ages 3 and up), kids can find out what it's like to be Spider-Man and fight Spider-Man, Doc Oc and others. This toy allows kids to both assume the identity of Spider-Man and challenge one another by virtue of laser light web shooters. The shooters attach on wrists and shoot at a range of up to one hundred feet. Chest-worn targets light up and emit sounds when "hit." The package includes two laser shooters, vests, and wearable targets.
My Hero Is Puzzled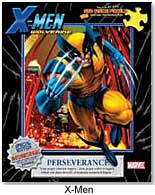 The Masterpiece Puzzle Company (ToyDirectory) has released a line of puzzles that will appeal to fans of The Incredible Hulk, Spider-Man, Captain America, and the X-Men. The puzzles come in lines of both 550 ($15.99) and 100 pieces ($8.99; ages ) and include motivational messages that highlight the importance of character and patriotism. The company also offers glue and frames so that once the puzzles are completed, they can be displayed on a wall.
To The Batcave!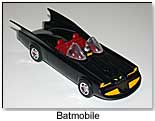 Collectors of Batman memorabilia will be pleased to know that Corgi (ToyDirectory) has created a line of high-quality die cast Batmobiles (7.99 to $29.99), inspired by the DC Comic Book Batman series. Specifically, Corgi has produced 11 famous vehicle models ranging in scales from to . The various models include a 1940's Batmobile, a Jokermobile, a Batbike, a 1960's Batmobile, and a 2004 invisible Batmobile. Some of the models will come with a "Virtual Video" unit containing audio clips of Batman saying various phrases.
Figure It Out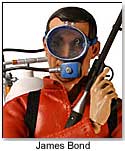 Sideshow Collectibles (ToyShow) makes collectible and specialty action figures, as well as polythene busts, statues, etc…that are every bit as detailed as they are impressive. The latest line of figures include characters from James Bond, Planet of the Apes, X-Files, Van Helsing, Star Trek, Lord of the Rings, Hellboy, and many more. The figures come in limited editions and range in price (from as low as $40.00 to a spectacular bronze statue of Lord of the Rings which recently sold for $6,495.00).
Hottest Hero in the World
Dark Horse (ToyDirectory) has gone Hellboy wild. For starters, there is the Hellboy " Hong Kong " Vinyl Figure ($165.00). Only 999 of these highly collectible figures will be produced and distributed in the . The 13" figure, created by Eric So, will include accessories, such as Hellboy's trenchcoat and utility belt. For those who don't want to break the bank on action figures, Dark Horse has also created a much more affordable line of Hellboy Movie PVC Figure Sets ($14.99 each). Set #1 contains the "good guys" Hellboy, Liz Sherman, and Abe Sapien. Set #2 contains the "bad guys," Grigori/Rasputin, Kroenen, and Sammael.
Got Bratz?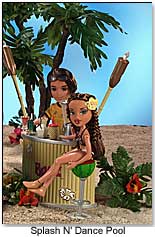 They are currently the highest selling girl's doll, surpassing even Barbie, and MGA Entertainment has added to the ever so popular Bratz collection. The latest line of fashion dolls includes Sun-Kissed Summer ($19.99; ages 6 and up), which offers each girl three different beach looks as well as accessories including a surfboard, beach towel, and beach bag. There is also the Splash 'N' Dance Pool (TM) ($50.00), a play-set that includes a pool which accommodates real water, as well as a sundeck/dance floor, a smoothie bar, a fashion runway and a balcony. Other sets include Girls Night Out, Wild-Life Safari (TM) Collection, as well as Bratz Petz (TM).
Barbie Like a Rock Star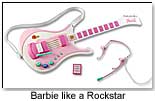 The Barbie "Jam With Me" Karaoke Guitar ($39.99; ages 4 and up) by KIDdesigns (ToyShow) enables kids to sing karaoke songs while playing a pretend guitar with strummable strings and sound effects. The pretend guitar accommodates song cartridges which contain three karaoke songs, while kids sing into the microphone attached behind the neck of the guitar. The guitar has three play modes including guitar free play, karaoke hits, and a "Jammin" feature that plays special chords along with the recorded music.
Card Game Hurricane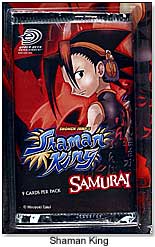 A few months ago, the Upper Deck Company launched a variety of licensed games such as Teenage Mutant Ninja Turtles Card Game, Bratz Fashion Party Fever Game, as well as card games featuring Marvel and DC Comic book characters. The latest addition to this terrific lineup is Shonen Jump's Shaman King Trading Card Game, based on the highly popular cartoon series originating in . The game follows a young shaman as he battles other shaman in his quest to become Shaman King. The game will be supported by tournaments and events.
Cars to Die-Cast For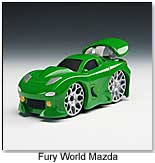 Fans of the movies, The Fast and The Furious and 2 Fast 2 Furious will be glad to know that RC2 Corporation has extended its licensing agreement with Universal Studios Consumer Products Group. Besides the fact that this might entail a third movie, RC2 has created Fury World™, a line of stylized die-cast tuner cars ($1.99; ages 5 and up) as well as Challenger Playset ($9.99) and Slammer Playset ($5.99). The cars are sleek, funky, and vivid. They are designed to appeal to serious collectors as well as street racing fans.
Food in the Car
K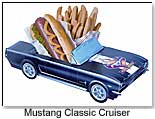 id Stuff has obtained a license from the Ford Motor Company to design the 40th Anniversary Mustang Classic Cruisers ® Carton (1 case 120ct. $56.16). The paperboard replica of the 1964 Mustang is sleek, detailed and dynamic. Kid Stuff (ToyShow) has 14 Classic Cruisers models in their catalog and since 1993 they have sold over 20 million.
Although initially designed for the food industry as a displayable container for food, the cartons have become popular items for use at gatherings, especially birthday parties, and have even gained attention as collectibles.
Corvettes for Kids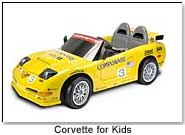 Toys just don't get any better than this; Dorel juvenile group, under license from Corvette®, has created the Corvette C5-R (ages 3+; $299.99). This ever so appealing sports car is ready for kids to get in and take off. The car has a two-speed transmission which enable the driver to switch from 2.5 to 5 miles per hour, and the car also goes in reverse. Not only will kids be moving along in this extraordinary vehicle, they'll be doing it in style. The car comes equipped with an FM radio as well as a digital clock and a cup holder. Other features of the car include traction tires, working headlights, taillights, turn signals, seatbelts, engine and racing sound effects, and Corvette Styling based on the International LeMans style racing car, with full competition graphics.
Drawing and More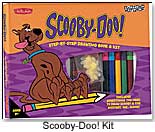 Walter Foster has come out with a line of Drawing Kits ($14.95) bound to please kids with a variety of interests. The Disney Magic Artist (ages 6 and up) allows kids to learn some of the fundamentals of drawing while coloring an array of princess sketches. The kit also comes with stick-on jewels. There is also the Scooby-Doo Drawing Book and Kit (ages 8 and up), which comes with "glow in the dark paw prints," as well as the SpongeBob Squarepants Drawing Book and Kit (ages 8 and up), which comes with a bubble maker. The kits include everything needed to draw, such as colored pencils, markers, etc.