lAccording to an article by the National Retail Federation (NRF), consumers spent over $14 billion on back-to-school merchandise in 2003. With a slew of trendy new products hitting the shelves just in time for the new school year, 2004 may see similar success.
Tell Me Your Secret and I´ll Tell You Mine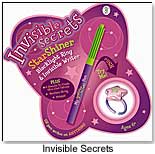 Swingset Press (ToyShow) has expanded their highly successful Invisible Secrets line of products. Crazy Rayz and StarShiner ($12.99), which debuted at the 2004 American International Toy Fair, include a black light ring, U.V. pen, mini pad of paper, and six stencils to create invisible tattoos. The ring can also be converted into a pendant.
For the "Packrat" In All of Us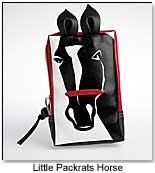 Little Packrats backpacks , totes and purses for kids, teens and adults are constructed of durable, weather-resistant vinyl and are bold and stylish as well as functional. New additions include monkey, horse and motorcycle backpacks ($25). Each backpack features bold colors, whimsical designs, screen printed graphics, adjustable straps, and top carry handles. Their new Pop-Up Purses ($20 and $40) come in funky lenticular patterns for kids and adults and feature a Velcro closure and a drawstring carrying handle.
Kid-friendly Computer Accessories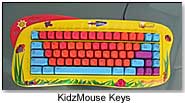 KidzMouse, Inc. debuted several new computer accessories geared towards children ages 2 to 10 at the 2004 Toy Fair. KidzMouse Keys ($39.95), a simplified keyboard featuring bold colors and licensed characters, includes only the essential keys that kids need. Keys are rounded for ease of use and are color coded to encourage learning. KidzMouse Ears plug-in and play headphones come in small ($24.95) and large ($29.95), and feature a firefly or bumblebee design, parental/teacher volume control and adjustable headband. The KidzMouse optical mouse line now includes Paloma Firefly ® ($24.95) that lights up when used and a scroll wheel mouse ($29.95) for more experienced users. The KidzMouse optical mouse line features patented squeezable buttons and a variety of designs and licensed characters.
Education Toys That Help Children "Think and Grow"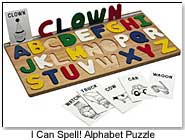 TAG (Think and Grow) Toys (ToyShow) prides themselves in developing educational toys that stimulate a child´s mind and motor skills. Kids and parents can begin developing writing and drawing skills before school starts with TAG´s new writing and spelling products for kids ages 3 to 4, including Traceable Shapes and Traceable Numbers ($39.95), Motor Shapes Sequence Board ($29.95) and Name Puzzle ($24.95 to $39.95). The award-winning I Can Spell! Alphabet Puzzle ($49.95) challenges young minds to spell before the hand is ready to write using giant alphabet letters and word/picture cards.