According to the February 26, 2004 issue of the New England Journal of Medicine, the prevalence of overweight children ages 6 to 11 doubled, and ages 12 to 17 tripled between 1980 and 2000. What a blessing it is that today´s animated television and movie characters are just that —highly animated. Toddlers should find Dora the Explorer very motivational, Shrek is always on a journey by foot, and Marvel´s muscle-bound superheroes have matching metabolisms. They are some of the most active licensed characters decorating many of today´s children´s toys.
Expecto Patronum!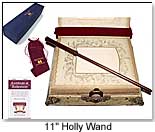 If you´d like to sell something different from the mass-produced Harry Potter stuff, contact Alivan´s Master Wandmakers (ToyShow). The Panama City, Florida company produces hand-crafted wands of many woods, including an 11" Holly Wand ($35, ages 5 and up) just like Hogwarts´ famous seeker. For fantasy and dramatic effect, the wand arrives in a velvet lined satchel and a collector´s box. Alivan´s also honors every detail in its Brooms ($49 & $59, ages 5 and up), House Scarves ($15.99) and Galleon coins ($9.95 each). David Wedzik, Alivan´s founder, said, "Because of the success of Harry Potter, this is a very desirable niche and fans of the books and movies realize what products of this nature should resemble. The Alivan´s line fulfills that demand nicely." What better way to celebrate the June release of Harry Potter and the Prisoner of Azkaban than with the finest wizard gear this side of Diagon Alley?
Very Good Grief
Emphasizing the age 6+ population this year, Playing Mantis (ToyShow) follows up its 2002 Peanuts Action Figures with new 2004 lineups, including the You´re an All-Star, Charlie Brown series urging young scouts to assemble a winless team of Action Figures (suggested retail price $7.99), Boxed Set ($19.99) or a Playset ($19.99). The Midwest company´s Memory Lane brand is also expanding its wearable, displayable Flicker Ring collection ($3.99 each ring) with new Spider-Man, Daredevil, X-Men and The Incredible Hulk rings. From different angles, old-fashioned "lenticular" technology shows the gifted crime fighters transforming from humans into their full glory.
Shelter and a Hug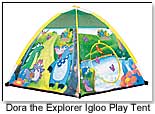 Danawares Corporation strives for durability and ease-of-use and have prospered because consumers will spend extra for quality even when they don´t recognize the toymaker´s name. Major props to the Quebec company for producing a Dora The Explorer Igloo Play Tent ($40, ages 2-10) that is 46" x 46" x 48" and made of DuPont Tyvek, a washable, woven material that is porous to the air and trusted by outdoors lovers. Danawares expects to add Spider-Man and Shrek tents by summer. It has also just launched Shrek and Donkey Talking Cuddle Pillows ($30-$40, ages 2 and up) following the success of its Caillou Musical Cuddle Pillow.
Easy-to-Grasp Stories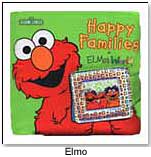 Softplay Books has signed Clifford, Elmo, Fisher-Price´s Little People and, most recently, the Veggie Tales cast to appear in their fun cloth books ($19.95 each). When Softplay says "interactive," they don´t mean batteries and computer chips. The company uses removable characters that are tethered to their pages and uses fabric strips as tiny rails for the characters to move across the pages.
Who Knows the Way to Sesame Street?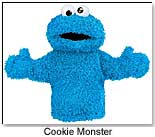 Gund (ToyDirectory) is coming out with furry 10" to 13" hand puppets of Big Bird, Cookie Monster, Ernie, Bert, Grover, Oscar the Grouch and Elmo ($15 each, ages 1 and up). The Zoe puppet sparkles in a frilly pink satin tutu and bodice. A 7" plush cube Activity Block ($25, ages 1-5) has polygon happy faces of several Sesame Street standouts for little minds and bodies to tackle. You´ll hear crinkles, Velcro tears and squeaks, but mature ears will appreciate that nothing is battery-amplified. Parents who want their children to enjoy learning will gladly pay $25 for the fun-packed Teach Me Dora 12" plush (ages 1-5), which teaches kids how to zip, button, Velcro-attach and tie their clothing and shoes.
How a-Dora-ble!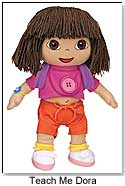 A few months ago, Nick Jr.´s Dora the Explorer with Boots and Deigo and their new friend LEGO took the NY Toy Fair by storm. From spring through summer, LEGO will be releasing four Dora sets ($9.99 to $29.99, ages 2 and up). LEGO´s Best Boys´ Toy winner BIONICLE just turned 4, but Toa Metru, those urban heroes, are now licensed for Colgate toothbrushes, Nike sneakers and Scholastic books. Even with the side gigs, BIONICLE continues to evolve in-house with new LEGO Toa Metru ($7.99, ages 8 and up) ready to burst from their cool canisters. Their small footprints still have great presence on retail shelves.
A Just Rage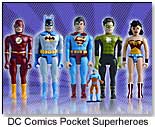 The Atom, Batman, Flash, Green Lantern, Superman, and Wonder Woman are renowned DC heroes who have often shared panels and frames of Justice League comic books and TV cartoons. Diamond Comics (ToyDirectory) unites them again as 3.25" figures (except for The Atom, who is "life-sized," no bigger than a pen cap) in the stunning DC Comics Pocket Superheroes JLA Boxed Set ($20, ages 3 and up). They´re inspired by the "trading figures" rage that recently crossed the Pacific from Japan.