Article Archive: Action Figures

Top-5 Most-Wanted Action Figures

Action figures aren't huge sellers in specialty, according to half the retailers TDmonthly Magazine interviewed in August 2014. However, for some, these toys do generate sales...

9/1/2014
Games Workshop Captures Big Brothers & Dads

"If you've got the teens coming into the store, if you're carrying Rio Grande or Mayfair, or any of the Eurogames, then you've got the demographic," said George. "That's when you want Games Workshop."...

6/1/2014

Action Figures in the Doldrums

Action Figures represent about 6% of the U.S. toy market and are completely dominated by Hasbro. This is how the picture has developed since 2007...

11/1/2013
TDmonthly's Toy Fair Videos: Dolls, Plush, and Figures

TDmonthly Magazine was at Toy Fair, scouting out the newest toys and hottest trends of 2013. Our videographer captured these new toys on tape, so that retailers who couldn't visit their booths can still get a taste of what these new toys have to offer...

3/1/2013

Movies and Toys 2013

Movies are big business. Here are the box office estimates over the past few years...

2/1/2013
Activision Skylanders vs. Disney Infinity

Activision/Blizzard, the world's largest provider of video games, has been in the news lately. Firstly, their Call of Duty: Black Ops II game was not only the #1 game for the month of December; it was the #1 game for the whole of 2012. Secondly, their 2011 entry Skylanders has just broken the $500 million barrier at U.S. retail...

2/1/2013
Safari Ltd® Supports Miami Children's Hospital Foundation's Holiday Toy Drive

PRESS RELEASESafari Ltd®, a worldwide distributor of quality, hand painted animal replicas, donated more than 2,000 of its toys to Miami Children's Hospital Foundation's annual Holiday Toy Drive last week.The Holiday Toy Drive benefits children spending their holidays in the hospital. On Christmas morning, patients will wake up to a...

12/1/2012

Top-4 Most-Wanted Action Figures

When TDmonthly Magazine asked specialty retailers about their best selling action figures, seven out of 10 said they don't sell them at all...

9/1/2012
QUO VADIS HASBRO?

Hasbro, the world's second largest toy maker, is encountering very choppy waves. Firstly, the Battleship movie sank without a trace and with it, their latest hope to rescue the Board Games business. Secondly, G I Joe went AWOL into 2013, further weakening their 2012 movie offering. Meanwhile, their preschool business is facing a massively strengthened Fisher Price. What does this all mean for their business this year and in 2013?...

6/1/2012

Hasbro Strikes Back: Q&A with Wayne Charness, SVP of Corporate Communications at Hasbro

In light of the recent sharp downturn in Battleship movie audience numbers and the postponement of GI Joe into next year, analyst Lutz Muller decided to dive deeper into Hasbro's prospects for 2012 and beyond — and what he found wasn't pretty. Of course, there are two sides to every story, so Muller reached out to Wayne Charness, senior vice president of corporate communications at Hasbro, to hear his take...

6/1/2012
Top-7 Most-Wanted Action Figures

When TDmonthly Magazine interviewed retailers for a Summer 2011 survey about best-selling action figures, four out of the 14 said that figurines from Papo were their best-sellers...

9/1/2011

Solving the Mystery of Composition Soldiers, Part II

The composition of Playwood's soldiers consisted of triple zero wood flour from Wisconsin (very fine-ground, almost like talc), 20 Mule Team Borax, unbleached white flour (condemned by food inspectors who had marked the inedible flour with chicken blood), and water...

9/1/2011
Top-5 Most-Wanted Action Figures

A June 2010 survey conducted by TDmonthly Magazine found that 34 percent of specialty toy retailers don't stock figurines based on popular characters...

9/1/2010
Holiday Preview: Action Figures and Animal Replicas

Warriors, fairies and plain ol' folk from popular action-figure lines Safari Ltd., Schleich and Hotaling Import's Papo give kids plenty of opportunity to create their own imaginative scenes. And Pretty Ugly's rolled out a pretty cute new series of wonderfully quirky Uglydoll figurines. See TDmonthly's Holiday Preview of Action Figures...

6/1/2010

Take a Look at These Holiday Toys

There's always the challenge of deciding what to order for the Christmas season, and once you do, where to store it! For that first part, TDmonthly Magazine wants to ensure that you don't miss out...

6/1/2010
In This Issue

Solid branding, testimonials and engaging in-store media educate and improve customer experience...

5/1/2010
Toys in the News: 5-28-10

Toys "R" Us Inc., which went private in a 2005 purchase by a private-equity consortium, plans to return to the public markets, aiming to raise $800 million in an initial stock offering...

5/1/2010
Animals and Action Figures Act Out on Camera

-Safari Ltd. is keeping kids informed with intricately detailed animal replicas both large and small. Figurines by Kiz Toys, Schleich and Party Animal also make appearances...

5/1/2010
Why Toy Sales Will Strengthen But Won't Beat '03

During this year's Toy Fair and its aftermath, it became very clear that the buyers on my retail panel are taking a much more positive view of the U.S. toy market than they did a year ago...

4/1/2010

TDmonthly's Top-10 Toys: Western States Show

Manufacturers and reps at the 2010 Western States Toy & Hobby Show showed off plenty of playthings for indoor activity, outdoor fascination and environmentally minded kids. Can You Imagine's Big Bang Rocket turns heads...

4/1/2010
Video: ASTRA Talks Holiday Sales & Social Media

TDmonthly Magazine's Julie Jones caught up with Kathleen McHugh, president of the American Specialty Toy Retailing Association, at Toy Fair 2010. ASTRA is encouraged by 2009 holiday sales in the specialty market...

4/1/2010

How to Leverage Your Patent Portfolio

In TDmonthly Magazine's April issue, Susan Pan, partner at global intellectual property firm Sughrue Mion PLLC, will offer practical scenarios and tips on protecting your company's innovations...

2/1/2010
Toy Fair 2010's Hottest Products: Day 4

VTECH has a plethora of new products coming out in 2010 with technologically advanced toys while Mattel is focusing on a plethora of different types of action figures...

2/1/2010

A Safari Into the Imagination

What do dragons, dinosaurs and pirates have in common? Along with dozens of other intricately detailed plastic figures from Safari Ltd., they're the stars of collections designed to promote education and imagination...

2/1/2010

Top-10 Most-Wanted Action Figures

In July 2009, TDmonthly Magazine interviewed 49 specialty retailers around the country concerning their sales of play and action figures...

9/1/2009

Disney Makes Defensive Move With Marvel Acquisition

The news that Disney was acquiring Marvel hit the entertainment industry like a thunderbolt. Yes, there had been plenty of rumors about a large Disney acquisition, but the betting by insiders had been on Electronic Arts...

9/1/2009

TDmonthly Goes Inside ... Sideshow Collectibles

Unlike other manufacturers who rely exclusively on laser scans and digital-wax outputs to create character likenesses, Sideshow Collectibles still hires artists to individually sculpt 90 percent of the faces and bodies for its action figures and collectibles...

8/1/2009

Transformers and Classic Superheroes Rule Action Figure Lineups

This year's action figure offerings are full of classic favorites and fresh faces. Many of the anticipated best sellers are coming to stores by way of the big or small screen, promising to captivate children and adult collectors even in a tight economy...

8/1/2009

From the Big Screen to the Toy Aisle

Just as a movie starring an A-list celebrity will bring in big bucks opening weekend, toys tied to famous licenses can also have smashing premieres. Experts warn, however, that it's important to be smart when buying...

6/1/2009
Holiday Preview - Action Figures

Elves and crocodiles ready for battle could be the perfect addition to a child's toy box this year. TDmonthly's Holiday Preview of Action Figures also boasts other non-traditional collectible figurines, including tween characters tied to a virtual world, critters that place emphasis on diversity, and designer figurines that can spruce...

6/1/2009

Why the Recession Is Good for Kids … and Toys

"The recession could be the best thing that's ever happened to children's toys," Dr. Kathy Hirsh-Pasek, a child development expert and professor at Temple University, told TDmonthly in late January...

2/1/2009

Watch Toy Fair 2009 Videos

Whether you flew to New York or stayed snug at home, you can still see some of the best new products from the 2009 American International Toy Fair...

2/1/2009

Harry Potter Movies Will Lead in Toys

Most of the very successful toys in 2008 were driven by movies — "Star Wars: The Clone Wars," "The Dark Knight," Wall-E" and "Iron Man" – and it hence behooves us to look at what films are awaiting us this year and next...

1/1/2009
Retailers Predict Top Mass-Market Holiday Toys

I recently asked my retailer panel friends — seven mass-market and three specialty stores — to tell me which toys are likely to do the best this Christmas. Here are their rankings...

10/1/2008

Toys in the News: 9-30-08

RC2 Corporation has announced its withdrawal from an agreement to purchase Publications International's Children's Publishing Division...

9/1/2008

TDmonthly's Top-10 Most-Wanted Action Figures

Which action figures are the last ones standing? Knights, pirates, dinosaurs and mythical creatures are strongest in battle, 55 retailers told TDmonthly Magazine, with Papo figures by Hotaling Imports dominating...

7/1/2008
Indiana May Trump Iron Man at Toy Sales

When I first wrote about toy-related films roughly six weeks ago, I overlooked the fact that there is yet another entrant into the toy sweepstakes — "Wall-E" by Pixar.....

6/1/2008
Sports Action Figures Cast a Spell

Sports fanatics don't just go out and wear their favorite team jerseys or add to their baseball card collection anymore. Sports action figures are becoming a popular way for fans to support their local teams on and off season, sources told PlayZak, and just as kids are with Pokémon, many have to collect them all...

9/1/2007

Safari Ventures Into Fantasy

For more than a quarter century, Safari Ltd. has been unwaveringly dedicated to toys that are both educational and fun for children...

7/1/2007

Oh, Holy Knights!

Pirates and knights are the action figures of choice, say specialty retailers, and are just right for stocking stuffing...

7/1/2007
TDmonthly's Top-10 Most-Wanted Mini-Toys

Manhattan Toy's Groovy Girl Minis are tied with Papo Knights as the best-selling teeny toy, each getting a top-selling nod from 10 of 45 specialty toy-store owners surveyed...

9/1/2006
Boys Venture Into Doll Shops

At Dolls by Jerree in Kingsport, Tenn., the customer demographic has suddenly shifted in the last three months to include boys and men age 10 to 40...

7/1/2006
Toy Knight Jousting Match

Medieval-themed figures and accessories have become a hit in toy stores across the country, and three major players are "jousting" for the top spot...

12/1/2005

Tween Girls Kick Butt

Are action toys for girls the future as action toy sales flatten out for boys?...

11/1/2005
TDmonthly's October Recommendations

What's hot in the shops, now that the weather's started to cool? TDmonthly Magazine spoke with 16 retailers across the country to find out...

10/1/2005
Toypresidents Honors a Different Kind of Hero

Founded in 2003 by Jesse Combs, Toypresidents, Inc. has met with tremendous success crafting collectible, battery-operated talking president action figures. This year, Combs expands the concept to include other historical figures by opening Timecapsule Toys...

5/1/2005
Action Figures Drive Sales Without a License

Without a licensed tie-in to popular media, an action figure faces a challenge that is far more formidable than battling the forces of evil — the battle for the consumer's dollar...

5/1/2005
Before the Films, There Were Figures

As the summer is the season of the blockbuster, and action figures precede blockbusters like thunder before rain, toy stores will be literally packed this spring with licensed figures from soon-to-be released feature films...

5/1/2005
Todd McFarlane Opens Showroom and Store in Tempe, Arizona

In October 2004 Todd McFarlane, who has an 11-year history in the sports and movie licensing markets, held the official grand opening of a showroom and store in Tempe, Ariz. With Phoenix the hub of his business and his family living in the outlying area, Tempe seemed the most logical location...

1/1/2005
Top Five Television Sources for Licensed Toy Products

As licensed products prove to be bigger business than ever before, television has become an ever-growing source of hit characters. According to ratings supplied by the A.C. Nielsen Company, the top five television sources for hit toy tie-ins are as follows:...

1/1/2005
Play to Meet Profit at Toy Fair 2005

As retailers begin stocking shelves for 2005, the big question remains, what will be a hot sell in the new year? Of the many resources available, one good place to commence research on toy trends is at the Jacob K. Javitz Convention Center this February 20-23rd, where once again the Toy Industry Association, Inc. returns with its annual American International Toy Fair...

1/1/2005
The Boys´ Share of the Tween Market

In the toy and hobby world, the tween market has become a hot commodity for retailers. Reyne Rice, toy trend specialist for the Toy Industry Association, explains that the industry focus for the last few years has been to retain that particular age group in toy products...

11/1/2004

TDmonthly's Top 10 Most Wanted Sports Action Figures

Every sports fan has fantasized about running towards the end zone to score the winning touchdown, delivering a bone-crushing blow in a WWE title bout, or hitting a grand slam in the bottom of the ninth to win the World Series...

11/1/2004
TDmonthly´s Top 10 Most Wanted Political Playthings

Get out to the polls and, while you're at it, vote with your dollars for your favorite political toys. The presidential contest has been on everyone's mind this year and will continue to generate interest as the election draws closer...

10/1/2004
Toys Inspired By the U.S. Troops

Dusty Trails Toys has come out with a set of action figures which remarkably commemorate the heroic efforts of America's troops abroad...

8/1/2004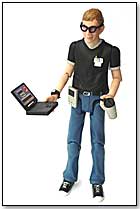 What A Geek!

There is a new super hero action figure hitting the toy markets. He doesn't have a cape, doesn't carry a gun or a light saber, isn't the subject of some popular show or cartoon, and he doesn't transform into something...

7/1/2004
TV Toys

Couch potatoes of all ages may be glad to learn their televisions are good for more...

6/1/2004
HuckDoll: Go to the Extreme

Founded by professional extreme athletes in North Lake Tahoe, NSM Resources/HuckDoll is one of the leading companies specializing in athletic figures...

5/1/2004
Since 02/01/05 people have visited this page.

Advertisement: