The Few, The Proud…The Award-Winning Toys
Who Made the Cut This Year?
By Alison Marek and Julie L. Jones
---
Thousands of products are introduced to the toy industry every year, but only a limited number are good enough, playable enough and innovative enough to garner an award.

In addition to issuing TDmonthly Awards, TDmonthly Magazine regularly asks manufacturers to present their award winners to our readers so that retailers can quickly identify products with great potential and manufacturers can learn and be inspired by others' successes. Here are the most recent responses:
Smarcks Smart Blocks by SMART BLOCKS INC


This new set of Smarcks Smart Blocks has 70 standard building blocks and four new smarter talking blocks. Each new Smart Block uses a higher capacity microprocessor and is equivalent to three of the original; so four blocks in this new set is equivalent to having 12 of the original. The new blocks have been programmed with a new progressive learning function to enable children, as they get older, to play differently as the blocks are programmed to react differently. Very young children can press the buttons in the blocks or stack them one block at a time. This is a discovery stage as they sing, play nursery rhymes, play sound effects, laugh, and talk about color and good manners. As children develop fine motor skills they begin to stack two blocks at a time. Play moves to a higher level as they sing nursery rhymes, like Old MacDonald, with 7 different animals and learn spelling, counting, math, and puzzle solving providing years of entertainment and learning.
Awards: 2012 Dr. Toy 100 Best Toys


9/11/2012 (Price: $64.95; Age: 1 to 6) [Add to my Inquiry Basket][?]




My1story book collection by MY1STORY LLC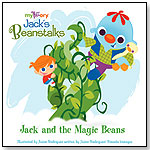 My1story books are a fun, entertaining collection of the world's most renowned children's characters and fairy tales under one cohesive and comprehensive brand. Each storybook introduces classic fairy tale characters in a new story twist. The collection has five titles with the first two, Lil' Riding Hood and Jack's Beanstalks The goal is to build under the My1story umbrella books that parents, grandparents, and children will find their favorite classic characters and hopefully kindle many happy memories through storytelling.
Awards: 2012 Dr. Toy 100 Best Toys


9/11/2012 (Price: $12.99; Age: 2 to 5) [Add to my Inquiry Basket][?]




MIM Doll & Accessories by MAKE IT MINE LLC



Make It Mine is now offering a revolutionary new line of dolls that are a first-of-its-kind line of high-quality, fun, fully customizable, poseable, play dolls and accessories. This innovative combination of features make the dolls stand alone. They are 16-inch premium ball-jointed play dolls, with changeable wigs, changeable eyes and 15 articulated joints that separate to allow for changeable parts. From the dolls' faces to their eyes, wigs, torsos, hands, feet and clothing, These dolls' parts and accessories are interchangeable, so a girl can make her doll a black-haired, brown-eyed soccer player one minute and a pink-haired, purple-eyed mermaid the next.
Awards: 2012 Dr. Toy 100 Best Toys


9/11/2012 (Price: $89.00; Age: 9 to 12) [Add to my Inquiry Basket][?]




Kaleidograph® by KALEIDOGRAPH DESIGN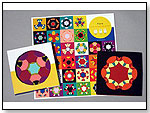 Crystalline geometries in brilliant color...the 9 die-cut cards (and 3 solid backers) of the Kaleidograph™ can be arranged into billions of designs. Based upon geometry in nature, the Kaleidograph upholds the tradition of the original creative design toys of the Froebel Kindergarten system that are known to have influenced Albert Einstein, Frank Lloyd Wright, Buckminster Fuller, Piet Mondrian, and design education at the Bauhaus. Like the floral forms found in nature, the Kaleidograph Flora is based on interconnected circular radial forms which can be assembled and overlaid into hundreds of millions of possible patterns. Richly personal and environmentally friendly, the Kaleidograph Flora is a toy for all ages. It fosters creativity, rewards with surprise, and brings out the designer in everyone.
Awards: 2012 Dr. Toy 100 Best Toys, 2012 Dr.Toy Best 20 for $20


9/11/2012 (Price: $12.99; Age: 2 to 12) [Add to my Inquiry Basket][?]




Ink 'n' Stamp Animal Prints by HERO ARTS RUBBER STAMPS INC



Stampers of all ages are wild about the new Ink 'n' Stamp collection of critters that have left their mark with Animal Print Ink 'n' Stamp set. The delightful Ink 'n' Stamp tub contains 18 woodblock stamps and one ink pad. All Hero Arts woodblock stamps are made in the USA on sustainably-harvested woodblocks. Conforms to ASTM D-4236.
Awards: 2012 Dr. Toy 100 Best Toys


9/11/2012 (Price: $17.50; Age: 3 and up) [Add to my Inquiry Basket][?]




The Budding Builder by GRYPHON HOUSE INC.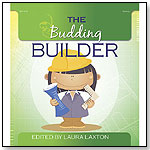 Curious kids will be inspired by the endless possibilities of the fifty fun-filled building activities in The Budding Builder. With great ways for children to take ideas from their limitless imaginations and to fashion them into reality, this book shows parents and kids how to create a fairytale cottage, make a marker organizer, carefully construct a toothpick sculpture, and build a bird feeder.
Awards: 2012 Dr. Toy 100 Best Toys


9/11/2012 (Price: $9.95; Age: 3 to 6) [Add to my Inquiry Basket][?]




Gibout Big Blocks by GIBOUT TOYS



Gibout Blocks are each hand-made with the most luxurious minky fabric available, and all sides are textured to stimulate a child's senses. These plush toy blocks are great for building, stacking, making forts, climbing on, making furniture, and whatever else a young mind can imagine. Until baby is old enough to stack and play with them, these work as nursery decor. With their soft interior and exterior, these blocks are safe for any age and will grow with children as he/she finds new ways to play with them.
Awards: 2012 Dr. Toy 100 Best Toys


9/11/2012 (Price: $23.99; Age: 0 to 8) [Add to my Inquiry Basket][?]




MobiGo® 2 by VTECH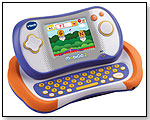 The new MobiGo 2 Touch Learning System by V Tech is a multi-functional educational handheld system that allows kids to enjoy on-the-go play and hone their creativity all while learning basic skills such as math, vocabulary, spelling, reading, logic, drawing and more. MobiGo 2 has two new ways to play: it comes equipped with a motion sensor and microphone, in addition to the touchscreen. The motion sensor provides total game control, allowing kids to create action movements within games and programs while playing. The microphone provides different methods of game play. Kids can blow into the microphone to move objects, blow off dust, or initiate other special effects. Or they can speak into it to give a command or trigger an action. The QWERTY keyboard helps kids become familiar with a keyboard layout. Additionally, the handheld system functions as an e-reader, photo album, photo viewer, art studio, coloring book, and comes pre-loaded with three great games that take advantage of the product's many features. The expanded onboard memory allows kids to store more fun, and there are more than 80 other apps available for download at the VTech Learning Lodge Navigator.
Awards: 2012 Dr. Toy 100 Best Toys


9/11/2012 (Price: $59.99; Age: 3 to 8) [Add to my Inquiry Basket][?]




Loopy Ball by SASSY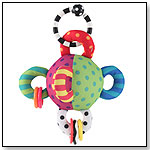 Bright colors and bold patterns help engage baby's developing sense of vision. The easy-to-grasp loops help baby tug and toss the ball for a fun activity. The clacking rings and a pleasant chime inside easily engage hearing. The soft ball construction is appropriate for baby's stimulating environment.
Awards: 2012 Dr. Toy 100 Best Toys


9/11/2012 (Price: $8.99; Age: 0 to 1) [Add to my Inquiry Basket][?]




Shape Sorter Bus by RUBBABU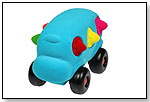 The Shape Sorter Bus is a soft, squishy colorful vehicle for little ones to hug, hold, and play with, plus it has an extra bonus of a shape-sorting game built into the sides. Six friendly faces pull out of the sides of the bus, all in different colors and shapes. Rubbabu toys are made of soft, squishy rubber foam, which is organic, hypo-allergenic, and completely biodegradable.
Awards: 2013 TDmonthly Seal of Approval, 2012 Dr. Toy 100 Best Toys


9/11/2012 (Price: $24.95; Age: 0 to 6) [Add to my Inquiry Basket][?]






Following are some of the programs represented in TDmonthly.com's section of award winners: Dr. Toy, iParenting Media Awards, TIA T.O.T.Y., Oppenheim Toy Portfolio, The National Parenting Center, and Parents' Choice Awards.

You may also access TDmonthly's review section to see which products earned 5 TD stars.

Advertisement: