---
New & Notable Toys: Plush
Check out these new and noteworthy toys.
Aurora Baby - GiGi Giraffe™ by AURORA WORLD INC.


If you are looking for a great cuddle partner for your little one look no further! These adorable and ultra soft giraffes come in 8 styles in four unique sizes, each having its own interactive component including rattles, crinkles and squeakers. 12/10/2015 [Add to my Inquiry Basket][?]



Curly the Worm by ADC Yangzhou Hongchang Arts and Crafts Co.,Ltd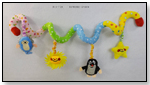 This happy stuffed product is designed for baby gift, the sun, the star all are carefully added to pleased baby. 10/30/2015 (Price: $3.5; Age: 3 to 5) [Add to my Inquiry Basket][?]



FurReal Friends StarLily, My Magical Unicorn by HASBRO INC.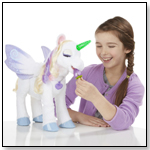 The pet of any girl's dreams is here: the StarLily, My Magical Unicorn toy! StarLily is a beautiful young unicorn who's come from her home in an enchanted forest to become a very best friend. She responds to voice and touch with more than 100 sound and motion combinations! When interacting with her, she moves her head and hoof, makes special sounds, and lights up her horn. 10/26/2015 (Price: $119.99; Age: 4 and up) [Add to my Inquiry Basket][?]



Twinkle Collection by DOUGLAS CUDDLE TOYS


Twinkle Collection (Twinkle Floppy Fawn, Twinkle Hedgehog, Twinkle Standing Fawn, Twinkle Polar Bear and Twinkle Owl) – Special Glitter fibers knitted in the plush make this lovely collection Magically "Twinkle" 7/29/2015 () [Add to my Inquiry Basket][?]



Fuddlewuddle Fox Cub by JELLYCAT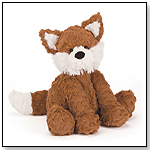 Looks like someone's been scrabbling about and making all kinds of mischief! Fuddlewuddle Fox has been on so many adventures, he's made ruffles all through his soft, gingery fur. Give this feisty fellow lots of scruffles and strokes, and maybe he'll show you how to dance the foxtrot!
— In a June 2015 survey, two out of 10 retailers told TDmonthly that Jellycat was their best-selling plush brand. 6/30/2015 [Add to my Inquiry Basket][?]



Whiffer Sniffer Backpack Clips by BEARINGTON COLLECTION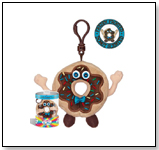 These scented backpack clips are shaped like foods. Pictured: Freddy Frosted: I'm chocolate donut scented!
— Deran Muckjian, owner of Catch a Falling Star in Lexington, Mass., told TDmonthly in a June 2015 survey that Whiffer Sniffers are their store's best-selling plush. 6/30/2015 [Add to my Inquiry Basket][?]



Qwilly Porcupine by GUND INC.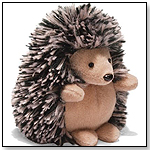 This cute little 1 piece, palm size porcupine set from Gund will put a smile on your child's face. Each porcupine measures 3" in height with a plastic nose & stitched eyes. Each porcupine has soft velour face & paws with the lighter of the two having a soft velour stomach as well. Both porcupines have salt & pepper colored long hair.
— In a June 2015 survey, two out of 10 retailers told TDmonthly that Qwilly porcupine was their best-selling plush toy. 6/30/2015 (Price: $10.00; Age: 1 and up) [Add to my Inquiry Basket][?]



Digiplush BirthdayLand "Cupcake" Birthdaykin Plush by KIDS PREFERRED INC.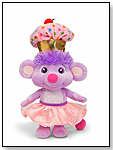 Product Description: Birthdaykins are the fun friends in BirthdayLand, the place where birthday wishes come true. Some say Cupcake is one of the most delicious Birthdaykin because she's topped with a yummy golden cupcake! She bakes cupcakes for everyone in BirthdayLand with a big heap of love. Like the rest of the Birthdaykins, Cupcake comes with a special code that unlocks premium features in the BirthdayLand app. The app is a free download in iTunes Store, Google Play and Amazon Apps. 5/21/2015 (Price: $12.99; Age: 3 to 7) [Add to my Inquiry Basket][?]



Madame Chouette Activity Toy by MAGICFOREST LTD


Welcome baby with gifts from the newest range by Moulin Roty: Mademoiselle et Ribambelle. Imagine the forest and all of the fairytale characters who can be found there. Imagine an owl singer, a little opera mouse, a gentleman otter and a rabbit - Monsieur Lapin – who is always late. This happy crowd is gathered around the delightful Mademoiselle at the edge of the wood to enjoy the show! Enter Madame Chouette The Activity Owl. Marvel at all of the surprises that await baby while admiring her pink ensemble with a yellow cotton polka dot tutu lined with tulle. Place this precious owl near baby and wait for her to discover a baby owl squeaker hidden in a tummy pocket, a detachable plastic ring rattle filled with colorful beads, large super soft wings with crinkle paper and a small mirror. Adorable! Look for other items in Mademoiselle et Ribambelle such as musical Owl and Monsieur Otter, squeaker toys, buttery-soft loveys to comfort baby and mousey rattle. Imported Exclusively by Magicforest.
Attributes:
· Hours of fun, learning and companionship to a little one
· Mirror helps with self-awareness
· Ring Rattle for grasping, sound and visual stimulation
· Crinkle paper for teaching cause and effect, sound recognition
· Baby Owl squeaker tucked into Mamma's front pouch will teach object permanence and help with motor skills
· A variety of soft fabrics offer sensory experience for baby as she explores all sides of Madame Chouette 3/31/2015 (Price: $70.00; Age: 0 and up) [Add to my Inquiry Basket][?]



Brobo by HOG WILD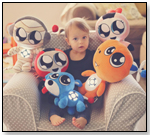 No shadows and no fear because Brobo is here! Hog Wild's new night light buddy, Brobo, is a child's perfect daytime friend and sleeptime solution. Featuring both light and dim modes, Brobo gives little ones instant control over the darkness and shadows that make bedtime difficult, all from the safety of their own bed! This soft, plush robot from the future has a five–minute auto shutoff with long-lasting LED lights that are cool to touch. Age Range: 18+ Months
Awards: 2015 TDmonthly Top Toy Award 3/18/2015 (Price: $29.99; Age: 1 and up) [Add to my Inquiry Basket][?]



Pirate Kitty by TENTACLE KITTY


Pirate Kitty is Ninja Kitty's rival and next-door neighbor. He steals everything he needs to be a pirate from his owner, including the Jolly Roger panties on his head. He also has his leg stuck in a toilet paper roll to complete the look while he orders Squeakarr, his first mate and cat toy, about on many tasks while he spies on the dastardly Ninja Kitty. 2/10/2015 [Add to my Inquiry Basket][?]



Kaloo Petite Rose Mini Zig Musical by JURATOYS US CORP


This sweet and soft musical pull toy from our new Petite Rose Collection plays a lilting and familiar phrase from "Sleeping Beauty." Babies quickly associate their action (pulling on the bunny) with a response (delightful music). For Ages 0+ months. 1/27/2015 (Age: 0 and up) [Add to my Inquiry Basket][?]



Worry Eaters by HAYWIRE GROUP


The award-winning plush from Europe finally makes it stateside for children coast to coast to cuddle. When times get rough, kids can jot down their frets, worries and fears and feed it to Worry Eater. As child sleeps, mom or dad tiptoes in and discovers the scary concern. Next day a solution or discussion can be shared between child and grownup. A much healthier way to deal with stress and worry! $15.99 (S) & $22.99 (L)
Styles in both small and large sizes: Schnulli, Saggo, Enno and Polli
Available in large only: Flint, Bill, Betti and Flamm.



1/20/2015 (Age: 3 and up) [Add to my Inquiry Basket][?]



Ray and Ben by MAF INDUSTRIES


Ray with the red cap and Ben with the blue cap make the perfect pals (shown with bodies tucked in).

Inspired by a child's drawings, they have soft cushy pillow heads, with small stuffed bodies that tuck inside. As a friend to dream with, they spark positive, imaginative play, and encourage children to Be A Dreamer®. As a pillow, Dream Frenz put the fun in FUNctional! Each one has a coordinated quilted soft fabric on the back. U.S. Pat. No. 8,321,978 12/1/2014 [Add to my Inquiry Basket][?]



Sophie and Lili Color Me Doll by NORTH AMERICAN BEAR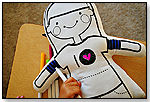 Licensed soft doll in whimsical 2-dimensional design by artist Jennifer Vallez makes a big fashion statement with creative fun! Oversized 18" woven cotton doll features a black and white screen-print outfit on front and contrasting custom textile print on back for coloring and decorating with any favorite markers. 11/14/2014 (Price: $24.99; Age: 3 and up) [Add to my Inquiry Basket][?]



Max Buddy Ball by MAXLAND TOYS LLC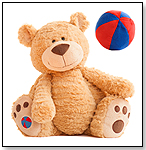 Our signature buddy, MAX is a huggable honey colored bear that converts into a cherry red and bright blue ball. He is made of the softest fur available. Always ready for a game of catch or a quick snuggle, he is the ideal companion for your on-the-go child! Like all of his buddies, MAX unzips in the back to reveal a secret compartment perfect for storing all of life's little treasures. Dimensions: MAX: Teddy bear is 16 inches tall (standing), transforming into an 8 inch diameter plush ball.

9/22/2014 (Price: $29.99) [Add to my Inquiry Basket][?]



Mickey and Friends "Tsum Tsum" Mini Plush Collection Disney by DISNEY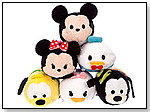 Disney's cutest characters are cuter than ever with our "Tsum Tsum" Mini Plush Collection. Already a hit in Japan, now you can collect Mickey, Minnie, Donald, Goofy, Pluto, and all their soft stackable friends in mini size! 8/29/2014 (Price: $4.95)



Skoink by GENETIPETZ


What do you get when you combine the DNA from a skunk and a pig? Answer: a Skoink! The Skoink is a super soft and incredibly fun combination of a skunk and pig! The Skoink is a true favorite of the kids who like to express their uniqueness! Genetipetz are mounted on header cards that make them easy to display and explain for retail customers. These toys feature unique registration codes and free access to the Genetipetz Clubhouse to connect offline and online play experiences. 7/31/2014 [Add to my Inquiry Basket][?]



Sea Turtle by FOLKMANIS INC.


An ancient marine creature, the SEA TURTLE puppet is beautifully rendered with patterned shell, scaly-looking body fabric and suede cloth underbelly. Her wise eyes and movable mouth tell the story of her ancestors as her front flippers propel her to the depths of the sea and your heart. 16"LONG. 7/7/2014 (Price: $29.99; Age: 3 and up) [Add to my Inquiry Basket][?]



Stickgal Sal™ by STICKMAN STEW LLC


Stickgal Sal™ is a warm and caring gal. She's a good friend who will always be there to hold your hand. Sal loves to give hugs and read people's fortunes. 5/27/2014 [Add to my Inquiry Basket][?]



Anteater by FIESTA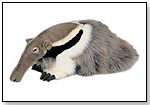 Fiesta stuffed animals and plush toys soothe, comfort, and encourage creative play. Animals for everyday, holiday, special occasion, inspirational, amusement, novelty and custom. Quality soft fabrics, attention to detail and expressive faces make fiesta stuffed toys a gift to be treasured.
— In a June 2015 survey David Campbell, owner of Amazing Toys in Great Falls, Mont., told TDmonthly that Fiesta was their store's best-selling plush brand. 4/29/2014 [Add to my Inquiry Basket][?]



WiKiBear by COMMONWEALTH TOY & NOVELTY CO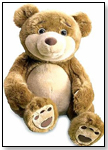 WikiBear is an interactive talking plush bear. It connects to an app via bluetooth, allowing it to access the internet and answer any question little minds might ask. It also remembers names and will interact with children, telling them it's hobbies or cracking a joke. 4/29/2014 [Add to my Inquiry Basket][?]



Pinkie Pirate - Dooodolls Plush Doll by BSV LLC

Ahoy, captain! With his exceptional sense of direction and savvy seafaring skills, no wonder Pinkie Pirate has explored every land and ocean. A descendant of the infamous pirate who conquered the seas, he is also the owner of a magical wooden sword that will bring you wherever your heart desires!

3/19/2014 (Price: $19.99; Age: 3 and up) [Add to my Inquiry Basket][?]



mi mu ru™ by HENDERSON & COMPANY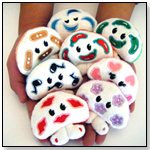 Introducing a new family of super-soft, collectible plush mushroom characters called mi mu ru™ (my moo roo). Each of the unique, beautifully embroidered characters (eight in all) have individual personalities complete with their own mottos and fun names. missikissi says, "A simple kiss can make everything better". zzzzizi says, "A nap a day makes grumpy go away." And, ouchi booboo states, "Bumps and bruises reminds us not to do that again." These are just some of the mottos from mi mu ru™.

Adding to their play value, each handmade 2" tall cute plush is attached to their own ultra-soft wristband (buddi bands™) which allow kids to wear 'em, carry 'em and share 'em. This feature enhances the play value while still being affordable. Kids will want to collect 'em all! mi mu ru buddi bands are more than a toy, they are a super-fun children's accessory. Sales reps/distributors welcome. www.mimuru.com 11/6/2013 (Price: $4.99; Age: 3 to 8)



Climb the Monkey Bars? That's Bananas! Book/Plush Combo by FOBIE FRIENDS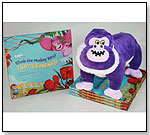 Climb the Monkey Bars? That's Bananas! is our second book and is also available in hardback. Here, our young boy faces his fears on the playground. Excited to play on a new jungle gym, he tearfully changes directions when his Papa encourages him to climb a ladder so he may join friends on the monkey bars. When his imagination tosses him into a wild place, a gentle, furry friend coaches the new climber through his first success with high places. Includes plush Monkey.
TDmonthly Editor's Notes:
- A series of books that help kids with their phobias. My daughter loves the illustrations.
- A story line that kids can follow and relate to. A great gift for any child.
- Fun use of rhyme throughout the story.
- Fobie Friends encourages youngsters to confront their fears with courage and an open mind.
- Encourages inner strength 9/26/2013 (Price: $27.99) [Add to my Inquiry Basket][?]



THIS BANNER IS AN AD:
---
---