Designer toys, created by individual artists rather than mass merchandisers, is a rapidly maturing sector of the toy market, grabbing the attention of kids, teenagers and adults. Until recently, designer toys were relegated to specialty and hobby stores aimed at collectors of underground art. Now the products are showing up in more mainstream venues, such as Tower Records and Urban Outfitters.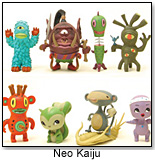 Even some fashion designers are getting in on the toy-designing trend. Big names include Vivienne Westwood, Pucci, Jean-Paul Gaultier, Helmut Lang and John Galliano, who have designed what look like Russian dolls for KidRobot's newest line. With a decidedly ´50s pop-kitsch art look, the collection is limited to 2000 pieces by each designer, and will be shipping with a copy of Visionaire, an arty (and expensive) magazine.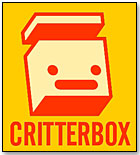 Jim Crawford, co-founder of Strangeco, a San Francisco-based toy store, claims that "2005 is the year of the designer toy." A bevy of new artists, including Seonna Hong, Todd Schorr and Tim Biskup, are generating excitement in consumers who love eclectic design. One of Strangeco´s best selling lines is the moderately-priced Neo Kaiju series, in which each of these artists produced two figures: one paying homage to Japanese movie monsters, the other entirely original.
Crawford, along with many others, credits GiantRobot, the Asian pop-culture magazine, with sparking interest in the designer toy world. Eric Nakamura, editor of GiantRobot says that the initial interest in designer toys came from people who were already toy fans. Conor Libby of designer toy manufacturer Critterbox agrees, adding that most designer toy collectors are males in the 18 to 35 age range.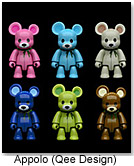 "The collector wants all of the available figures and will build his collection retroactively through the use of eBay and trading," says Libby.
The appeal of designer toys isn´t difficult to understand. Created and designed by artists (or avid fans), each limited run is a separate work of art, priced ranging from $6 to $80, depending on the growing reputation of the artist and customer demand.
Tim Blackmore, owner of Qeester, a distributor of Qee Designs by Toy2R, says, "An interesting fact about Qee collectors is that many of them have great artistic ability and are turning out more and more remarkable designs."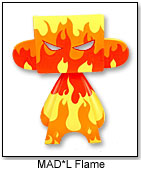 "As technology … has made the means of production easier, the playing field has leveled out," comments Nakamura. "Anyone can make a toy, but not everyone should."
Impulse buyers are an even faster growing buyer group than collectors, continues Libby. However, it will take a more structured merchandising program to reach them than it does to reach collectors.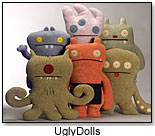 The varied tastes of the changing audience are reflected among the best sellers. Wheaty Wheat Studios´ MAD*L 5.5 line, by the designer MAD, is their top item. Tower Records has even decided to produce an exclusive toy, Flame, from the MAD*L line. According to GiantRobot, Dehara, Kubricks and Qees products are the most popular. Uglydolls is one of Critterbox´s top sellers, but the demand for Gary Baseman is higher.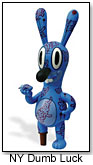 "Baseman´s last toy New York Dumb Luck — sold out in eight minutes when it was released for sale online last month," says Libby.
Some artists to watch out for include Thomas Han, Joe Ledbetter and Andrew Bell, who are all producing lines for Wheaty Wheat Studios. Besides Baseman (already a superstar in the designer toy world), Tim Biskup, Todd Schorr, Kathy Staico-Schorr and Seonna Hong all have projects with Strangeco. Baseman and Biskup have also designed figures for Qees. Other popular Qees artists include Touma, So-Me and Rob Klunder.