The Jim Henson Company … is readying an amazing-looking new preschool series that takes puppetry to the digital realm.
Another month, another bunch of new shows for kids. No rest for the wicked. The big word this time:
Disney
. Bet you don't know how many Disneys there really are.
First, there's Disney TV Animation. Can anyone say "Love Bug"? Yeah, yeah, the movie has only just been released, but they're already talking about making an animated/CGI series that features things from Herbie's point of view. Now, it's only in the "talk" stage for people like Barry Blumberg, president of Walt Disney Television Animation, but if the movie does over $200 million, look for cel animation. If it does less than $150 million, look to CGI. Either way, we're talking late 2006. Toys? Plenty of them to go around, with Hot Wheels leading the pack.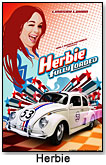 Then there's Disney Playhouse, which targets the preschool audience. There's a new CGI Winnie The Pooh project in early pilot development (or so a well-known producer who's tight with Nancy Kanter, senior vice president, has said). "Oh, bother." Look to see lots of merchandising when that hits the small screen; and when has Disney ever said "no" to a Pooh?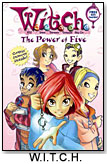 And finally, there's Jetix, the superhero/action arm of Disney. First: A second season of "W.I.T.C.H." is being ramped up with some writers already working on scripts. This is a series taken from manga comics about five girl guardians with extraordinary powers who jump though the Veil Between Worlds to kick butt. Hoo-ya!
Look to action figures and video games in the "Kim Possible" realm, which are gearing up for Christmas. "Digimon" is coming out with a season eight, and although it peaked a few years back (according to Disney's merchandising people), expect an influx of buying from its core fans when the new shows roll out.
"Super Robot Monkey Team Hyperforce Go!" Another season, and some cool action figures and play sets in the works. They're aiming for the anime collectors as well as the kids (if it's a breakout), says a source whose initials are TM.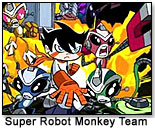 Speaking of Disney, which we are, the Jim Henson Company (no longer owned by Disney, but back in the hands of Jim's two kids: Brian and Lisa) is readying an amazing-looking new preschool series called "Frances" that takes puppetry to the digital realm. They already have fantastic footage they've been shopping around. Henson is synonymous with good marketing and lots of toys, so expect mucho licensing. [NOTE: at the moment, they're still placing a distributor, or so say the development people over there. We'll keep you posted.]
So, think there'll be a "Madagascar" TV series? Mmm, could be. Dreamworks doesn't have a television animation arm anymore, but this may be the one to start it back up. What with "Shrek" movies doing so well, they're thinking of striking pay dirt on the tube.
Film Roman is working out a deal with Stan "the Man" Lee to do six direct-to-video projects, one of which includes Ringo Starr as a superhero! Stan Lee? Ringo Starr? You think there won't be toys galore? Ha! Stan is already looking to see the series spin-offs if any of the titles are successful. (Can you say Ringo action figures and time-traveling drum kits?)

This just in: Disney´s Jetix has green-lighted a new series that´s more comedy than adventure (though it still has action). It´s about a brother and sister who learn a rare martial art (Wu-Fu?) from a Panda sensei and battle humorous bad guys like a ferocious cockroach villain. Will wonders never cease?

Next month: International television. And send those cards and e-mails: what do you want to hear about? It's kinda like being your very own TDmonthly Nielsen ratings.