RC´s biggest craze is for vehicles that run on nitromethane fuel instead of batteries — specifically nitro-powered monster trucks. — Brian Carlevato, senior RC buyer for eHobbies
If you glance at the selection of radio controlled cars and trucks in a traditional toy store, you might think that the industry has been at a standstill for decades. You´d be wrong.
While toy stores continue to sell inexpensive RC vehicles that break easily, on the hobby-store side, things are changing drastically. Today's vehicles are easier to use, faster and more durable — all at a lower price point than before.
Nitro monster trucks on BMX and motocross tracks, for instance, frequently withstand jumps in excess of 30 feet. The vehicles aren´t indestructible, but the advantage of hobby-grade RC vehicles is that if a part fails, it can be replaced. In fact, for David Wodkowski, an RC salesman at Greenfield News & Hobby in Greenfield, Wis., this is the dividing line between a hobby and toy store purchase: "It´s something you´re going to buy for a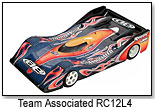 lifetime or it´s something you´re going to throw out in a year or two."
Part replacement, however, doesn´t require parts breaking. The practice of "hopping up" cars is rampant among RC enthusiasts. In a world filled with fans of NASCAR, "Pimp My Ride" and Orange County Choppers, selling these aftermarket parts can be extremely profitable.
Until recently, customized vehicles were the hobby industry´s standard. Buyers essentially built their cars from scratch. Recently, however, a "trickle-up" effect has occurred, marrying the toy industry´s ease of use and lower prices with the hobby world´s higher quality and customizability. While kits still exist, a number of vehicles are now released as ready to run (RTR) or almost ready to run (ARR), offering more immediate gratification.
Coy Tan, a salesman at Los Angeles´s The Hobby Place, says: "Basically, people just want something that can go fast and off-road — like 50 and 55 miles an hour. If they get a chance to go on-road, [they want to go] even faster than that."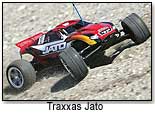 According to Brian Carlevato, senior RC buyer for eHobbies, RC´s biggest craze is for vehicles that run on nitromethane fuel instead of batteries — specifically nitro-powered monster trucks. Michael Glass, of Team Associated — one of the industry´s premier brands — explains that, "at one point the nitro thing was really a secret handshake thing. It was like trying to join the mafia, but that´s all changed."
Though exciting and popular, operating vehicles that run on nitro (or "glow") fuel can be a challenge. Mixing the fuel and starting the vehicle are not always easy. Also, although drivers enjoy the sound of real engines running, the vehicles´ exhaust fumes demand outdoor or stadium track driving. Finally, for entry-level drivers who previously would have purchased an off-the-shelf toy RC vehicle, the sticker shock can be quite high — the Traxxas Jato is a relatively low $359.99, while the Team Losi LST is closer to $450.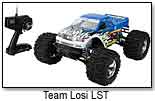 Fortunately, the industry´s other major trend lies at the exact opposite end of the spectrum: eHobby´s Carlevato says, "the micro RC scene has taken off!" Glass agrees: "Sales in 1/18th scale have been through the roof."
These electric vehicles are generally 1/16th to 1/24th scale, easier to operate and provide a great introduction to the hobby for as little as $100. Suggestions for micro monster trucks include the Team Associated 18T and the Team Losi Mini-T. Both are 1/18th scale and retail for around $150 and $170.