We give toys away at the play days, and we usually get a call back for more once the child gets the toy home. —Joe Aleman, owning partner of CLICSTOYS USA LLC
When

CLICSTOYS USA, LLC

(ToyShow), based in Grapevine, Texas, opened for business in December 2003, the company started with building toys available from its Belgian counterpart. Today, innovation and play days on this side of the ocean have sparked the company to expand its line, according to owning partner Joe Aleman.
Then in telecommunications, Aleman was approached to enter the toy business by one of his current partners. After researching the Belgium-based CLICS, Aleman was in, bringing the toys to the United States.



Once he created a buzz at the 2004 American International Toy Fair, the company began placing the toys in specialty shops and marketing them nearly one-on-one.

Today, Aleman and his partners see good things on the horizon as popularity of the toys grows. In his own words, Aleman discusses how everything is fitting together for CLICS.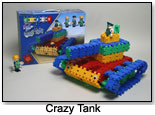 We learn by listening to our customers. Our most popular package is our plastic bucket with 175 pieces. It allows kids (4 and older) to make a multitude of items. At first we had boxes, but one of our customers asked us to put the CLICS in a plastic container so people could see what was inside. The bucket is very popular and at $19.99, it fits most budgets.

We have learned from even smaller customers. It was clear that we needed our figurines when we saw a child at a play day making CLICS buildings and vehicles but using them with figures from other manufacturers. Now we have CLICS People.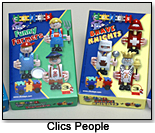 We market directly through play days at retail shops, museums, zoos and other locations. Children are allowed to play with the CLICS and we give them free toys. Once a child gets the toy home, we usually get a call back for more.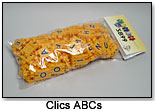 We can do almost anything graphically, so after we met with teachers last year, as well as an autism group, we decided we needed some educational products. There are many ABC blocks out there, but none of them stay together. With our ABC blocks, you can make a word and it stays together, even if moved.

After we started the ABC blocks, we added another package of the Spanish alphabet. Then, we began offering packages with numbers and math symbols. We call these our School Boxes, and there are many different ones to choose from. We also have the Hebrew alphabet and are working on Arabic and Armenian alphabets.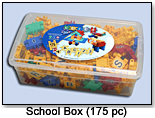 And, we can add graphics to CLICS. We're adding the Dollywood logo for the CLICS sold at the amusement park. So, when the kids play with the CLICS, they not only remember us, but also where they got the toys. We can do that for any company and we're talking to some others now.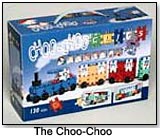 All of our toys are manufactured by CLICS in Belgium. We sell CLICSTOYS USA at small, specialty shops — mom and pop stores — from coast to coast and are adding more stores all the time. We also sell directly from our Web site, but we don't do mass marketing. We tried the big discount stores early on and found that we couldn't provide what they required. They wanted special tags and coding and we had to man a table. Whatever we didn't sell, we took back. But because of those tags and coding, we had to repackage everything. The smaller retailers work better for us.

We're doing well and we continue to grow. We stick with our main idea and add dimensions to it. We're not interested in adding motors or electrical gadgets. We're a learning and building toy manufacturer and that is working for us.