"It´s an extra dollar in my till at the end of the day ..." —Bud Santos, K-B store owner
A young boy and his mother walk up to the register at a local K-B Toy Store in Auburn, Maine. The boy carries three action figures, but his eyes wander to a couple of displays nearby. Mom shakes her head "no" as she hands the figures to owner/manager Bud Santos.
"Do you need batteries or gift wrap with these today?" he asks as he rings up the sale.
She refuses both, but nods yes to the 99 cent bottle of bubbles he places on the counter. Bud has made another sale that wasn't planned. "That's a perfect example of an impulse buy," Bud notes as the pair leave the store. "It's an extra dollar in my till at the end of the day and something she would have never bought had I not brought it up."
Why People Buy It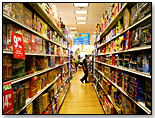 According to numerous studies on consumer shopping habits, two major influences determine the likelihood of impulse purchases: emotions and environment. Each influence has several factors that retailers should consider when looking to boost their chances of an impulse buy.
Emotions: Robert B. Cialdini, a Regents professor at Arizona State University, teaches that people will agree to do something or accept an offer based on "reciprocation, consistency, social validation, liking, authority and scarcity." Generally speaking, Cialdini believes a person's desire to be accepted as part of a group and a sense of obligation will sway them to buy. If a shopper is given a free sample, for example, she is almost twice as likely to purchase the item, even if it wasn't on her shopping list. Additionally, if a consumer perceives the seller as an expert in the field or thinks that an item is available only in limited quantities, the chance of an impulse buy is higher.
Children, of course, are full of "impulses," notes Raj Raghunathan, assistant professor of marketing at the University of Texas. This causes children to shop for products that they consider fun over those that are good for them, which differs from adult buying habits.
Environment: The actual products and their placement are also critical. In Chicago, American Science & Surplus is heaven for impulse buyers.
"We carry all kinds of surplus items, from toys to science supplies such as laboratory glass, lasers and other bizarre stuff," says Colin Trierweiler, one of the store's associates. "At the register, we have pens … of all shapes and sizes, including hypodermic needles. When a customer has to sign a credit receipt, we'll give them one of these pens to sign his name and he says, 'Wow, this is cool! Where can I get one?' Another sale made."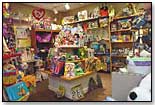 Front of store displays are prime "real estate" for novelty or impulse items: the closer to the entrance and registers the better. This allows kids to have easier access.
"We keep magnets near the front of the store," Trierweiler explains. "With the magnets is an old TV, so the kids can mess up the screen with the magnets and see how powerful they are. If we can get the product in their hands, it's easier to sell."
Some malls allow display tables in the corridors, which retailers can use to highlight seasonal or clearance items. Observes Santos, "It's ideal if we can keep prices on these items to below $10." Through observation and experience, sellers can convince a potential buyer that a product is something they "have to have," whether they realize it or not.