Cars fill the walls of the store, creating a hands-on experience for customers that Wal-Mart can´t match.
The following article is part of TDmonthly Magazine's continuing coverage of how to compete with Wal-Mart. Click here to read last month´s segment of this ongoing report.

Creating a niche focused on collectibles is a time-honored way to keep customers coming back. However, it is a difficult niche in which to succeed, requiring great knowledge of what collectors desire.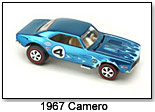 Soler Collectibles of St. Paul, Minn., is dedicated solely to the collectibles market. Primarily a die-cast dealer, Soler maintains more than 10,000 Hot Wheels in stock.
"Our inventory changes almost on a daily basis to keep up with the needs of our customers," says owner William Soler, who opened the store in 2001.
Soler carries the latest line of Hot Wheels, including 100% Hot Wheels, collector sets, limited editions and promotional pieces. His stock is rounded out by accessories, such as display turntables, vintage holders and plastic cases.
Mattel Classics were his top sellers in April. "I can't keep them and can't get enough," he says. Classics include the 1957 Chevy Bel Air, 1967 Camaro, 1963 Corvette, 1968 Mustang and Scorchin' Scooter.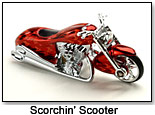 Although Wal-Mart also sells Mattel Classics, Soler claims that there is "no competition" between the mass retailer and his business. Take a look at his selling space and you will see why. Cars fill the walls of the store, creating a hands-on experience for customers that Wal-Mart can't match.
Soler's customers range in age from 25 to 55 years of age, and "come from all walks of life," he remarks. His Web site attracts daily visits from collectors around the world including Japan, England and Germany. However, many international patrons come straight to the store, since they may want to verify the product's condition before buying.
Soler travels often to trade shows looking for the newest, hottest and most collectible die-cast models on the market. Despite being in the business for only a few years, he has already developed a strong network of other dealers and collectors upon whom he can rely if a customer is looking for a hard-to-find product. The ability to get such products into customers' hands quickly is crucial, he maintains, if one is to have any success in the collectibles market. That's the kind of personalized service that Wal-Mart doesn't offer.