"I want to make children and adults want to be more, to do more, to reach for more in life." —Jorge A. Tello Aliaga, creator of Pers

When Jorge A. Tello Aliaga was a child in Peru, he wanted to write stories. At the age of 15, he dreamt of a company called Pers (short for Peruvians) (ToyDirectory) — a company that would one day create the world's most popular cartoon characters. Eighteen years later, Pers is a new company with two lines of children's books, four finalist children's book awards and talk of an animated television show.

Despite being called "crazy" for pursuing his dream, Aliaga, now 33, is proud of his accomplishments. Emphasizing vision over profit, he says, "I would like to create a change. I want to make children and adults want to be more, to do more, to reach for more in life."

This desire guides the development of all Pers products. The company's line of character-based books, CD-ROMs and plush toys include the super-incredible Blobbiemorphers — seven shape-shifting creatures who "help [children] discover and appreciate their unique personality," and the nostalgic Pookie and Tushka, "who teach the value of friendship."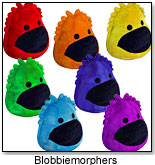 Aliaga, a former UI design manager for Adobe Software, accounts for the success of both lines because of the ways they are presented. Indeed, with Pers toys, children not only read the stories and play with the toys, but are challenged by an interactive, educational CD-ROM as well.

"Otherwise, children get bored because once you've read a book you've read it. Maybe children want to read it again, but this way, there's a whole world children can climb into," Aliaga says.
Pers has most successfully marketed its products not only at toy and book trade shows but via a kid-friendly, education-based Web site featured by the Washington Post and linked to numerous schools around the country. The Web site features Blobbie's Kid News of the Day, Pookie's Cool Fact of the Day, Tushka's Cool Joke of the Day, as well as a selection of computer-animated games and a gallery of photographs.
"Parents and teachers push sales," Aliaga explains, "so if you get them interested because a product has educational value, they push it more."
Still, Aliaga is cautious when projecting the future for his childhood dream. "We're very young and still moving forward with our goals. I feel some good things coming up, but we're not there yet." In the meantime, Aliaga says he'll thank his parents for all their support and keep working for further success. "I'm excited by all the possibilities. Call me back in three years."