Small jet skis and motorized boats that kids can use in pools or lakes will be the next big things. —Cathy Shepherd, owner of The Pool Toy Store
What are the best ways for kids to beat the heat? The water toys of 2005 are a lot more active than the traditional beach ball. The trend indicates a push toward more action and more powered toys for either ride-on or play.
"I think the more bells and whistles you can offer them, the better," says Paul Olsen, brand manager in marketing at Swimways Corp. in Virginia Beach, Va. One of the products the company released this year expands on their popular line of battery-operated Rainbow Reef toys. The new Rainbow Reef Magic-Action Trigger Fish is water activated (batteries not included).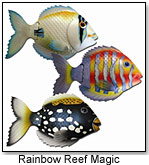 The lifelike fish is swimming among an abundance of active pool toys. There is something for everyone, says Cathy Shepherd, owner of The Pool Toy Store in Cincinnati, Ohio.
"The younger kids love the ride-on toys," she notes.
Ride-on toys are becoming safer because manufacturers are adding more inflation chambers. "If you´re on a riding animal and a leg deflates, you´ve still got a body that´s inflated," Shepherd points out. Some of The Pool Toy Store´s best sellers are action floats, such as the Shock Rocker and Aqua Roller.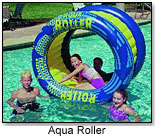 Shepherd said that as kids get older and learn to swim, they veer toward battery-operated toys and dive games, such as Shark Divers by Prime Time Toys. Looking to the future of pool toys, she anticipates more ride-on toys that are propelled by batteries. Small jet skis and motorized boats that kids can use in pools or lakes will be the next big things, she predicts. Florida Pool Products in Clearwater, Fla., has a line of motorized ride-on pool toys, including speedboats and motorboats.
As an Internet store specializing in water toys, Captain Kid´s Toy Chest, based in Huntington Beach, Calif., sells Slip ´N Slide, water rockets and wind-up submarines year-round. However, when the weather changes, so do the orders.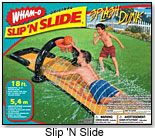 "This time of year, Super Soakers dominate," owner Jeff Tyner says. The store´s number one request is for Aquapack Devastator, part of the 2005 Soakertag Elite line, which includes Flash Flood, Arctic Shock and Triple Shot. The line was created with kids´ interests in mind, says Colleen Cushing, senior brand manager in the Big Kids Toy Division at Hasbro.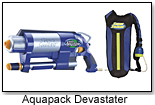 "They want the best performing blasters," Cushing continues. "They want tons of water capacity. And they´re looking for features like the Flash Flood, that´s just got this huge water explosion. Anything that´s going to give them a leg up on the other kids in the neighborhood."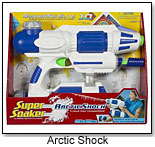 The trend in water toys goes beyond simply what´s fun for the kids. Parents are looking for a family activity. Water blasters are a good choice because they're "so inclusive for the whole family," Cushing notes.
At the Pool Toy Store, "parents are buying just everything," Shepherd concludes. "The games, the ride-on toys. Just anything to keep (the kids) busy so they can rest on the loungers in the pool!"