---
Dolls: Thinking "Glad" With Pollyanna
Tonner's Optimistic Character Doll Wins Young Hearts
"I love the doll! It looks like me." — Paige McQuirt, 6 years old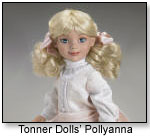 This month,

TD

monthly Magazine's Dolls Roundtable participants reviewed Tonner Doll Company's Pollyanna, a 14" fashion doll that is similar to Tonner's Betsy McCall doll. Pollyanna is based on the character in a series of eponymous books by Eleanor H. Porter that were first published in 1913. The story of a little orphan who could find beauty and joy in any situation was later transformed into a Disney film starring Haley Mills.

Roundtable participants included Ruth Mandt with her granddaughter Paige (6); Barbara Smith with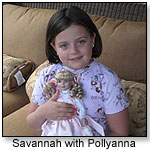 her granddaughters Sydney (7) and Savannah (6); Collette Shockley, owner of The Littlest Princess Doll Shop in Norcross, Ga.; and doll collector Virginia Davis.

Pollyanna by Tonner Doll Company
Age: 8 and up
Gender: Girls
MSRP: $99.99



TD

monthly rating: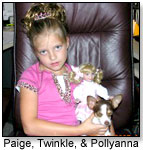 PLAYABILITY

"I remember the Pollyanna movie as if it were yesterday. It was one of my favorites," Collette Shockley said.

Barbara Smith liked the doll because it reminded her of childhood playthings. Her granddaughters Sydney and Savannah felt the doll was an awkward size to dress, especially since they do not own a Betsy McCall and would have to purchase a new wardrobe just for this doll.

Paige McQuirt, granddaughter of Ruth Mandt, loved Pollyanna.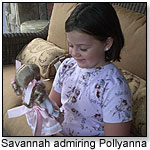 "I love the doll! It looks like me," she said. "I think her pink boots are neat, too."

Ruth added that she will now purchase the books so that Paige can know Pollyanna's story.

Collector Virginia Davis has Tonner's Betsy McCall and considered Pollyanna a great addition to her collection.

VALUE

Collette and Ruth felt that the doll might be a little expensive for a play doll. Virginia believed that most collectors would "gladly" pay this price for Pollyanna, since it's in line with most collector dolls.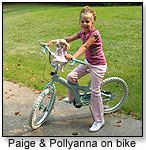 IMPROVEMENTS

"I think [the doll's] face is too big in proportion to her body, but little girls will play with her," summed up Collette, who gave the doll four stars.

Virginia agreed with other evaluators, all of whom preferred the blond Pollyanna to the brunette model, since it reminded them of the movie.

Ruth suggested that the doll come with a paperback book because today's children don't remember Pollyanna.

Writer's Bio:
Virginia Davis is a freelance writer who is considered an expert in the area of dolls and collectibles. She has written hundreds of articles on dolls and toys, as well as other subjects, for numerous publications. She lives in Georgia.
Read more articles by this author
THIS BANNER IS AN AD:
---
---