"I think that all successful product really starts with helping somebody solve a problem." — Steve Spangler, Steve Spangler Science

Steve Spangler, Emmy Award-winning television personality, "teacher's teacher" and authority on "inquiry-based learning" (not to mention toy maker) came upon his love of science via … magic?

Spangler's father is a magician and a consultant to big names such as David Copperfield, Doug Henning and Mark Wilson. And, although Steve never uses the term "magic" when promoting, he acknowledged his roots. Spangler's style isn't dull.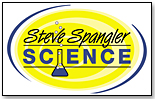 His pizzazz is contagious, and instructors get hooked on his enthusiasm. Steve Spangler Science, the manufacturing and retail division of his business, sells to pre-K through grade 6. Be Amazing! Toys, the wholesale division, was sold to an investment company more than a year ago, but Steve remains the creative director.
Fifty percent of the 350 items he sells are his company's creation or are manufactured by it. Spangler licenses ideas from teachers, and they receive royalties on the products these concepts generate. He turns their brainstorms into marketable merchandise.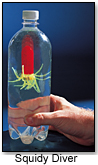 "I think that all successful product really starts with helping somebody solve a problem," he explained. "We develop products and ideas that make teachers a little bit more dynamic in the classroom. It gives the teacher the opportunity to now use that as a bridge to help teach a science lesson."
His first successful design was Squidy, a classic experiment known as a Cartesian diver. He got into trouble when he accidentally ordered 80,000 non-returnable rubber "squids" rather than the 500 he needed. He received a bill for $20,000. It was either get rid of them or declare bankruptcy.
Craig Burnham, inventor of the Tornado Tube, and Bruce Yeany, creator of the Fountain Connection, referred him to Kyp Henn, a marketing specialist in Florida. They helped him sell Squidy to 600 educational stores. Storeowners go up to him today and remark, "I used to buy your first squid in a zip-lock bag."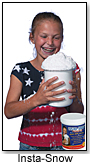 Although known as a leading expert, Spangler said that "inquiry-based learning" is a catchphrase that started in the 1960s and is often misunderstood. He clarified the definition: "It's not hands-on science. My work has been to teach teachers how to teach science, not arts and crafts. Just because you made a pinwheel doesn't mean you're doing science."
He described the method as an open-ended discovery technique that forces the person doing the experiment to devise his or her own questions. For the past 11 years he's been a public school teacher in an elementary setting in addition to his work in television and with the toy company.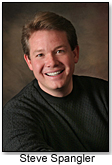 "We're all into the quick 'wow,'" he remarked. "We take that 'wow' factor and now turn it into something they can actually use."
Spangler's popular items include Insta-Snow, an absorbent powder that turns into a snow-like substance when water is added, and Insta-Worms, a slime that forms when a liquid is added to another liquid. These products took off and spawned sub-products.
"Kids love to wonder and discover and explore … and they love to be the hero," he stated. "All of a sudden the focus is on the child who is now giving the adult information."