At the check-out counter, we merchandise items that are suitable for mom, or what we call accent products: unexpected, useful and for herself.
Sharon DiMinico is the CEO and founder of Learning Express, the largest specialty toy retailer in the country. She opened the first store in
Acton
,
Mass.,
in 1987 and has since expanded the store through franchising to more than 100 locations. She recently shared details of her successful business model with TDmonthly Magazine.
TDmonthly: In order to compete with big box retailers, is it enough just to offer unique, quality merchandise?
DiMinico: It's becoming increasingly more difficult to offer unique products not carried by the big box retailers. What used to be a 10 percent crossover is now a 50 percent to 60 percent crossover.
TDmonthly: Why has this number changed?
DiMinico: A lot of specialty-only manufacturers are now selling into other channels. Manufacturers have to grow their business too, but the smart ones are separating their lines for the mass market and specialty; developing unique packaging for each. Many products are introduced in specialty stores, but go to the mass market the following year. It means that small, independent retailers need to get creative to compete.
TDmonthly: What's one way you've discovered that works?
DiMinico: We search for items from other industries to complement our mix and would be difficult for large box stores to blend into their toy departments ... jewelry and fashion items, kids' stationery items and, of course, personalized items.
Generally, people don't come in our stores looking for stationery and jewelry items. For us, they are impulse purchases but they contribute significantly to our top line. Beyond classic toys, we try to create a product mix that promotes impulse buying, especially at our register area. By merchandising items that are suitable for moms, or older brothers and sisters, we're surprising them with items appropriate for all ages — which in turn, expands the age of our customer base.

TDmonthly: Are there any unique services you provide to remain competitive?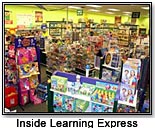 DiMinico: Personalizing items on the spot … mass merchants can't do it. One customer asked us to repeat her wallpaper design on a piggy bank. There's significant business to be had in that category. Where appropriate, we also carry items with local school mascots and local professional sports teams …

Most of our stores display Birthday Buckets … a "visual gift registry." They provide both the child and his/her party guests with a tactile representation of their wish list. Displayed as a group, they look festive, create excitement and entice customers to inquire about the program, (resulting in additional Birthday Club registrations.)

Of course, we offer free giftwrapping.

The credit for our growth, however, is only partially based on our product mix. We provide great tools for our stores to make the right buying decisions, and we provide them with bimonthly catalog mailers; ads and email campaigns so they are in constant contact with their customer. However, if our storeowners don't make the shopping experience extraordinary, it doesn't work. Via our Intranet, our storeowners share their successes in buying, merchandising and marketing so that every Learning Express store's business can improve. Our storeowners are our brand.
TDmonthly: What kind of people do you attract as storeowners?
DiMinico: Our store count is on the rise again because more and more people have become disenchanted with their "corporate life." They want to control their own destiny and they are looking for a lifestyle change. The toy business is a wonderful business in which to raise a family — 87 percent of our owners are husband and wife teams with children. Learning Express is viewed as a socially significant business that becomes very involved in the community, and that's appealing too.

Click here to read Part II of this IV-part series.