"When a kid says 'How did you do that?' he really means 'Do more!'" — Larry Kahlow, Eagle Magic and Joke Store

A small business has to build relationships and loyalty with its customers that cannot be copied at a big box outlet. Have you ever seen a Wal-Mart change locations with the help of dozens of volunteers who are loyal customers? Larry Kahlow's Eagle Magic and Joke Store has built its business on an impeccable relationship strategy with hobbyists, professionals, children and grandmothers.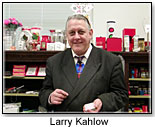 Kahlow believes the success of the store has been built on customer relationships and by providing a unique inventory. If you think the only way for a small specialty retailer to succeed is to keep up with the times, you need to spend some time with Larry Kahlow at the Eagle Magic and Joke Store. The store does not use a computer, a fax machine, a cell phone or even a credit card machine.

The Eagle claims to be the oldest magic store in the United States. Larry jokes that he is not old enough to have started the store. It was founded by Colins Pentz in 1900, and has been passed down through the decades to employees. "Sort of like an apprenticeship," said Kahlow who bought the store in 1977.

Kahlow was 8 years old when he first visited the store and got hooked on the magic. He began working there in 1970. He is not ready to hang it up but is confident that when the time is right, the next apprentice will be obvious.

The store has had multiple locations, some smaller, some larger. He has recently moved to a historic area of Minneapolis in a larger interior space in the Grain Exchange Building. "My wife was worried that losing the storefront would be a problem, but this location has lots of advantages."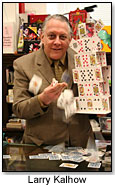 Most important, the new location has more room for hanging out. And with coffee shops and snack options nearby, you won't find a NO FOOD OR DRINK sign in his store. His new overstuffed purple chair with a question mark motif and several director chairs offer customers a place to sit and relax and watch the magic demonstrations.
He is a collector of posters, handbills and other memorabilia of magic, and there is more room with high ceilings for his extensive displays. He has also rearranged the store to accommodate shorter walks for himself between displays.
In addition to Kahlow reclining in a purple chair, studying or reading, you will be greeted with a question such as, "Are you curious about the magic?" That is followed by demonstrations. Kahlow explained, "When a kid says, 'How did you do that?' he really means, 'Do more!'"

In addition to the retail stream of income, Kahlow has offered magic classes for children and adults, sponsored more than 100 lectures by successful magicians, and maintained a booking agency for magicians that he has trained and met in his store.

The magic and joke store product lines expand past magic and practical joke items to party supplies, clown supplies, costumes, masks and novelty gifts.

He has hosted famous magicians from around the world in his store, and his blog of magic stories (he does keep a computer at home) has gained attention from national and regional magic associations and publications. He does consider expanding his Web site if he can find a way to do it without betraying who he is.

"These large magic online marketers just sell any trick to any person with a credit card. In my store, I demonstrate the tricks and talk with the customer, and match them with tricks they can do. This way they don't fail. They are encouraged and they come back for more."