---
See You in the Funny Papers
Getting Graphic Sales From Comic Books
Over at Archie Comics, Betty joins the world of Motor Sports, and '50s character Katy Keene gets a book of her own again.

Comic books are big business, but how is a non-geek to know which ones to stock?

TD

monthly Magazine spoke to comic manufacturers to find out what they thought would be their big sellers in 2007.

The Strong Go With the Strong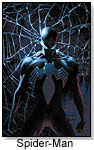 For Marvel, look to the Fantastic Four's "Books of Doom" and "The End": Both paint the FF in a new light that moves beyond the movies. Jim McCann, assistant manager of sales communication, said the February Issue, which marks the 45th Anniversary of the Fantastic Four "is a major turning point." McCann also points to other post-"Civil War" comics, such as "The Amazing Spider-Man" (#539) and both "Captain America" and "Iron Man."

DC Comics revitalizes the basics with "Superman: Action Comics Archives Vol. 5," which features early Superman action the way the Man of Steel was meant to be. They're doing the same for Aquaman in their Showcase series.

The Dark Horses of the Race

Dark Horse Comics, the third-largest comic book publisher in the United States, straddles the line between classic action and weird avant-garde. David Scroggy, vice president of product development, pointed out that their Hellboy animation and comics are cross-fertilizing nicely.

And Leah Sottile Preston, publicity coordinator at Dark Horse, was excited about re-publishing Roald Dahl's 1942 classic "The Gremlins" (illustrated by the artists of Walt Disney Studios in their heyday). Coupled with "zany" PVC Gremlins figure sets, this looks to be a fun one for '07.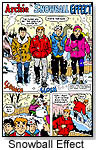 Over at Archie Comics, Betty joins the world of Motor Sports, and '50s character Katy Keene gets a book of her own again.

Archie himself turned 65 this year. Rik Offenberger, public relations coordinator for Archie Comics, also mentioned that they're putting together specialty products for libraries that will enhance public recognition of the Archie line.

The Cutting Edge

The hardest sector of comics/graphic novels is the "next big thang." How to choose?

Eric Reynolds of cutting-edge Fantagraphics Books, pointed to Gilbert Hernandez's new tome, "Chance in Hell" (Hernandez did "Sloth," "Love & Rockets," etc.) as one to watch. He also mentioned Josh Simmons' "House" as another could-be hit.

Rounding out the weird and wonderful is Pete Von Sholly's "Extremely Weird Stories" follow-up, "The Extremely Weird Alphabet." It's all strangeness and wonder... and the ABCs.

The Final Verdict

To find comics that might suit your store, read everything you can, go to conventions and look on publishers' websites. Here are some possible choices:







Alan Davis wrote and penciled the final story of Marvel's first family. Even the strongest family can be torn apart by tragedy—and in the futuristic world of tomorrow, the members of the once-Fantastic Four are divided and vulnerable to opponents from their past. What events could have caused the FF to go their separate ways, and how does their disbanding set the stage for a conflict that will send shockwaves across the galaxy and beyond?

.

AD
---






Don't miss this thrilling archive featuring some of Superman's earliest adventures by his creators, Siegel and Shuster. This volume includes ACTION COMICS #69-85, from 1944-1945.

.

AD
---






Collect classic tales of Aquaman from ADVENTURE COMICS #260-280, 282, 284 and more. More than 500 pages highlight classic tales of Aquaman, featuring the debuts of Mera and Aqualad.

.

AD
---






Published in 1943 and long unavailable, this landmark book from the author of such beloved tales as "Charlie and the Chocolate Factory," "James and the Giant Peach," and "Matilda" is proudly presented by Dark Horse Books. Digitally restored, this is a remarkable presentation of Dahl's classic story, lavishly illustrated by the artists of the Walt Disney Studios.

.

AD
---






Betty Cooper is getting behind the wheel and burning rubber in the story titled, "The Fast Track to Success" written by Mike Pellowski, with art by Stan Goldberg. Mr. Lodge is the sponsor of one of the fastest race teams around, but his pride runs out of gas when one of his rivals lures away his top driver and pit crew. But Betty Cooper steps up and gets behind the wheel, with Archie and the gang as her makeshift pit crew.

.

AD
---






That high-fashion siren of the '40s and '50s is back, updated and ready for the new millennium. Still using clothes designed by her fans, she runways her way back into the comic firmament.

.

AD
---






Gilbert Hernandez's first original graphic novel from Fantagraphics follows on the heels of his acclaimed "Sloth" graphic novel from DC's Vertigo Comics in 2006. "Chance in Hell" tells the story of a little orphan girl who lives in the slum of slums. Nobody knows who she is or where she's from, but her fellow shantytown inhabitants collectively look over her. The three-act story follows our heroine as she is adopted by a decent man who raises her well, and she eventually marries a kind, well-to-do man, only to discover that she can't relate to the good life and the comforts it provides.

.

AD
---






In the thick of a dense wood, a young man comes upon a decrepit house and two teenaged girls. As the three decide to explore the abandoned house together, Simmons captures the aloof ennui and deep curiosity of being a teenager. The trio quickly becomes entangled in a love triangle that is as tense and ominous as the house itself.

.

AD
---






This weird monster version of the alphabet is not for the very young, as the wonderful images are accompanied by informative text on the subjects — historical, mythological, literary, pop-culture — in a way beyond that of a basic primer. Anyone who loves weird creatures will love it.

.

AD
---






Hunted, his identity exposed, and accused of being a traitor, Spider-Man's life has been a nightmare during Civil War, and the darkest days are yet to come. Now, the most recognizable character in comics finds himself donning one of the most controversial costumes ever as he goes underground and back to his black duds and must fight back to reclaim his life.

.

AD
---
THIS BANNER IS AN AD:
---
---