---
TDmonthly's Expert Mom
Send Her Your Toys ... If You Dare!
She's taught kids. She's raising kids. She knows what's good for them ... and what they like. Every month,

TD

monthly Magazine's Expert Mom shares her views on the latest toys, rating each product with 1 to 5 TDs (for

TD

monthly!), with 5 as the top mark.

In this issue, she finds out why earthquakes are thrilling, learns how to be a cracker magnate, and more.

Seismic by ATLAS GAMES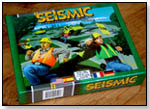 Age: 10 and Up
Gender: Boys And Girls
Category: Board Games





Mom's Impression:
Seismic is a well-designed game of logic and strategy in which players use hexagonal tiles to build connecting roadways. Earthquake tiles allow players to remove opponents' roadways. The game box features bright pictures of construction crews dodging cracks in the ground as another earthquake shakes the city of San Andreas. The game's contents and a brief description of game play in four languages are featured on the back of the box. Rules take only a few minutes to read and game play ranges from 30 to 60 minutes. However, recommendations for fast play are included, making Seismic a candidate for free-play time at school.

What the Kids Did:
My 12-year-old son and I really enjoy another tile game, Giza, so Seismic held immediate appeal for us. We played a couple of quick games, and then my 5-year-old son became interested. We modified the rules a little so that he could play, too, and he also used the hexagonal tiles as a solitaire puzzle, trying to match up the roadways.

Mom's Recommendation:
I would recommend carrying this game. The box design is attractive and bright, and the game depiction on the back appeals to buyers. It is educational, although it does not teach about earthquakes themselves. The game reinforces strategic thinking and planning. It is both constructed and packaged well, making it a high-quality product.

---
Crackernomics by KSA INTERNATIONAL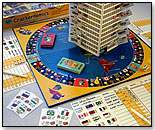 Gender: Boys And Girls
Category: Board Games





Mom's Impression:
Crackernomics is billed as "the ultimate business game for kids" on the box. The underside of the game box pictures the game board, but neglects to show a majority of key playing elements, such as the cracker tower and scorecards. The rules are complex, and the recommended age of 8+ may even be on the low side. As in Monopoly, players build properties (in this case, cracker mills) and collect revenue. Hootee cards and Bandee cards are drawn if players land on corresponding spaces on the game board. Unlike Monopoly, the players operate in a global setting, building cracker mills in countries around the world.

What the Kids Did:
I played this game with my 12-year-old son, once I read the rules and decided the game was too complex for my 5- and 6-year-olds. We were able to get through one game. The global aspect of the game didn't hold his interest and he said he'd rather just play Monopoly, where competition is designed to be a little fiercer. I think this game would have appealed more to him if he were closer to the recommended minimum age of 8 years.

Mom's Recommendation:
Crackernomics is a good game by design, and it stands apart from similar business games by emphasizing the importance of our world economy. However, the game box does little to entice buyers. This is a good game, though, and should probably be demonstrated or included in a game night to encourage sales.

---
Syzygy by SYZYGY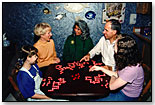 Gender: Boys And Girls
Category: General Games





Mom's Impression:
Syzygy is similar to Scrabble in that letter tiles are used to create words, but that's where the similarity ends. Players draw tiles and scramble to complete words, in crossword style, using all of their tiles. Once a player has used all of his or her tiles, that player shouts "draw" and every player draws an additional tile. Play continues until all of the tiles are gone from the draw pile, and one player has no more tiles left. The game can also be played alone to sharpen vocabulary and critical thinking skills. The 304 game tiles are ¾" purple plastic squares, and come neatly packaged in their own purple plastic storage container. The game rules are printed on a sleeve that fits over the container, making it ideal for storage.

Mom's Recommendation:
Syzygy could quickly become a staple in the family game closet. Its individual style of play allows kids and adults to compete with each other at separate levels. All of the pieces store in a sturdy and compact container. The packaging is attractive and game play is described on the back of the box. I definitely recommend carrying this game.

---
Sudoku 4x4 by THINKFUN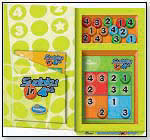 Age: 5 to 7
Gender: Boys And Girls
Category: Puzzles & Skill





Mom's Impression:
Unlike most paper versions of Sudoku for kids, this set by Thinkfun makes it easy for them to be successful at solving the puzzles. The set is self-contained, making it an ideal travel game. Sudoku Jr. is designed for ages 5 to 7, but the actual applicable age range is probably a little broader. The box opens like a book, with a pocket on the inside cover to store the puzzle cards. Instead of using a pencil to write in the numbers, there are numbered, magnetic foam disks. A challenge card is placed in the designated space with the number magnets on top. The 48 puzzles range from easy to challenging, with four separate difficulty levels.

What the Kids Did:
My 5-year-old son likes to peek over my shoulder when I'm working on Sudoku puzzles, so being able to set him up with his own was fun for both of us. Now we can sit together working on our respective puzzles! The color coding on the cards and magnets makes learning the rules relatively simple. The kids don't need to keep track of which numbers have been used in which rows or columns, because by process of elimination, the only possible correct answers are represented by the leftover magnetic numbers.

Mom's Recommendation:
Sudoku is rapidly becoming even more popular than crossword puzzles among adults. Parents who enjoy the game themselves will be apt to purchase this product for their own children or as gifts. Logic puzzles are both fun and educational, and since this one is reusable, I would highly recommend carrying this product.

Writer's Bio:
Emilie Hill has taught kids of all ages everything from swimming to physics for more than 15 years. She has four children of her own, ranging in age from a toddler to 12 years. In addition, she writes for an online community of moms.
Read more articles by this author
THIS BANNER IS AN AD:
---
---